Review: 'The Duke and I' by Julia Quinn
February 5, 2021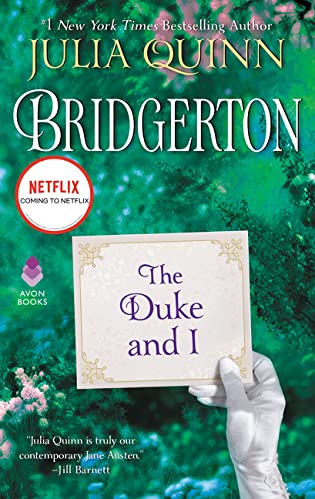 The Duke and I
by
Julia Quinn
Series:
Bridgertons #1
Published by
Avon
on December 30, 2019
Genres:
Historical Romance
Format:
Paperback
Source:
Purchased
Goodreads
Purchase at
Amazon
|
Apple
|
Google Play
|
Kobo

From #1 New York Times bestselling author Julia Quinn comes the first novel in her beloved Regency-set series featuring the charming, powerful Bridgerton family—soon to be a Netflix series.
In the ballrooms and drawing rooms of Regency London, rules abound. From their earliest days, children of aristocrats learn how to address an earl and curtsey before a prince—while other dictates of the ton are unspoken yet universally understood. A proper duke should be imperious and aloof. A young, marriageable lady should be amiable…but not too amiable.
Daphne Bridgerton has always failed at the latter. The fourth of eight siblings in her close-knit family, she has formed friendships with the most eligible young men in London. Everyone likes Daphne for her kindness and wit. But no one truly desires her. She is simply too deuced honest for that, too unwilling to play the romantic games that captivate gentlemen.
Amiability is not a characteristic shared by Simon Basset, Duke of Hastings. Recently returned to England from abroad, he intends to shun both marriage and society—just as his callous father shunned Simon throughout his painful childhood. Yet an encounter with his best friend's sister offers another option. If Daphne agrees to a fake courtship, Simon can deter the mamas who parade their daughters before him. Daphne, meanwhile, will see her prospects and her reputation soar.
The plan works like a charm—at first. But amid the glittering, gossipy, cut-throat world of London's elite, there is only one certainty:
Love ignores every rule…
---
The Duke and I is the first book to Julia Quinn's Bridgerton series. The first book focuses on Daphne, the fourth of eight siblings in the Bridgerton family, and the Duke of Hastings, Simon Basset. Readers will also meet the other Bridgertons' and other secondary characters that I liked getting to know more than the main characters at times in this book.
Female Protagonist: Daphne Bridgerton is a beautiful young lady who everyone loves as a friend, but nothing more. I liked her character but did not connect with her. She was sweet at first but turned into something else later on, especially after working with the Duke to have a pretend relationship that grew into something more. She's determined to get what she wants, and she'll do anything, even do something that I found unforgivable.
Male Protagonist: Simon Basset, the Duke of Hastings, has to be my favorite in this book. He's a handsome young Duke that every woman wants to be with, but he has no desire to be with them unless it's casual. He has his reasons. He is considered a Rake by many, but he changes once he meets Daphne. He has a past that made me feel for him immediately. I loved everything about him. Yes, I have a thing for flawed heroes. 🙂
Storyline/My Thoughts: My thoughts on The Duke and I are that I enjoyed the book, up until one particular scene, which I mention in my review's forewarning (below). This is the first book I read by Julia Quinn, so I did enjoy the storyline of how Daphne and Simon met in this book. I also love the trope(s) that were in this book. One, in particular, the Fake/Pretend Relationship. You know it's never going to continue to be fake. One character or both will eventually fall in love. It's inevitable.
Julia Quinn was very descriptive in details with the events the characters went to in the book, making it feel like I was there with them. I'm afraid I could not live back in a day where marriages were arranged, and women were not allowed to do certain things because it was frowned upon back then. There's also the issue of wearing dresses every day. Nope, not this gal here. I love wearing my t-shirt and jeans, especially living in a rural area with livestock.
There was so much drama in this book that kept me turning the pages. Daphne has three older brothers who are protective of her. What does she think they will let her marry just anyone? Nope!
This book has a Gossip Girl feel to it, with the gossip papers from Lady Whistledown going around. I may know who she is but won't give it away to readers who have yet read the book/series.
Forewarning: This book does have a scene that I would consider a rape scene. I will not go into details with it because I don't want to spoil it for anyone who hasn't read the book or watched the show on Netflix. I was disappointed with this scene, so I gave it 3.5 stars instead of 5 stars.
Standalone or Part of Series: Part of Series.
Steaminess: Some steam towards the end of the book.
HEA: Yes.
Trope: Fake/Pretend Relationship, Friends to Lovers, Shotgun Marriage
Would I recommend this book? Yes. I would recommend it to Historical Romance readers out there if you have read any of Julia Quinn's other books, too. Again, this was the first book I read from Julia Quinn, and I look forward to diving into the rest of the Bridgerton series this year (2021). I'll need to read them before the next season comes out on Netflix.
I will say this; this will be my first time I loved the show better than the book. I know it's due to Shonda Rhimes. She's amazing! (Although I may be the only person who hasn't seen Grey's Anatomy, I plan on changing that soon. I did fall for her show Scandal. I loved that show!!) Shonda Rhimes did a fantastic job with the first season of Bridgerton.

This post contains affiliate links you can use to purchase the book. If you buy the book using that link, I will receive a small commission from the sale. It will help sponsor future giveaways but costs you nothing extra. You can read the full disclosure underneath the Privacy Policy.
---
---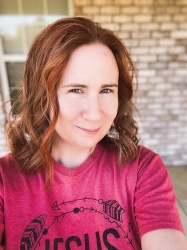 Latest posts by FranJessca
(see all)