Review: 'The First Night' by Lexi Blake & M.J. Rose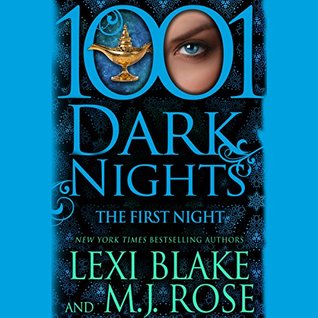 The First Night
by Lexi Blake, M.J. Rose, Natalie Ross
Series: 1001 Dark Nights #0.5
Published by Audible Studios on Brilliance Audio on August 2nd 2016
Genres: Paranormal Romance
Format: AudioBook
Source: Purchased
Amazon Kindle
Goodreads


Join New York Times Best Selling Authors Lexi Blake and M. J. Rose as they take you to ancient Persia—a land of magic, erotic delights and exotic danger.
Discover the beginnings of 1001 Dark Nights…
The First NightTrapped in the body of the legendary Scheherazade, a young woman named Camille, finds herself in a land of harems, wizards, and ruthless rulers. A student of time travel, a descendant of a witch, and a curious and sensitive soul, Camille is trapped by the king's order. Night after night she's forced to tell stories of her travels across the planes in order to keep herself alive. Tales of the erotic, the romantic, the magical, and the sensual, she entertains the king in the hopes that he will spare her life. Desperate to get back to her own time, she turns to the one man who might be able to save her.
Khalid is a member of an ancient order of mages, his power granted to him by a Djinn. The most feared man in the kingdom, he is still forced to do the king's bidding and the king wants to know if Scheherazade is a witch. Khalid sees through the mask Camille wears and knows she's the one woman promised to him by fate. He'll do anything to have her, anything to love her. But to save her means losing her forever…
My Review
This will be a quick review because this was a very short novella that I listened to the other day at work. It's less than 2 hours, and Natalie Ross narrates the story. I'm so glad I decided to start in the beginning because The First Night is the prequel to the 1001 Dark Nights. I have some catching up to do in these books since there are so many that have released.
The synopsis of the book goes into perfect detail of what the story is about, so I won't go into describing the story. I don't want to be repetitive, so I'll go onto the things I enjoyed about the prequel and what I didn't like.
I loved finding out how Camille got trapped in the body of legendary Scheherazade and how she knows all the stories to tell the king. She's a time traveler, and of course, she's going to know a lot of stories.

I loved how Khalid discovers who is actually in Camille's body and how much he wants to help her.

I loved finding out the beginning of something, and this is precisely what. The First Night is all about.

Although I did enjoy listening to the story since it was quick to listen to, I didn't connect with the narrator. There wasn't any difference between Camille's voice, Khalid's voice, and the King's voice. Sometimes I connect with narrators telling the story and others I don't connect with very well.

The ending left me hanging, but after I finished the story now, I knew why it left me hanging. I had to immediately get the next book in the series to fulfill the first story that Scheherazade/Camille was going to tell the King.

I also wanted some more with Khalid and Camille. Khalid was the intriguing character to me in this short story, and I wish I could have had more of him.
I did enjoy The First Night, and I give it 3.5 stars, and I really can't wait to dive into the rest of the 1001 Dark Nights books. I hope I get to read much later on what happens to Camille and maybe Khalid. Here's hoping.


I guess I should type a bio here. I'm FranJessca or Fran for short. I'm the owner of Book Lovin' Mamas and main Reviewer. I've been reviewing books since I got out of the Navy in 2011. Now 8 years later, I'm still reviewing, but this time with my youngest sidekick.
When I'm not reading and reviewing, you can find me at my day job during the week and on the weekend taking care of our little farm.

Latest posts by FranJessca (see all)