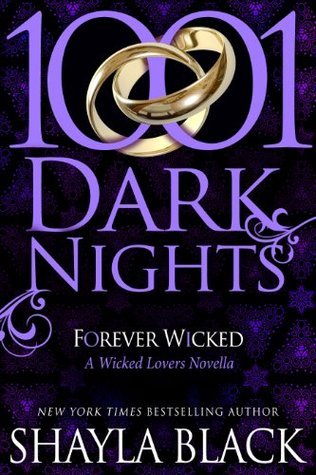 Forever Wicked
by
Shayla Black
Series:
Wicked Lovers #7.75
,
1001 Dark Nights #1
on January 14th 2014
Genres:
Erotic Romance
Pages:
156
Format:
AudioBook
Source:
Purchased
Amazon Kindle
|
Amazon Paperback
Goodreads

They had nothing in common but a desperate passion…
Billionaire Jason Denning lived life fast and hard in a world where anything could be bought and sold, even affection. But all that changed when he met "Greta," a beautiful stranger ready to explore her hidden desires. From a blue collar family, Gia Angelotti wore a badge, fought for right—and opened herself utterly to love him. Blindsided and falling hard, Jason does the first impulsive thing of his life and hustles her to the altar.
Until a second chance proved that forever could be theirs.
Then tragedy ripped Jason's new bride from his arms and out of his life. When he finds Gia again, he gives her a choice: spend the three weeks before their first anniversary with him or forfeit the money she receives from their marriage. Reluctantly, she agrees to once again put herself at his mercy and return to his bed. But having her right where he wants her is dangerous for Jason's peace of mind. No matter how hard he tries, he finds himself falling for her again. Will he learn to trust that their love is real before Gia leaves again for good?
My Review Continue reading →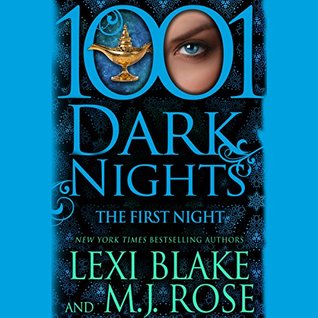 The First Night
by
Lexi Blake
,
M.J. Rose
,
Natalie Ross
Series:
1001 Dark Nights #0.5
Published by
Audible Studios on Brilliance Audio
on August 2nd 2016
Genres:
Paranormal Romance
Format:
AudioBook
Source:
Purchased
Amazon Kindle
Goodreads

Join New York Times Best Selling Authors Lexi Blake and M. J. Rose as they take you to ancient Persia—a land of magic, erotic delights and exotic danger.
Discover the beginnings of 1001 Dark Nights…
The First NightTrapped in the body of the legendary Scheherazade, a young woman named Camille, finds herself in a land of harems, wizards, and ruthless rulers. A student of time travel, a descendant of a witch, and a curious and sensitive soul, Camille is trapped by the king's order. Night after night she's forced to tell stories of her travels across the planes in order to keep herself alive. Tales of the erotic, the romantic, the magical, and the sensual, she entertains the king in the hopes that he will spare her life. Desperate to get back to her own time, she turns to the one man who might be able to save her.
Khalid is a member of an ancient order of mages, his power granted to him by a Djinn. The most feared man in the kingdom, he is still forced to do the king's bidding and the king wants to know if Scheherazade is a witch. Khalid sees through the mask Camille wears and knows she's the one woman promised to him by fate. He'll do anything to have her, anything to love her. But to save her means losing her forever…
My Review Continue reading →
I received a complimentary copy of the book from the publisher in exchange for an honest review. This does not affect my opinion of the book or the content of my review.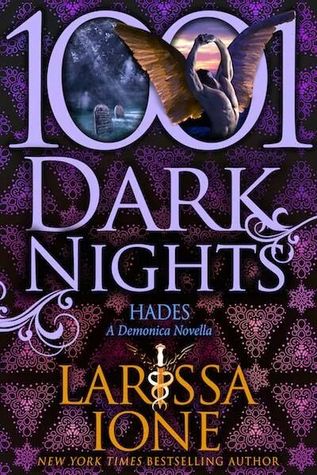 Hades
by
Larissa Ione
Published by
Inc.
on May 26th 2015
Genres:
Paranormal Romance
Pages:
155
Source:
publisher
Amazon Kindle
|
Amazon Paperback
Goodreads

A fallen angel with a mean streak and a mohawk, Hades has spent thousands of years serving as Jailor of the Underworld. The souls he guards are as evil as they come, but few dare to cross him. All of that changes when a sexy fallen angel infiltrates his prison and unintentionally starts a riot. It's easy enough to quell an uprising, but for the first time, Hades is torn between delivering justice — bestowing or mercy — on the beautiful female who could be his salvation…or his undoing.
Thanks to her unwitting participation in another angel's plot to start Armageddon, Cataclysm was kicked out of Heaven and is now a fallen angel in service of Hades's boss, Azagoth. All she wants is to redeem herself and get back where she belongs. But when she gets trapped in Hades's prison domain with only the cocky but irresistible Hades to help her, Cat finds that where she belongs might be in the place she least expected…
My Review: Continue reading →