Review: 'The Never King' by Nikki St. Crowe
March 31, 2022
This book may be unsuitable for people under 18 years of age due to its use of sexual content, drug and alcohol use, and/or violence.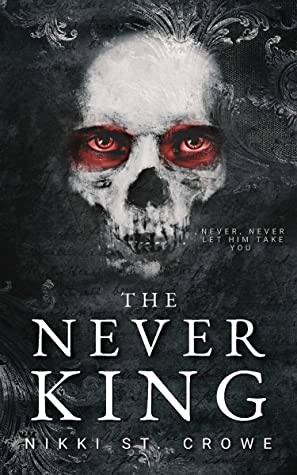 The Never King
by
Nikki St. Crowe
Series:
Vicious Lost Boys #1
Published by
Blackwell House LLC
on February 24, 2022
Genres:
Dark Paranormal Reverse Harem Romance
,
Dark Romance
,
Reverse Harem
Format:
eBook
Source:
Kindle Unlimited
Goodreads
Purchase at
Amazon
|
Barnes & Noble

The stories were all wrong — Hook was never the villain.
For two centuries, all of the Darling women have disappeared on their 18th birthday. Sometimes they're gone for only a day, some a week or a month. But they always return broken.
Now, on the afternoon of my 18th birthday, my mother is running around the house making sure all the windows are barred and the doors locked.
But it's pointless.
Because when night falls, he comes for me. And this time, the Never King and the Lost Boys aren't willing to let me go.
* Release Date is not final and will likely be much sooner. Target release date is March 2022 *
The Never King is a dark retelling of Peter and Wendy. If you like your enemies to lovers romance with hot, ruthless, morally gray love interests, you'll enjoy The Never King and the Lost Boys. You can expect hate kissing, fighting, bickering, and 'touch her and I'll unalive you' vibes.
---
Did you ever want to read a dark adult version of Peter Pan, Winnie, and the Lost Boys? Look no further than The Never King by Nikki St. Crowe, the first book in the Vicious Lost Boys series. Don't try to lie to yourself either that you didn't think about a twisted retelling of Peter Pan. I will admit I did, especially once I got older. 😉 Warning this book is not for children. It's for an 18+ older audience.
Storyline/My Thoughts: I'm so glad I came across The Never King one day in my Instagram feed and immediately read it the same day in one day. I made time between other books to read it, and the first chapter alone had been sucked into this twisted Peter Pan + Lost Boys retelling. 
For two centuries, every Darling woman goes missing on their eighteenth birthday. It's pointless to hide turning this time because he's coming for you no matter what. Winnie Darling has been told since she was a little girl what to expect on her eighteenth birthday, but she doesn't believe it until the night of her birthday it happens. Her mother tried everything to prevent it from happening, but nothing and no one could stop Peter Pan.
Winne Darling ends up in Neverland, and she meets not only Peter Pan but the Lost Boys; the twins, Kas and Bash, and then there's Vane. The twins Kas and Bash are curious about her, and Vane wants to scare and/or break her. Peter Pan has told them all not to touch her. None of them are supposed to touch the Darlings. 
If you watched or read Peter Pan growing up, you know what Peter Pan was looking for initially. This book is the same thing, but Winne has no idea what he needs her for since her mother never remembered her time with Peter Pan and Lost Boys. She was mad after she was with them. Every Darling ended up the same way, not remembering a thing and never being the same. It's up to Winnie to not end up like the other Darlings, so she'll try different tactics than the other Darlings that will confuse all of them.
This book is definitely a grown-up version of Peter Pan. Cold showers were needed after reading certain scenes in this book. Some of the scenes were so intense I had to make sure I was reading them correctly. Not in confusion but making sure the female protagonist wants what she was asking for in the book. She's one female protagonist who is not scared of Peter Pan and the Lost Boys, which makes them confused with her. I like her character in this book.
Each male character you either love or hate. The twins I liked. Their curiosity got them in trouble, though. One Lost Boy in this book went a little too far. (No spoiling here) Peter Pan and Vane are ones that you hate at first, especially Vane, until you get to know them more, and I want to know these two more. I love some morally grey male characters, and Nikki St. Crowe wrote these characters well. Maybe too well. I can't afford to add any more book boyfriends to my list. My husband is getting jealous.
The ending of this book made me want more of these books due to the dark twists and turns it did, and I'm so glad the next book releases towards the end of April. Overall, this book receives four stars from me. I need to know what happens next.
I've strayed far from Dark Romance in the past, but lately, it's my latest obsession. I'm so glad I gave this book a chance on Kindle Unlimited. I will be buying this book in paperback very soon. =)
Standalone or Part of Series: It's part of the Vicious Lost Boy series, and I would recommend reading in order.
Steaminess: ⭐️ ⭐️ ⭐️ ⭐️ 💫
Trope(s)/Element(s): Dark Retelling of Peter Pan and the Lost Boys; Reverse Harem; Enemies to Lovers; Touch Her and I'll 'Unalive' You; Morally Grey Male Characters
Would I recommend this book? Yes. If you enjoy Dark Reverse Harem books with a Dark Retelling of Peter Pan, this book is for you. Please make sure to read the Content Warnings for this book. I've listed them below in my review, and the author also has them on her website.
Trigger(s)/Content Warning(s): (These are taken directly from Nikki St. Crowe's website) Graphic, rough sex, sex in public, group sex, DubCon, graphic violence, graphic language, suicide and talk of suicide, captive/captivity, attempted sexual assault, degradation, submission, bondage, blood play, spanking/punishment, CNC

This post contains affiliate links you can use to purchase the book. If you buy the book using that link, I will receive a small commission from the sale. It will help sponsor future giveaways but costs you nothing extra. You can read the full disclosure underneath the Privacy Policy.
---
---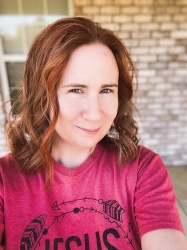 Latest posts by FranJessca
(see all)