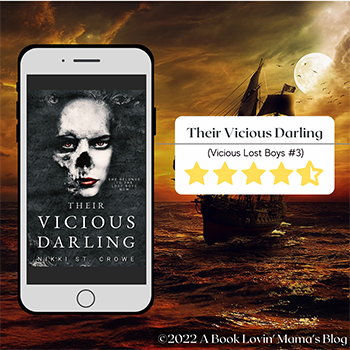 This book may be unsuitable for people under 18 years of age due to its use of sexual content, drug and alcohol use, and/or violence.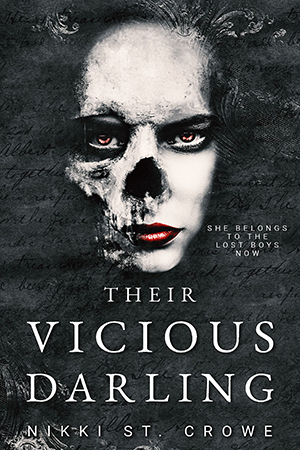 Their Vicious Darling
by
Nikki St. Crowe
Series:
Vicious Lost Boys #3
Published by
Self-Published
on September 1, 2022
Genres:
Dark Paranormal Reverse Harem Romance
,
Dark Romance
Format:
eBook
Source:
Kindle Unlimited
Goodreads
Purchase at
Amazon
|
Barnes & Noble

The Dark One has finally accepted me…just in time for everything to change. Because Vane's brother, The Crocodile, has just arrived on Neverland soil and he's not alone. He's brought with him members of the royal Darkland family and they want Vane's Death Shadow back at any cost.
Of course, Peter Pan, Vane, Kas and Bash, they're all familiar with war. But war isn't easy when love is on the line.
I know those vicious Lost Boys would do anything to protect me. But what if I'm not the one that needs saving?
As power shifts on the island and shadows are claimed, all five of us have to let go of who we were, if we have any chance of becoming who we are destined to be.
NOTE: Their Vicious Darling is book three in the Vicious Lost Boys series. It is a dark romantic reimagining of Peter and Wendy. All characters have been aged up. If you like your enemies to lovers romance with hot, ruthless, morally gray love interests, you'll enjoy Their Vicious Darling. You can expect an island with darkness and secrets and no true hero in sight, with a found family atmosphere, and 'touch her and I'll unalive you' vibes. Their Vicious Darling ends on a cliffhanger.
Please check the author's website for CWs.