Review: 'Their Vicious Darling' by Nikki St. Crowe
September 21, 2022
This book may be unsuitable for people under 18 years of age due to its use of sexual content, drug and alcohol use, and/or violence.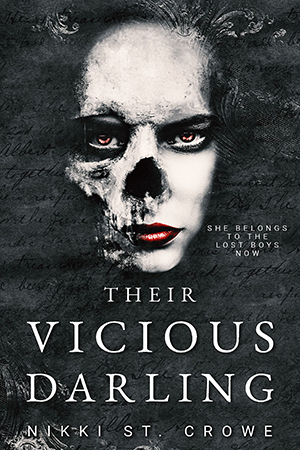 Their Vicious Darling
by
Nikki St. Crowe
Series:
Vicious Lost Boys #3
Published by
Self-Published
on September 1, 2022
Genres:
Dark Paranormal Reverse Harem Romance
,
Dark Romance
Format:
eBook
Source:
Kindle Unlimited
Goodreads
Purchase at
Amazon
|
Barnes & Noble

The Dark One has finally accepted me…just in time for everything to change. Because Vane's brother, The Crocodile, has just arrived on Neverland soil and he's not alone. He's brought with him members of the royal Darkland family and they want Vane's Death Shadow back at any cost.
Of course, Peter Pan, Vane, Kas and Bash, they're all familiar with war. But war isn't easy when love is on the line.
I know those vicious Lost Boys would do anything to protect me. But what if I'm not the one that needs saving?
As power shifts on the island and shadows are claimed, all five of us have to let go of who we were, if we have any chance of becoming who we are destined to be.
NOTE: Their Vicious Darling is book three in the Vicious Lost Boys series. It is a dark romantic reimagining of Peter and Wendy. All characters have been aged up. If you like your enemies to lovers romance with hot, ruthless, morally gray love interests, you'll enjoy Their Vicious Darling. You can expect an island with darkness and secrets and no true hero in sight, with a found family atmosphere, and 'touch her and I'll unalive you' vibes. Their Vicious Darling ends on a cliffhanger.
Please check the author's website for CWs.
---
The third book in Nikki's St. Crowe's Dark Peter Pan Retelling, Their Vicious Darling released at the beginning of September. I had been counting down to the day this book was released, especially after reading The Dark One and how Nikki St. Crowe left readers hanging with that crazy, dark cliffhanger. I needed to know what happened to Winnie, and I wanted to know how the Vicious Lost Boys were going to handle the new darling.
Storyline/My Thoughts: Nikki St. Crowe opens up the third book with the Crocodile's POV, and I was excited to meet Vane's brother, Roc finally. He was mentioned in the last book, and I needed to know his character; I loved that Nikki gave us his POV. I thought Vane was scary. No, Roc takes the place of one to not mess with in this series. You may get devoured whole if his time runs out. Captain Hook is even petrified of him, and we all know why by the Disney original story, but Nikki gives us a twist with her dark retelling of Peter Pan. I'm all for Roc and Hook's relationship maybe growing into something else, especially with the scenes that Nikki wrote with these two. Please, Nikki. I need this story to happen.
Enough with talking about Roc, though. He was not the main focus of this book, or was he? 😉
This book had a lot more drama, action, and violence. Not only with what happened to Winnie but with the royal Darkland family wanting Vane's shadow again and Bash and Kas's sister wanting to unalive Peter Pan. Why is everyone wants Peter Pain dead? Leave him alone in peace. He finally got his shadow back, and he is starting to show another side of himself, especially when it comes to his Winnie. I was all for reading that Peter Pan has a soft side that involves being romantic. I do prefer his alpha, protective, dark side, though. What can I say? I love the dark anti-heroes, and each one of the Vicious Lost Boys holds a piece of my heart. Vane first, Peter Pan second, and then the twins.
There seemed to be less spice in this book from the previous books, but one particular scene held its own when I read it. Regarding spice with Nikki, it doesn't matter how many spicy scenes are in the book, but how she can up what she did in the previous books between the characters. In the scene where Vane tells Winnie to run, he mentions that the first to get to her gets to choose the hole. Hotness overload, and Winnie got to experience it.
Be prepared to be left hanging again when you read this book. I'm anxiously waiting again for the next book to release. I need more of these characters, and I need to know what happens next. I also need more of Roc and Hook. Hint, hint to the fabulous Nikki St. Crowe on giving us more POVs with them. I also need a lot more of my favorite, who happens to be Vane. What happened to him in this book had me on the edge of my seat, and I loved who saved him in the long run.
Overall, I give the third installment 4.5 stars and can't wait to read where Nikki takes us next in her dark Peter Pan retelling.
Standalone or Part of Series: It's part of the Vicious Lost Boys series, and I highly recommend reading in order.
Steam/Spice: ⭐️ ⭐️ ⭐️ ⭐️
Trope(s)/Element(s): Reverse Harem. Why Choose. Peter Pan Dark Retelling. Touch Her and I'll Unalive You. Touch Him and I'll Unalive You Too.
Would I recommend this book? Yes. I highly recommend this book to readers who love the classic tale of Peter Pan, but instead of the Disney version, you get a darker version where Winnie doesn't need to choose because she can have all the morally grey MMCs in this retelling.
Favorite Quote(s): "I've missed the light and I'm missed the warmth, but both pale in comparison to you, Darling."
"In the light, I will treat you like a queen, but in the dark, you will be my whore."
"Now be a good girl and come sit on my face."
Women fascinate me. They are almost always underestimated, which makes them potentially some of the most lethal opponents.

This post contains affiliate links you can use to purchase the book. If you buy the book using that link, I will receive a small commission from the sale. It will help sponsor future giveaways but costs you nothing extra. You can read the full disclosure underneath the Privacy Policy.
---
---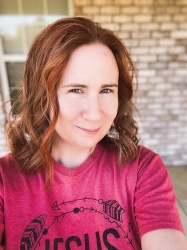 Latest posts by FranJessca
(see all)