Review: 'The Proposal' by Jasmine Guillory
September 11, 2019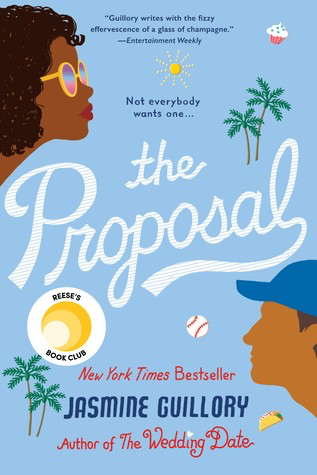 The Proposal
by
Jasmine Guillory
Series:
The Wedding Date #2
Published by
Berkley Books
on October 30, 2018
Genres:
Contemporary Romance
Format:
Paperback
Source:
Library
Goodreads
Purchase at
Amazon
|
Barnes & Noble

The author of The Wedding Date serves up a novel about what happens when a public proposal doesn't turn into a happy ending, thanks to a woman who knows exactly how to make one on her own...
When someone asks you to spend your life with him, it shouldn't come as a surprise--or happen in front of 45,000 people.
When freelance writer Nikole Paterson goes to a Dodgers game with her actor boyfriend, his man bun, and his bros, the last thing she expects is a scoreboard proposal. Saying no isn't the hard part--they've only been dating for five months, and he can't even spell her name correctly. The hard part is having to face a stadium full of disappointed fans...
At the game with his sister, Carlos Ibarra comes to Nik's rescue and rushes her away from a camera crew. He's even there for her when the video goes viral and Nik's social media blows up--in a bad way. Nik knows that in the wilds of LA, a handsome doctor like Carlos can't be looking for anything serious, so she embarks on an epic rebound with him, filled with food, fun, and fantastic sex. But when their glorified hookups start breaking the rules, one of them has to be smart enough to put on the brakes...
---
It took me a bit to finish reading the second book in Jasmine Guillory's The Wedding Date series. I was hoping to enjoy it more since it's Carlos Ibarra's book. If you read the first book in the series, then you would've been introduced to Carlos there. I fell for him hard in that book and was excited to read his book. I wanted to know what the lucky lady was that would win Carlos heart, but unfortunately, this book didn't grab me as the first book did, and I was upset with myself that it took me longer to read this book.
Don't get me wrong; I enjoyed some aspects for The Proposal, especially when it came to how caring Carlos was to his family. One of his family members was his cousin, who was pregnant and on bed rest due to her high blood pressure. He wanted to make sure she was taking care of herself and the baby. There was also how he came to the rescue of the heroine. Nikole (Nik) Patterson was being proposed to at Dodgers Stadium where her boyfriend put her on the spot, and she wasn't even ready for it. Her so-called boyfriend didn't like her response and ended up leaving her there to be gawked at the stadium. Nik had not also thought that their relationship was at that stage yet. Carlos and his sister Angela happened to have witnessed the whole proposal and rescued Nik from getting embarrassed even more by the media. Nik and Carlos end up becoming friends after that incident, which they both agree they are not looking for a serious relationship. Nik's friends state that Carlos would be the best rebound guy after her crazy relationship with her ex-boyfriend that proposed to her in front of 45,000 people.
Here is when the book goes downhill for me because both characters didn't want a serious relationship, but they end up not realizing they are in one from the beginning. I can understand Nik's reluctance at first to it since her previous relationship was awful. She didn't know the guy she was emotionally abusing her. Carlos though was the perfect guy for her because he loved the fact she was a beautiful, successful African American Freelance Writer. She was writing about stories that involved influential women in the Los Angeles area. She ends up signing up at a local gym run by a woman that gives back to the women community by having a place for women to learn defensive fighting skills, etc. There's a boxing class that Nik and her friends sign up for, and they are reluctant at first until Natalie makes them realize their potential. I loved Nik's friends and how they encouraged her and were there for her. Nik's friends and Carlos family made the story interesting to me. They kept me reading and not the main characters.
Carlos was caring in the book towards his family, but he drove me crazy on how he reacted towards the end of the book. He should have known that Nik had it rough in her previous relationship, and he could've handled a specific situation better between the two characters. Let's say that their relationship was not my favorite, but I'm glad they eventually get a HEA.
I'm glad I got some more of Drew and Alexa in this book too and look forward to diving into the third book in the series. I may not have enjoyed this book as much as the first, but it did show how much Carlos and Nik needed each other. They needed to find real love, and it took their family and friends pushing them.
Last note that I will take away from this book is every time I see sour cream now I will think Nik's mishap of touching chilis when making enchiladas with Carlos. Yup…you'll have to read the book to get the full story on what happened.
---
Story Rating: 3.5 stars
Steaminess Rating: 3 stars
Standalone or part of series: Part of Series, but each book can be read as a standalone.
Do I recommend this book? Yes.
Will I read other books from the author? Yes.
Tropes/Elements: Strangers to Friends to Lovers
Hero: Doctor/Pediatrician; Protective and loves his family;
Heroine: Freelance Writer; Independent; Emotionally Abused in Previous Relationship

This post contains affiliate links you can use to purchase the book. If you buy the book using that link, I will receive a small commission from the sale. It will help sponsor future giveaways but costs you nothing extra. You can read the full disclosure underneath the Privacy Policy.
---
---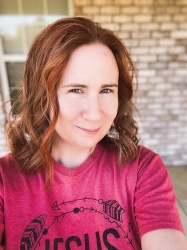 Latest posts by FranJessca
(see all)