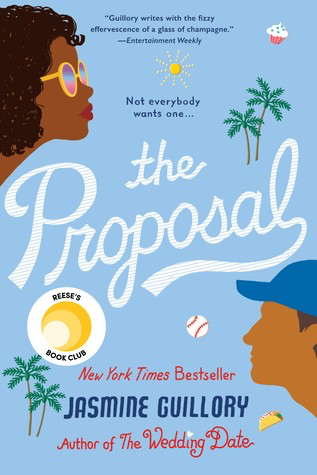 The Proposal
by Jasmine Guillory
Series: The Wedding Date #2
Published by Berkley Books on October 30, 2018
Genres: Contemporary Romance
Pages: 325
Format: Paperback
Source: Library
Amazon Kindle | Amazon Paperback | Audible | Barnes & Noble | Kobo
Goodreads


The author of The Wedding Date serves up a novel about what happens when a public proposal doesn't turn into a happy ending, thanks to a woman who knows exactly how to make one on her own...
When someone asks you to spend your life with him, it shouldn't come as a surprise--or happen in front of 45,000 people.
When freelance writer Nikole Paterson goes to a Dodgers game with her actor boyfriend, his man bun, and his bros, the last thing she expects is a scoreboard proposal. Saying no isn't the hard part--they've only been dating for five months, and he can't even spell her name correctly. The hard part is having to face a stadium full of disappointed fans...
At the game with his sister, Carlos Ibarra comes to Nik's rescue and rushes her away from a camera crew. He's even there for her when the video goes viral and Nik's social media blows up--in a bad way. Nik knows that in the wilds of LA, a handsome doctor like Carlos can't be looking for anything serious, so she embarks on an epic rebound with him, filled with food, fun, and fantastic sex. But when their glorified hookups start breaking the rules, one of them has to be smart enough to put on the brakes...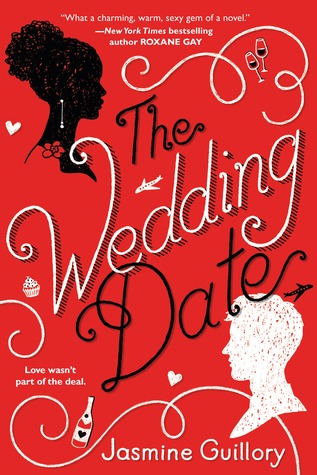 The Wedding Date
by Jasmine Guillory
Series: The Wedding Date #1
Published by Berkley Books on January 30, 2018
Genres: Contemporary Romance, Romantic Comedy
Pages: 320
Format: Paperback
Source: Library
Amazon Kindle | Amazon Paperback | Audible | Barnes & Noble | Kobo
Goodreads


A groomsman and his last-minute guest are about to discover if a fake date can go the distance in a fun and flirty debut novel.
Agreeing to go to a wedding with a guy she gets stuck with in an elevator is something Alexa Monroe wouldn't normally do. But there's something about Drew Nichols that's too hard to resist.
On the eve of his ex's wedding festivities, Drew is minus a plus one. Until a power outage strands him with the perfect candidate for a fake girlfriend...
After Alexa and Drew have more fun than they ever thought possible, Drew has to fly back to Los Angeles and his job as a pediatric surgeon, and Alexa heads home to Berkeley, where she's the mayor's chief of staff. Too bad they can't stop thinking about the other...
They're just two high-powered professionals on a collision course toward the long distance dating disaster of the century--or closing the gap between what they think they need and what they truly want...