Review: 'The Trouble with #9' by Piper Rayne
March 13, 2023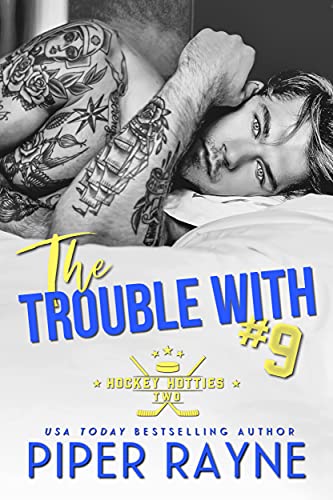 The Trouble with #9
by
Piper Rayne
Series:
Hockey Hotties #2
Published by
Self-Published
on August 10, 2021
Genres:
Contemporary Romance
Format:
AudioBook
,
eBook
Source:
Purchased
Goodreads
Purchase at
Amazon
|
Kobo

Trouble.
One word that comes to mind when someone talks about me. I like to think of it as protection, watching out for the ones I love. But now I'm spending more time in the penalty box than on the ice and the team owner isn't happy.
Finding myself across the room from the hot therapist I kissed on New Year's Eve only makes me push my problems down further. I want couch time with her but not the kind she's used to.
I decide to lie to her just to finish off my therapy so I can do what I really want—date her—even if she says she doesn't date hockey players. Just when my therapy sessions are up and I've made some headway with Paisley, it's my parents who throw another wrench in my plans.
If I abide by my parent's wishes to marry the one they've chosen, I'll lose Paisley forever. But if I go against my parents, I'm failing my deceased best friend all over again.
---
Since I was introduced to this author duo this year, 2023, I'm determined to read their backlist. I'm starting with their Hockey Romance series, Hockey Hotties, and finished listening to the second book, The Trouble with #9, in February 2023. Thanks to reading the prequel Countdown to a Kiss, I already knew who Maksim, Florida Fury's defenseman, would end up with in his book. 
Storyline/My Thoughts: What did I like about the second book in the Hockey Hotties series? Forbidden Romances have always been one of my favorites, and the second book is Doctor/Patient Romance. It's not something I've read in a Romance story, so this was new to me. The hockey team, Florida Fury, is being forced to see a therapist explicitly hired for the team. He doesn't think he needs to see a therapist, but he'll do whatever possible to get to know the woman he kissed at the NYE party, even if he knows it's wrong. 
Maksim has anger issues; everyone sees it when he's on the ice with his team. I loved how protective he was of his teammates, even if it got him in trouble, and why he was forced to see Paisley in the first place. Paisley is determined to get him to open up to her, and he has a legitimate reason why he has a protective mode activated when he gets on the ice with his teammates. He's harboring something inside him, which has affected him, and it takes a while for him to admit it.
The way Maksim was determined to win over Paisley and how serious he was with her was by setting up different dates with her. Readers get another side of Maksim that was adorable when he was on these dates with Paisley, and no wonder Paisley was falling for him.
Unfortunately, this will not be my favorite of the series. Yes, I may like how Maksim was serious about making it work with Paisley, but he didn't consider that she was risking her license. No, I won't put the whole blame on him, either. Paisley knew what she was doing and still hooked up with him. I would have made him wait until they could safely date without risk.
Then, that ending and how things were resolved for both characters should have been more groveling, in my honest opinion.
Overall, the second book in the series gets 3.5 stars, and I'm looking forward to Ford's story, especially with how this book ended.
Standalone or Part of Series: It's part of the Hockey Hotties series. Each book can be read as a standalone due to following a new couple.
Steam/Spice: 🌶 🌶
Genre(s)/Trope(s)/Element(s): Contemporary Romance. Sports Romance. Hockey Romance. Forbidden Romance. Doctor/Patient. Celebrity Romance.
Would I recommend this book? Yes. If you enjoy Contemporary Romance, that has the following tropes, Sports/Hockey and Forbidden Romances. Forbidden Romance due to the FMC being the hockey player's therapist, and she's not supposed to be dating her patient, but he's determined to win her over.
Favorite Quote(s): I should've known he'd fuck like a porn star. He's got the dick of one.

This post contains affiliate links you can use to purchase the book. If you buy the book using that link, I will receive a small commission from the sale. It will help sponsor future giveaways but costs you nothing extra. You can read the full disclosure underneath the Privacy Policy.
---
---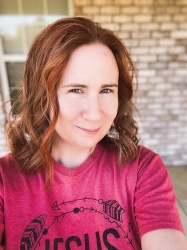 Latest posts by FranJessca
(see all)