Review: 'The Year We Fell Down' by Sarina Bowen
March 6, 2023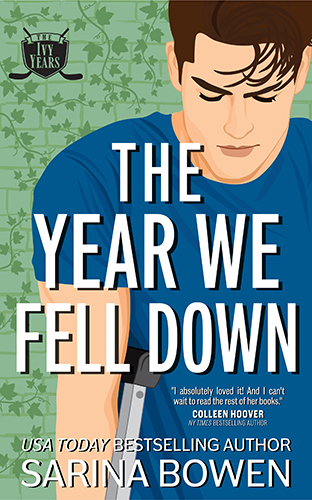 The Year We Fell Down
by
Sarina Bowen
Series:
The Ivy Years #1
Published by
Tuxbury Publishing LLC
on October 20, 2022
Genres:
New Adult and College Romance
Format:
AudioBook
,
eBook
Source:
Kindle Unlimited
,
Purchased
Goodreads
Purchase at
Amazon
|
Barnes & Noble

Alternate cover for this ASIN can be found here
The sport she loves is out of reach. The boy she loves has someone else. What now? She expected to start Harkness College as a varsity ice hockey player. But a serious accident means that Corey Callahan will start school in a wheelchair instead. Across the hall, in the other handicapped-accessible dorm room, lives the too-delicious-to-be real Adam Hartley, another would-be hockey star with his leg broken in two places. He's way out of Corey's league. Also, he's taken. Nevertheless, an unlikely alliance blooms between Corey and Hartley in McHerrin Hall. Over tequila, perilously balanced dining hall trays, and video games, the two cope with disappointments that nobody else understands. They're just friends, of course, until one night when things fall apart. Or fall together. All Corey knows is that she's falling. Hard. But will Hartley set aside his trophy girl to love someone as broken as Corey? If he won't, she will need to find the courage to make a life for herself at Harkness -- one which does not revolve around the sport she can no longer play, or the brown-eyed boy who's afraid to love her back.
---
The Year We Fell Down is the first book in Sarina Bowen's The Ivy Years series. I've had this book on my TBR since its release in 2014. Thankful to the Romanceopoly challenge hosted by Under the Covers Book Blog, I finally read the book, and it fulfilled the Campus Corner Challenge. I love Sarina Bowen's MM Romance books with Elle Kennedy, so this was my first MF from the author. 
Storyline/My Thoughts: I will immediately admit that I loved the FMC over the MMC in this book. Corey Callahan is downright the sweetest and down-to-earth FMC who grew up loving and playing hockey. She had her life all planned after she graduated high school and got accepted into Harkness College to play college hockey. Unfortunately, she is in a severe accident where she can no longer play the sport. After everything, though, she won't let it affect her life at college. The college sets her up in the handicapped-accessible dorm rooms, and right across the hall is a cute guy who is also injured and ready to get back on the rink to play hockey for the college team after he is healed. She immediately befriends Adam Hartley, especially since he knows her brother. The issue is that she has a crush on the guy, but he's way out of her league and has a girlfriend so nothing can come between the two.
I love the stories where a girl and a guy become instant friends and have much in common. The issue is that one doesn't do relationships or is already hooked up with someone. In this case, the MMC has a long-term steady girlfriend he loves. It's hard when the guy starts doing things that make the FMC question his intentions, which is when she starts having to guard her heart and push away from him, so she doesn't get hurt. I felt for Corey's character because she lost the sport she loved to play and was watching a guy she liked to be with his girlfriend. She handled it well, so she was an instant favorite for me. I probably wouldn't have finished reading the book if it wasn't for her.
Don't get me wrong, I liked Hartley but didn't love him. He was sweet and caring toward Corey and was always there for her, but he had a girlfriend. There was a scene when he was with his girlfriend, and he was thinking about Corey. There's also a scene where he hooks up with Corey when he's with his girlfriend. I'm not okay with cheating in real life, so I'm not too fond of it in books, either. Some readers may like it in the books since it adds to the drama but not this reader. I didn't understand why he was still with his girlfriend when he had obvious feelings for the FMC. A reason does come later in the story, and it may be a decent reason, but at this point, the damage was already done, and I didn't like his character.
The ending didn't feel like a HEA, too. It felt more like an HFN since it was rushed with the characters coming together. I was rooting for Corey to find someone better.
Overall, this book was an okay read. I give it three stars. If you are okay with an MMC with someone else for most of the book but have feelings for the FMC, then the book may be for you. I will continue reading this series and also read ALL of Sarina Bowen's backlist since I made it my mission to do so. Here's hoping I can make time this year with every other book being released, especially with Sarina's latest release(s).
Standalone or Part of Series: It's part of The Ivy Years series, but each can be read as a standalone.
Steam/Spice: 🌶 🌶
Genre(s)/Trope(s)/Element(s): New Adult & College Romance. Hockey Romance. Sports Romance. Friends to Lovers. Hurt/Comfort. Slow Burn Romance.
Would I recommend this book? Yes. I recommend this book to readers who love the Friends to Lovers and Slow Burn tropes. This book does have cheating in it for readers who do or do not like that in their books. This book wasn't my cup of tea due to cheating, and I wasn't fond of the MMC. The FMC won me over, though.

This post contains affiliate links you can use to purchase the book. If you buy the book using that link, I will receive a small commission from the sale. It will help sponsor future giveaways but costs you nothing extra. You can read the full disclosure underneath the Privacy Policy.
---
---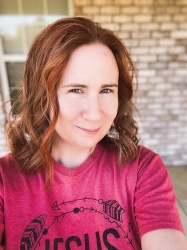 Latest posts by FranJessca
(see all)