Review: 'Touch of Surrender' by Rhyannon Byrd
February 1, 2012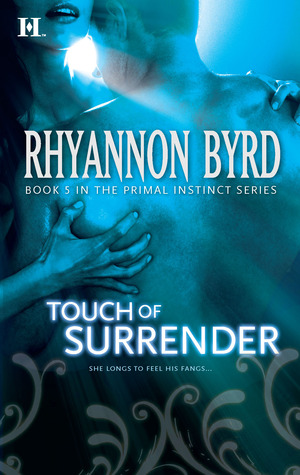 Touch of Surrender
by
Rhyannon Byrd
Series:
Primal Instinct #5
Published by
HQN Books
on April 27th 2010
Genres:
Paranormal Romance
Format:
Paperback
Source:
Purchased
Goodreads
Purchase at
Amazon
|
Apple

With his auburn hair and lean build, Kierland Scott looks more man than lycan. But his wolf instincts are aroused by the gray-eyed Morgan Cantrell. Not because of her beauty, but because of her long-ago betrayal, a fateful choice that made their love impossible.
Now, however, the two Watchmen must team up, leaving the placid Lake Country for the forests of Scandinavia. To rescue Kierland's brother, they must track a vampire—and use their combined shape-shifting sensitivities in a battle that will take them beyond death. As the two learn to seek together, they begin to understand the history that has driven them apart. But they will have to overcome death itself, if their shared passion is to have a chance.
 My Review:
The first book I finished in 2012.  =)  
I was determined to finish "Touch of Surrender" by the 1st of the year, and I'm glad I did because I have a stack of books that I need to read in the next month.  
This was not my favorite book in the series at all, and I think I'm being a little nice by giving this book three stars.  The only thing I enjoyed about this book was Morgan, the Heroine in the story and Ashe.  The Hero, Kierland, was pissing me off.  I wanted to go through the book and slap him like crazy.  He sounded like whiny B**** instead of a Man.  Grrr!!!
I also felt like the story was dragging and didn't have much action to it.  It was mostly going back and forth to Morgan and Kierland's point of view.  Morgan would complain about Kierland's mean attention, and Kierland would say how difficult it was to work with and be with Morgan.   
There were a few times; I wanted to throw the book across the room.  The only thing that got me interested was when Morgan's ex-lover and close friend, Ashe came into the book.  It was about time someone knocked some sense into Kierland and even Morgan.  
I was upset the book didn't have much of a storyline to it also.  It was focusing on Kellan's character, Kierland's brother and getting him back.  I do love Kellan though, and I'm looking forward to his book…but Kierland didn't even many fight scenes as the previous books did.  He had more of an emotional drama instead of a physical one.  He didn't know what he wanted until he almost lost Morgan and even then, he was a significant pain in the ass not seeing the BIG Picture.  Gr!
I plan on reading the next book in the series, and hopefully, it will get me back to loving the series…but as of now…the only thing that saved this book was a Vampire who I wish I knew more about in the book.  I was even hoping Morgan would hook back up with him instead of Kierland. 
I recommend this book who loves the series…and who adores Kierland in previous books…but for me…Kierland didn't live up to his potential like I thought he was.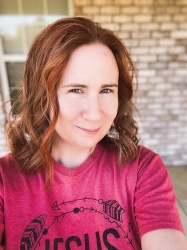 Latest posts by FranJessca
(see all)