Review: 'Twisted Magic' by Holly Hood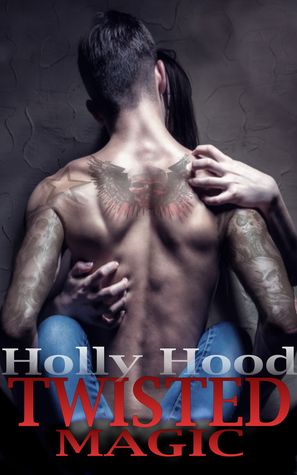 Twisted Magic
by
Holly Hood
Series:
Ink #2
Published by
Self-Published
on August 16th 2012
Genres:
Paranormal Romance
Pages:
243
Format:
eBook
Source:
Purchased
Amazon Kindle
Goodreads

Hope is now a witch. She never realized becoming one meant dealing with evil. She soon is learning that being a witch comes with a lot of bad consequences. She is now a member of a dark circle that is bent on destruction. Evil is all around, begging her to join. She wants to be with Slade, but the darkness is a lot for a girl like Hope to handle. She soon learns there is a side of Slade and magic that she wishes she never knew existed. Soon she is battling a coven, and her own personal life.Should she stay true to the girl she always was or take a chance with the greatest guy she ever met?This new life could turn her into something evil; she has to decide if it is worth it.
My Review
I read the first book last year when Holly Hood contacted me to read and review it. I fell head over heels in love with Slade. (noticed a trend yet with me I always fall for the bad boys) I was anxiously waiting for the sequel to the first book. When Holly told me, I would get another book with Slade…I squealed with delight. =)This book thought made me go through an emotional roller coaster. I was upset with how Slade was acting in the whole book to Hope. What a JERK!!! And I fell in love with a new character, Hutch, who I cannot wait to learn more about in the series.
Hello Slade, you were a jerk, so Hope needed someone who cared for her in her life what did you expect? (Sorry…just had to tell Slade off for a bit).Hope is on break from college and returns home to see her family, friends, and of course, her boyfriend, Slade. She is beyond excited to see him, but it seems Slade is not that excited to see Hope. The first time they have a moment of passion, in comes a blonde, pink wearing girl who does not even bother to knock on Slade's RV. Hope, of course, is furious but Slade not so much. Hope realizes that everyone in her life has changed since she was gone. Slade is alone in his RV instead of with his band family, Hope's Dad is dating the enemy's Mom, and even her brothers are all grown up and want nothing to do with Hope. Hope also thinks her best friend is acting coldly towards her and Slade's best friend keeps dodging Hope's question on if Slade has mixed feelings on the relationship now since he has the crazy girl around 24/7 it seems. Hope is going to learn about the new girl coming around and what she means to Slade and his family, but does she want to play with the witchy rules? One night, they go too far, and Hope feels terrible, so she does the right thing and apologizes. She ends up meeting the hunky, tall British guy, Hutch who she can't stop thinking about in the story. She is even having strong feelings for him that she should not feel since Slade is supposed to be her boyfriend. The unthinkable happens though, and Hope ends up getting a broken heart but gains a friendship from someone who wants to help her with her problem. The town is also changing around Hope and before you know it the secret is slowly coming out about what is happening in the park. This is primarily where Slade and his band play because Tucker, the guy that helped drug and hurt Hope the last book is about to tell the biggest secret to the town on what Hope and her friends are. This book was one emotional roller coaster for me since I loved Slade in the first book…but this book made me hate him. I didn't know what the heck was going on with him, but he was getting on my nerves. Here it is Hope gave up her humanity for him, and he will not even give her the time of day even to help her understand her new life. He also will not share his feelings. I was BEYOND surprised on how Holly made this bookend. Was not expecting that one but I was happy that Hope threw it someone that was willing to help Hope and also teach Hope the truth of what is happening to Slade. Have I told you enough…how much I wanted to punch Slade in this book? That jerk!!! The girl is also!! GRRR!! Now I'm going to wait patiently for the third book and find out what happens next because this book only touched on a little bit that is about to happen. I know something significant is going to happen in this next one. I want to learn more about Hutch also. Oh boy! He stole my heart in this book. I'm hoping Slade, can win my heart back…but as right now I'm going to make believe he's real…and slap him in the face for Hope. Because he put her through a lot in this book and all she wanted was the truth. I recommend this book to paranormal romance readers, readers who love reading about witches, and readers who do not mind getting mad at individual characters. I warned you… remember that. =)


I guess I should type a bio here. I'm FranJessca or Fran for short. I'm the owner of Book Lovin' Mamas and main Reviewer. I've been reviewing books since I got out of the Navy in 2011. Now 8 years later, I'm still reviewing, but this time with my youngest sidekick.
When I'm not reading and reviewing, you can find me at my day job during the week and on the weekend taking care of our little farm.

Latest posts by FranJessca (see all)