Review: 'Visions in Death' by J.D. Robb
September 7, 2021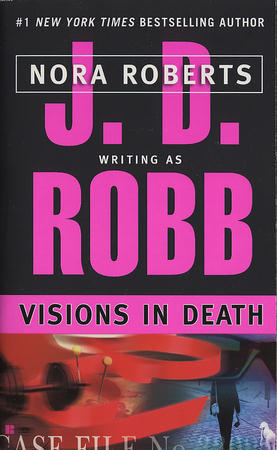 Visions in Death
by
J.D. Robb
Series:
In Death #19
Published by
Berkley Books
on January 25, 2005
Genres:
Romantic Suspense
Format:
Paperback
Source:
Purchased
Goodreads
Purchase at
Amazon
|
Barnes & Noble
|
Kobo

On one of the city's hottest nights, New York Police Lieutenant Eve Dallas is sent to Central Park - and into a hellish new investigation. The victim is found on the rocks, just above the still, dark water of The Lake in Central Park. Around her neck is a single red ribbon. Her hands are posed, as if in prayer. But it is the eyes - removed with such precision, as if done by the careful hand of a surgeon - that have Dallas most alarmed. As more bodies turn up, each with the same defining scars, Eve is frantic for answers. Against her instincts, she accepts help from a psychic who offers one vision after another - each with shockingly accurate details of the murders. And when partner and friend Peabody is badly injured after escaping an attack, the stakes are raised. Are the eyes a symbol? A twisted religious ritual? A souvenir? With help from her husband, Roarke, Dallas must uncover the killer's motivation before another vision becomes another nightmare...
---
I'm still participating in the #InDeathReadALong Challenge, but I'm a little behind. I'm catching up, though. (hopefully) I finished Visions in Death, which is the nineteenth book in J.D. Robb's In Death series. This one was an emotional one for me. I had a hard time putting it down.
Storyline/My Thoughts: This time around, Eve, Roarke, Peabody, McNabb, Feeney, etc., are dealing with a killer targeting women in Central Park. He/she is staging them in a specific way and leaving no traces behind of how to catch him/her. Eve may have some help, though when a psychic comes to their aid saying she has seen the killer in her visions with the women being killed. Eve is skeptical at first until she has the help of Mira to determine if they get more information from the psychic.
Let me warn readers first that this book may be emotional because one of the characters gets seriously attacked. I don't want to give away who it is, but I was an emotional wreck reading the scene(s). This character has become a favorite of mine since they were introduced. J.D. Robb had to bring the waterworks into this book. It's worst when I've been suffering from a sinus infection and have to use tissues constantly due to the illness, but this time I'm using it to do what happened to a fictional character. Dang you, J.D. Robb.
I had to take some time before diving into another book after reading Visions in Death due to everything that happened in this book. It was fast-paced, but it seemed to take forever to find out who was behind all the murders in Central Park. This person had some issues, and Eve and her team were determined to find the killer.
At the end of the book, I was not expecting a twist, but Eve sure put that person in their place. I never expected it, which is why I enjoyed this book. J.D. Robb did a fantastic job keeping me on the edge of my seat with this book, and I can't wait to read the next book(s). This series keeps getting better and better.
Oh, and I'm still in love with Roarke. He has become a top book boyfriend. I don't think I can find someone else in the Romantic Suspense/Thriller books which can top his qualities, and Eve is married to him. I love Eve, too, because she is a kick-butt heroine, but I'm jealous she's married to Roarke. (My husband has his own qualities that make him unique, but Roarke is my fictional book-boyfriend.)
Standalone or Part of Series: It's part of the In Death series, and I recommend reading in order.
Would I recommend this book? Yes. I highly recommend this book/series to readers that enjoy Romantic Suspense and Thrillers. J.D. Robb is the queen of the Romantic Suspense/Thriller genre, and I love that this series keeps continuing on and on. =)

This post contains affiliate links you can use to purchase the book. If you buy the book using that link, I will receive a small commission from the sale. It will help sponsor future giveaways but costs you nothing extra. You can read the full disclosure underneath the Privacy Policy.
---
---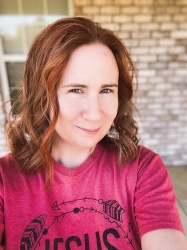 Latest posts by FranJessca
(see all)