Review: 'Worth The Trouble' by Eva Simmons
July 13, 2023
I received a complimentary copy of the book from Wordsmith Publicity in exchange for an honest review. This does not affect my opinion of the book or the content of my review.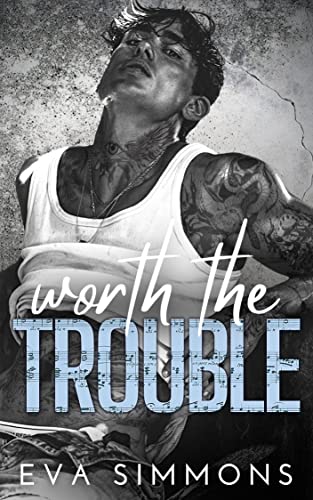 Worth the Trouble
by
Eva Simmons
Series:
Enemy Muse #4
Published by
Self-Published
on July 14, 2023
Genres:
Contemporary Romance
,
New Adult Romance
Format:
eArc
Source:
Wordsmith Publicity
Goodreads
Purchase at
Amazon

To the rest of the world, Rome Moreno is the Riff King. An icon, a Rock God. When I met him, he mistook me for a stripper and asked me to ride his lap. So consider me unimpressed.
I didn't mean for him to take that as a challenge…
There's no place for a tattooed hunk of trouble like him in the regimented life of a world-class dance princess. My days run on a carefully timed clock – where I go, when I practice, what I eat. I sold my soul to the devil to pay for my dreams, and I've accepted it.
But one taste of forbidden fruit can do the most destructive things. Especially when I discover Rome's scars go a lot deeper than his tattoo ink.
I honestly believed that if they already owned my existence, it meant I had nothing left to lose.
I was wrong.
---
The Enemy Muse series by Eva Simmons will forever be one of my favorite Rockstar romances. The characters and their stories are emotional and raw, and I'm sad the series is complete, but I'm happy each Enemy Muse band member has found their HEA, especially Rome Moreno. I have been waiting for Rome's book since starting this series, and Eva saved the best for last.
Let me admit right away that I loved every Enemy Muse band member's book and can't pick a favorite because I love them equally, but something about Rome and Lil's story will always resonate with me.
Rome is the bad boy who is also the player in the band who doesn't do relationships and has suffered trauma from his past. Lili is a ballet dancer who has never met anyone like Rome, who pushes her boundaries and has her living again.
I loved Rome and Lil's chemistry and couldn't get enough of these characters. Yes, this book is spicier than the others. Rome enjoys things that should have had Lili running for the hills, but instead, it tempted and intrigued her into exploring more with Rome.
Lili has her own issues in this book, which made me feel for her character. The emotional abuse she had to endure and everything else, I'm glad she finally found her happiness and not what others wanted her to have. She needed Rome, and Rome needed her.
I've learned right away when it comes to Eva Simmons that I need a box of tissues and some time to process my emotions after reading her books. It took me a while to pick up another book after I finished this book (plus the others in the series) because the stories hit me that hard. My husband thought something was wrong with me when I didn't read for a couple of days after finishing Rome's book, but I just needed some time because it was the last book in the series, and it was another emotional HEA.
I'm looking forward to the new series, but I will definitely miss the Enemy Muse band. I loved reading ALL their HEA stories, even if they were all heart-breaking in their own ways. If you have not started this series, then you are missing out. I definitely plan on rereading this series over and over in the future; that's how much I enjoyed them.
---
Story Rating: ⭐️ ⭐️ ⭐️ ⭐️ ⭐️
Steam/Spice: 🌶 🌶 🌶 🌶
Would I recommend? Yes, definitely. (Heck, my own daughter who is going off to college wants to read them now after she heard me rave about these books)
Single/Dual POV: Dual POV.
Genre/SubGenre(s): Romance | Contemporary Romance | New Adult Romance
Trope(s)/Element(s): Rockstar Romance | Bad Boy + Good Girl | Opposite's Attract | Opposites Sides of the Track | Forbidden Love/Romance | Guitarist MMC | Reformed Player MMC | Ballet Dancer FMC
Trigger(s)/Content Warning(s): Please check the author's website for CWs. (Possible spoilers)
Favorite Quote(s): "Has no one warned you not to tempt the devil?" I tilt her head so I can bring my mouth to her ear. "You might not like what you unleash."
"Don't mistake me for a gentleman because I'd rather destroy you than save you."
If anyone is going to wreck Lili, it's going to be me. And I'm going to enjoy every pretty sound she makes while I do it.
She's the calm in the center of my storm, and I'm a hurricane raging hard enough for her to finally feel something.

This post contains affiliate links you can use to purchase the book. If you buy the book using that link, I will receive a small commission from the sale. It will help sponsor future giveaways but costs you nothing extra. You can read the full disclosure underneath the Privacy Policy.
---
---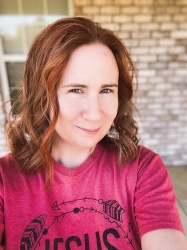 Latest posts by FranJessca
(see all)