I received this book for free from the publisher in exchange for an honest review. This does not affect my opinion of the book or the content of my review.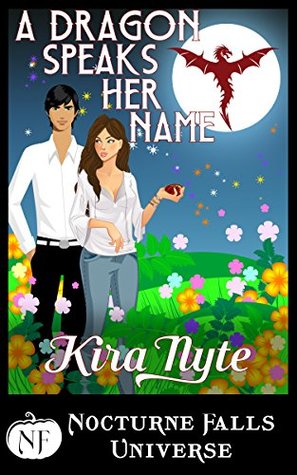 A Dragon Speaks Her Name: A Nocturne Falls Universe story
by Kira Nyte, Kristen Painter
Series: A Nocturne Falls Universe story
Published by Sugar Skull Books on May 23rd 2017
Genres: Paranormal Romance
Pages: 158
Format: eBook
Amazon | B&N
Goodreads


Kaylae Drayce is convinced she's crazy. She hears voices in her head and dreams of fiery apocalyptic wars. That's nothing compared to the terror she feels when the only people she loves are taken from her and she's forced to run for her life all the way to Nocturne Falls. The town promises her one of two things: Answers to her madness or a one-way ticket to an asylum.
Zareh Lutherone is shattered to discover the Firestorm dragons' ancient enemy has found and murdered his Keeper. He is plotting his next move in preparation for another war when a beautiful stranger literally falls into his arms. He doesn't know who she is, only that the dragon inside him demands he protect her at all costs. It doesn't take long to understand why.
Faced with a daunting task of convincing Kaylae she isn't crazy—she is his Keeper and lifemate—just got complicated. Their enemy is hot on their tail and will stop at nothing to get their hands on Kaylae in order to destroy the last of an ancient dragon race.
My Review Continue reading →