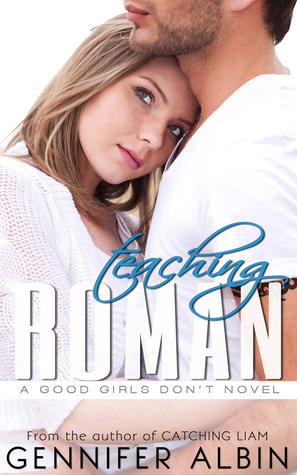 Teaching Roman
by
Gennifer Albin
Series:
Good Girls Don't #2
Published by
Self-Published
on June 26, 2014
Genres:
New Adult
Pages:
175
Format:
eArc
Source:
Blog Tour Host
Goodreads

Jessica Stone has her life in perfect order until her perfectly boring boyfriend Brett puts things in perspective. So when she receives a call to action from her heartbroken best friend Cassie, she ditches her plans for Winter Break in gloomy Olympic Falls and sets off to Mexico for some fun in the sun.
Determined to use her oceanview to prep for her MCATS, she doesn't plan to run into anyone from Olympic State, least of all the cute communications prof she's been crushing on for a year. When he unexpectedly saves the day, the two are thrown together in a distinctly extracurricular activity.
Roman Markson doesn't expect to run into anyone he knows from Olympic Falls while visiting his family in Puerto Vallarta, especially not a former student. Although Jess Stone has a way of catching men's attention, a relationship with her is strictly off-limits. However, the rules feel less strict in Mexico, so they agree to a plan: one week in paradise and nothing more.
But avoiding each other back on campus is harder than they anticipated, especially when they can't stay away from one another. Neither is sure what they have to learn—and lose—before life teaches them a lesson they'll never forget.
This is a New Adult novel. Due to mature content, it is recommended for ages 17 and up.
My Review Continue reading →
I received a complimentary copy of the book from the Author in exchange for an honest review. This does not affect my opinion of the book or the content of my review.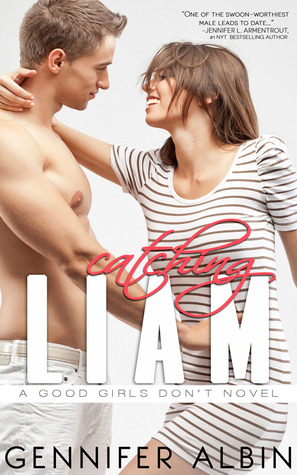 Catching Liam
by
Geneva Lee
Series:
Good Girls Don't #1
Published by
Self-Published
on July 8, 2013
Genres:
New Adult
Pages:
210
Format:
eBook
Amazon Kindle
Goodreads

Twenty-one year-old Jillian Nichols only has one rule when it comes to boys: catch and release. Boy-catching isn't just a game for Jillian and her friends, it's a lifestyle. After all, boys might be good for a dance or a drink and certainly a little under-cover action of the scandalous variety, but expect much else and you're bound for heart ache.
So when her best friends and fellow boy catchers start dropping like flies junior year, Jillian is determined to keep boys in her bedroom and out of her heart. Until she meets Liam McAvoy, the kind of guy that sticks around to make waffles and who can't—or perhaps won't—take a hint.
Study abroad student Liam doesn't want to be another notch on Jillian's bedpost. Actually he has much more interesting ideas for Jillian and her bedposts, but his student visa's set expiration date means he can't promise her forever. That doesn't mean he's going to walk away from the challenge of discovering why Jillian is hell-bent at keeping people at a distance.
Before long, neither is sure who is catching who—or if they're playing for keeps. Jillian knows one thing though: falling in love will not only break the only rule of boy-catching, it could also break her heart.
My Review Continue reading →