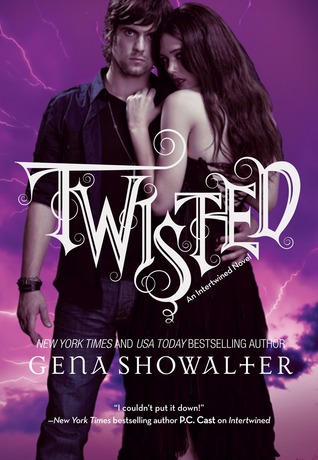 Twisted
by
Gena Showalter
Series:
Intertwined #3
Published by
Harlequin
on August 30th 2011
Pages:
564
Format:
Hardcover
Source:
Purchased
Amazon Kindle
|
Amazon Paperback
Goodreads

His vampire girlfriend might have brought him back to life, but he's never felt more out of control. There's a darkness within him, something taking over; changing him. Worse, because he was meant to die, death now stalks him at every turn. Any day could be his last.
Once upon a time, the three souls trapped inside his head could have helped him. He could have protected himself. But as the darkness grows stronger, the souls grow weaker - just like his girlfriend. The more vampire Aden becomes, the more human Victoria becomes, until everything they know and love is threatened.
Life couldn't get any worse. Could it?
My Review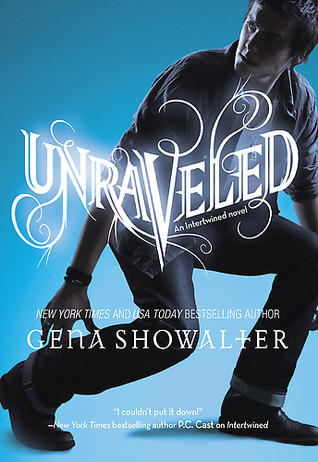 Unraveled
by
Gena Showalter
Series:
Intertwined #2
Published by
Harlequin Teen
on August 31st 2010
Pages:
572
Format:
Hardcover
Source:
Purchased
Amazon Kindle
|
Amazon Paperback
Goodreads

Since coming to Crossroads, Oklahoma, former outcast Aden Stone has been living the good life. Never mind that one of his best friends is a werewolf, his girlfriend is a vampire princess who hungers for his blood, and he's supposed to be crowned Vampire King—while still a human! Well, kind of.
With four—oops, three now—human souls living inside his head, Aden has always been "different" himself. These souls can time-travel, raise the dead, possess another's mind and, his least favorite these days, tell the future.
The forecast for Aden? A knife through the heart.
Because a war is brewing between the creatures of the dark, and Aden is somehow at the center of it all. But he isn't about to lie down and accept his destiny without a fight. Not when his new friends have his back, not when Victoria has risked her own future to be with him, and not when he has a reason to live for the first time in his life….
My Review