I received a complimentary copy of the book from the Netgalley, publisher in exchange for an honest review. This does not affect my opinion of the book or the content of my review.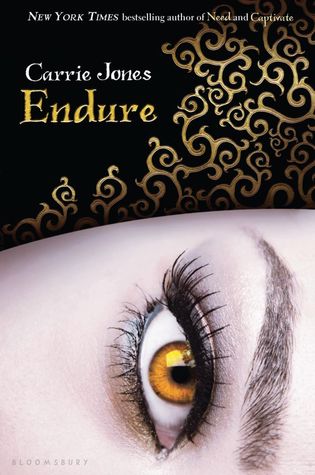 Endure
by
Carrie Jones
Series:
Need #4
Published by
Bloomsbury USA Children's Books
on May 8th 2012
Pages:
272
Format:
eArc
Source:
Netgalley, publisher
Amazon Kindle
|
Amazon Paperback
Goodreads

It's all-out war (and no-holds-barred romance) in the climactic conclusion to Carrie Jones's bestselling series.
Zara is at the center of an impending apocalypse. True, she's successfully rescued Nick from Valhalla, but it simply isn't enough. Evil pixies are ravaging Bedford, and they need much more than one great warrior; they need an army. Zara isn't sure what her role is anymore. She's not just fighting for her friends; she's also a pixie queen. And to align her team of pixies with the humans she loves will be one of her greatest battles yet. Especially since she can't even reconcile her growing feelings for her pixie king . . .
Unexpected turns, surprising revelations, and one utterly satisfying romantic finale make Endure a thrilling end to this series of bestsellers.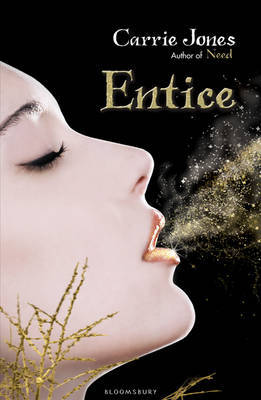 Entice
by
Carrie Jones
Series:
Need #3
Published by
Bloomsbury
on January 3rd 2011
Pages:
266
Format:
Hardcover
Source:
Purchased
Amazon Kindle
Goodreads

Zara and Nick are soul mates, meant to be together for ever. But that's not quite how things have worked out. For starters, Nick has gone. He has been taken to the mythical place for warriors known as Valhalla. Zara and her friends might be able to get him back, it's just not going to be easy. Meanwhile a group of evil pixies is devastating Bedford, with more teens going missing every day. An all-out war seems imminent, and the good guys need all the warriors they can find. But even if Zara and her friends do discover the route to Valhalla, there's that other small problem: Zara's been pixie kissed. When she finds Nick, will he even want to go with her? Especially since she hasn't turned into just any pixie... She's Astley's queen.
 My Review