ARC Review: 'Breaking Bad' by Karin Tabke
August 20, 2014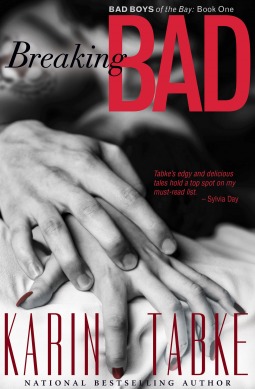 Breaking Bad
by
Karin Tabke
Series:
Bad Boys of the Bay #2
Published by
Self-Published
on August 19, 2014
Genres:
Romantic Suspense
Format:
eArc
Source:
Netgalley
Goodreads
Purchase at
Amazon

Detective Stevie Cavanaugh is one tough cookie…with a sexy but vulnerable secret…
Law enforcement royalty, Stevie Cavanaugh's fate was determined before she was born: follow her father's lead, retiring only after becoming Sheriff. But as capable and strong as she is, one man dared to awaken her dark sensuality, only to leave her aching for more. Now he's back, the baddest cop in the whole damn town, distracting her from the most important case of her career—capturing the Cain killer.
For Special Agent Jack Thornton, like Stevie, police work is in his blood. So is Stevie, the woman he left behind after just one perfect night. Now he's forced to work with her to catch a killer. Only he wants more of Stevie, too.
According to Stevie, she's not interested. But Jack knows her deepest darkest sexual secret—that while she's a woman used to giving command, she also takes great pleasure in submitting—to him. Despite how things ended seven years prior, Jack is determined to take Stevie to the next level.
When the fire between them becomes an inferno, they'll both savor the burn...

Since the moment Karin Tabke announced that there would be more HOT cops to read after I read The Chronicles of Katrina with Simon…I was patiently waiting to read Breaking Bad.  Breaking Bad is the spin-off to Karin Tabke's The Chronicles of Katrina, and in this book, she introduces us to the sexy alpha male character, Jack Thornton.  I thought Simon was hot, but Karin tops it off with Bad Boy, Jack.  Geez!!!  (Just read some of my favorite quotes below this review to find out why I LOVED every bit of Jack.  I even have several other quotes from Jack, but I thought I share just a few with him.)
Special Agent Jack Thornton is assigned to help his former flame, Detective Stevie Cavanaugh with her Cain killer case.  Stevie doesn't want anything to do with Jack though because he hurt her several years ago.  I don't blame her for not wanting his help, but Jack still has the sexy dominant appeal that she loves that makes him irresistible to say no to in the book.  Oh, …he had me hooked the minute he was introduced, so I don't blame Stevie would not being able to say no every once in a while.  The man knew how to sweet talk a woman and do all kinds of things in the bedroom, pool, etc.
Stevie is focused on finding the Cain killer and so is Jack, but their past is going to creep up and get in the way.  Jack Thornton is not the relationship kind of guy, and Stevie doesn't want to end up getting hurt again.  In the meantime, the killer is stalking his next victim, and it's up to Jack and Stevie to figure out who he's targeting and stop him.
If you're looking for a book that is sizzling and sexy with lots of romance and suspense elements in it, Breaking Bad is for you.  It's summertime still, so forewarned don't read this book when it's over 80+ degrees outside.  It will make you hotter, especially with certain scenes with Jack. Stevie is one lucky gal for giving him a second/third chance.  =)  (Jack may have stolen my heart over Simon and believed me I LOVED Simon in The Chronicles of Katrina)
Let's not forget how much I adored Stevie in this book.  She's one tough Detective, and she handled Jack very well in certain parts of the book. I loved it when Jack and Stevie were always going at it with each other.  Jack needed a woman to put him in his place, and Stevie was that woman.
There is also Simon and Kat that make an appearance in Breaking Bad, so for readers that loved The Chronicles of Katrina…you will love this book too.  My favorite scene is when Stevie met Simon and the other guys on Jack's team.  I know I would've had the same reaction as Stevie.  =)
I give this book 5 full moons and highly recommend it to romantic suspense readers out there.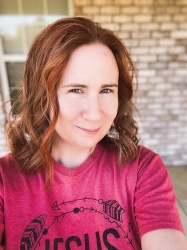 Latest posts by FranJessca
(see all)