Happy Book Birthday! 'The Empire' by Lisa Renee Jones is Out Today!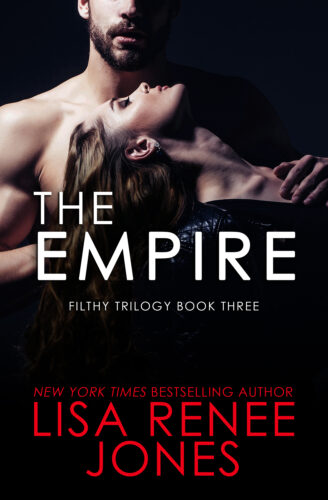 The Empire
(The Filthy Trilogy #3)
Author: Lisa Renee Jones
Publishing Date: March 12, 2019

The third and final book in the Filthy Trilogy – Eric and Harper's stunning finale…

Passion. Lies. Family.

Eric and Harper will feel the push and pull of a dynasty gone wrong. Secrets remain. Danger is everywhere. And the pull of their forbidden love will not be ignored.

Can they survive their enemies and find a path to love and forever?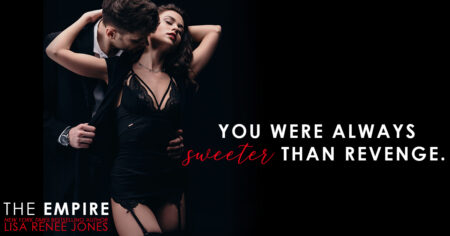 In life, there are people who touch our lives and leave lasting marks. There are people who cut us and do so in a way that we feel as if we might never heal. If we're lucky, we find that one person who can soothe the ache of our wounds, if not heal them. That one person who sees our flaws as perfection. That one person who can make us whole again.
Eric shoves me against the wall of that alcove, and with that window beside us, overlooking the city, his big body pressed to mine, his kiss not only devours me—it speaks to me. He's my one person and I'm his. I feel that in his touch. I feel that in the way we connect. I taste it in his kiss. I don't know where this leads us. I don't know if it means we can overcome the Kingston family, but I know we can overcome his demons. He doesn't, though. I taste that in his kiss as well. There is torment, a feeling like he's bad for me. That he shouldn't want me and the only comfort I find in this and where we're headed is that he isn't pushing me away—he's pulling me closer. And I will hold him tighter.
I sink into the hard lines of his body, slide my hands under his shirt, hard muscle flexing beneath my palms, the thick ridge of his erection pressed to my belly. God, how I want him, how I ache for more, and the next lick of his tongue just about undoes me. I tug on his shirt. "Take it off," I order, wanting to feel him closer.
He reaches over his head and tugs it free and then fixes me in one of those scorching blue-eyed stares, the way he had the first night we met, and I'm melting right here in this office for him. He tugs my shirt over my head and unhooks the front of my bra, his gaze raking over my naked breasts, my nipples puckering beneath his inspection, and my sex clenching, empty, so very empty without him. "Better?" he challenges, his attention settling on my face.
My hands come down on his upper arms, the jaguar on his right shoulder, reminding me just how much he wants to deny his heritage. It reminds me just how much this family burns him alive. "A little." I slide my hands down his hips and boldly stroke the line of his zipper, the thick ridge of his erection.
He groans, one of his hands covering my hand, the other hand catching my hair, a rough pull as his mouth closes down on mine again. And then he's devouring me again and I love it. I love that I've drawn this deep, guttural reaction from him. I love that he's all here with me, not in his own head, not doubting how good he is for me. Not swimming in the ocean of numbers in his head. Not in the hell of the Kingston family.
This drives me. I want to push him. I want to keep him here, with me. I squeeze his erection through his pants and whisper, "Why aren't you inside me already?"
He turns me, pressing me to the wall like he had in the cottage, his big body wrapping my body, his hands on my breasts, fingers teasing my nipples, lips at my ear. "You were always sweeter than revenge," he promises. "Always more addictive." He plucks at my nipples. "So fucking addictive and I hated you for that."
He reaches for my zipper and I squeeze my eyes shut. I don't have to ask what he means. I understand. From the moment we met, he was in my head, in my heart, his touch imprinted on my body. The man I compared all others to, and they came up short. "I hated you, too."
His hands press under the denim at my hips. He caresses them down my legs and then his arm is wrapping my waist and he's lifting me. In a few quick moves, I'm naked and he's standing at my hips, one palm possessively on my backside. The other on my belly. "Do you hate me now?" His fingers walk down to my sex and he cups me.
"Yes." I look at him. "I still hate you for having this much control over me." He slides his fingers along the seam of my sex, sending sensations darting through my body.
"Is that a bad thing?" he challenges, his palm squeezing my backside, his fingers slipping inside me.
"Yes," I say, panting my way through that one word and somehow adding, "Because when I look in your eyes, like I am now, I see expectations. The wrong ones."
He scowls and suddenly he's turning me, pressing my back to the wall, his legs caging mine. "What does that mean?" he demands.
"It means as long as you expect to hurt me, as long as you expect you being a savant, you being different from me, to make us less, we will be. It means, you expect us to fail and so we will." I swallow hard, my hand planting on his chest, his heart thundering beneath my palm, pounding out an emotional beat. "You think I can't handle who and what you are. You still think I'm the princess and you're the bastard."
He tangles his fingers into my hair, his touch rough, erotic, as he drags my lips to his. "We are the bastard and the princess, but I don't care anymore. I want you. I fucking need you. Do you understand me?"
Heat rushes over me, through my body, over my skin and settles in my heart and my sex. "I fucking need you, too."
"Good, because I might have asked you to stay, but I never intended to let you go. I'm not going to let you go. I'm not going to let us go."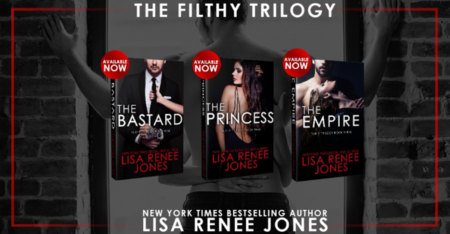 THE BASTARD (book one) – Available Now at Amazon US | Amazon CA | Amazon UK | Barnes & Noble | iBooks 
---
THE PRINCESS (book two) – Available Now at Amazon US | Amazon CA | Amazon UK | Barnes & Noble | iBooks
---
THE EMPIRE (book three) – Available Now at Amazon US | Amazon CA | Amazon UK | Barnes & Noble | iBooks

I guess I should type a bio here. I'm FranJessca or Fran for short. I'm the owner of Book Lovin' Mamas and main Reviewer. I've been reviewing books since I got out of the Navy in 2011. Now 8 years later, I'm still reviewing, but this time with my youngest sidekick.
When I'm not reading and reviewing, you can find me at my day job during the week and on the weekend taking care of our little farm.

Latest posts by FranJessca (see all)