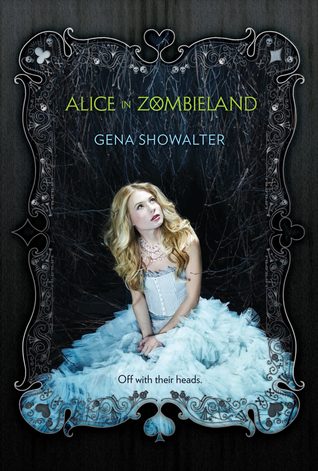 Alice in Zombieland
by Gena Showalter
Series: White Rabbit Chronicles #1
Published by Harlequin Teen on September 25th 2012
Pages: 404
Format: Hardcover, AudioBook
Source: Purchased
Amazon | B&N
Goodreads


She won't rest until she's sent every walking corpse back to its grave. Forever.
If anyone had told Alice Bell that her entire life would change course between one heartbeat and the next, she would have laughed. From blissful to tragic, innocent to ruined? Please. But that's all it took. One heartbeat. A blink, a breath, a second, and everything she knew and loved was gone.
Her father was right. The monsters are real.
To avenge her family, Ali must learn to fight the undead. To survive, she must learn to trust the baddest of the bad boys, Cole Holland. But Cole has secrets of his own, and if Ali isn't careful, those secrets might just prove to be more dangerous than the zombies.
I received this book for free from Netgalley in exchange for an honest review. This does not affect my opinion of the book or the content of my review.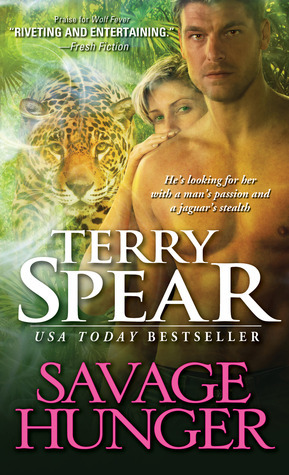 Savage Hunger
by Terry Spear
Series: Heart of the Jaguar #1
Published by Sourcebooks Casablanca on October 2nd 2012
Genres: Paranormal Romance
Pages: 341
Format: eArc
Source: Netgalley
Amazon | B&N
Goodreads


As a jaguar he is graceful and gorgeous. Speedy and stealthy. Fierce, independent and wild. As a man he is passionate and powerful, wilful and wonderful.
And he'll stop at nothing to protect what's his...
In the heat of the jungle, jaguars are clawed, dangerous, and hungry for love. With hopes of overcoming night terrors and thanking the man who saved her life, Kathleen McKnight returns to the Amazon.
A jaguar at heart, Connor Anderson doesn't just protect her, but wants to claim her for his own.
I received this book for free from the Author in exchange for an honest review. This does not affect my opinion of the book or the content of my review.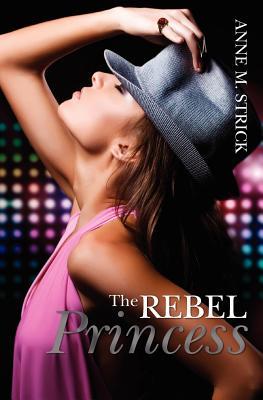 The Rebel Princess
by Anne M. Strick
Published by Createspace Independent Publishing Platform on September 14th 2010
Genres: Contemporary Romance
Pages: 394
Format: eArc
Amazon | B&N
Goodreads


An insider's first-ever behind-the-scenes scoop on how movies are REALLY made: gritty, grinding, tunnel-vision labor, back-stage intrigue, explosive dramas, parties, and relationships that last a night or a lifetime.Larger-than-life characters who live life with fervor, while contending with their own inner demons and one another, all in the pressure cooker of a location shoot in the exotic world of Mexico. This romp of a story follows the making of a movie from pre-production through wrap. A hotly passionate love story and a murder elevate the stakes.
My Review
I received this book for free from the publisher in exchange for an honest review. This does not affect my opinion of the book or the content of my review.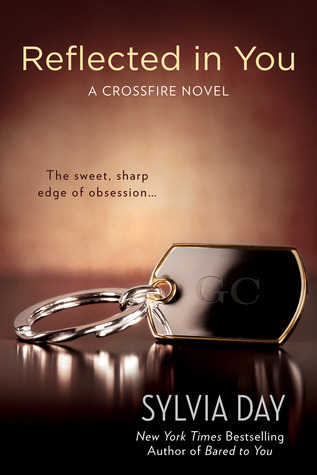 Reflected in You
by Sylvia Day
Series: Crossfire #2
Published by Berkley on October 23rd 2012
Genres: Contemporary Romance
Pages: 338
Format: Paperback
Source: the publisher
Amazon | B&N
Goodreads


Gideon Cross. As beautiful and flawless on the outside as he was damaged and tormented on the inside. He was a bright, scorching flame that singed me with the darkest of pleasures. I couldn't stay away. I didn't want to. He was my addiction... my every desire... mine.
My past was as violent as his, and I was just as broken. We'd never work. It was too hard, too painful... except when it was perfect. Those moments when the driving hunger and desperate love were the most exquisite insanity.
We were bound by our need. And our passion would take us beyond our limits to the sweetest, sharpest edge of obsession...
My Review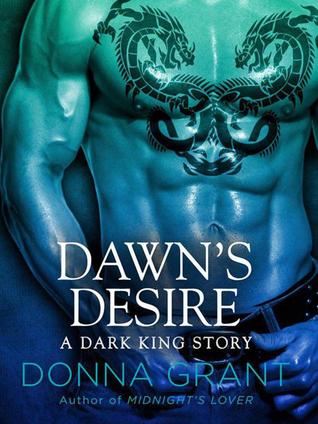 Dawn's Desire
by Donna Grant
Series: Dark Kings #0.3
Published by St. Martin's Press on September 25th 2012
Genres: Paranormal Romance
Format: eBook
Source: Purchased
Amazon | B&N
Goodreads


For centuries, the immortals knows as the Dragon Kings have hidden their shapeshifting powers from the world. But when a mortal enemy threatens to expose them, the warrior Banan must leave his secret lair in the Highlands, risk his life for the dragons within – and resist the temptations of human love…
Jane Holden has never considered herself beautiful. But when the impossibly handsome Banan casts his gaze upon her, smoldering with sensuality, she feels like the sexiest woman on earth. Banan, however, is a man on a mission. He refuses to succumb to this modern woman's charms – or his own desires. Two of his warrior brethren have already surrendered to forbidden love. But as the danger closes in, Banan realizes that he needs to possess Jane – mind, body, and soul. For she is more than his match. She is his destiny…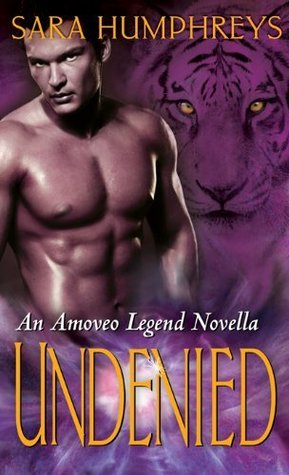 Undenied
by Sara Humphreys
Series: The Amoveo Legend #2.5
Published by Sourcebooks Casablanca on October 2nd 2012
Genres: Paranormal Romance
Pages: 40
Format: eBook
Source: Purchased
Amazon | B&N
Goodreads


Enjoy a taste of The Amoveo Legend in Sara Humphreys' riveting paranormal romance short story expanding on the world of the Amoveo—beautiful, secretive shapeshifters whose very existence is threatened by an age-old enemy and warring factions within the clans.
In this free promotional tale, Boris Zankoff is a shapeshifter from the Tiger Clan who wants no part of the burgeoning civil war among the Amoveo, But when his human mate lands on his doorstep in desperate need of his help, apathy is no longer an option
My Review
I received this book for free from the publisher in exchange for an honest review. This does not affect my opinion of the book or the content of my review.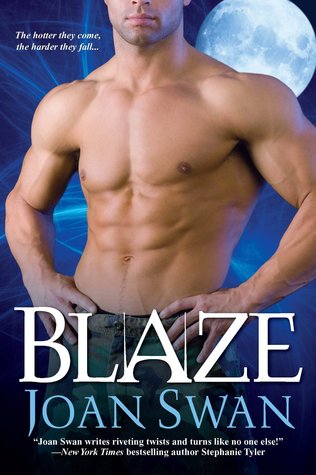 Blaze
by Joan Swan
Series: Phoenix Rising #2
Published by Brava on September 25th 2012
Genres: Romantic Suspense
Pages: 375
Format: Paperback
Source: the publisher
Amazon
Goodreads


The hotter they come, the harder they fall…
With a man like him, every mission becomes personal…Ever since FBI agent Keira O'Shay started tracking a young boy named Mateo, she's felt a connection even her empathic abilities can't explain. She needs to save Mateo from the cult leader holding him hostage. Nothing can interfere with that—not even the reappearance of Luke Ransom, the hot-as-hell fire captain she's regretted walking out on for three long years.
Losing Keira left Luke vulnerable—in every way. When they were together, the powers each possesses were mysteriously enhanced. But it's the sexy, surprising woman beneath the tough exterior that Luke's really missed. Even if she betrayed him utterly. And even if agreeing to help her uncover a government conspiracy means watching his life and his heart go up in flames again…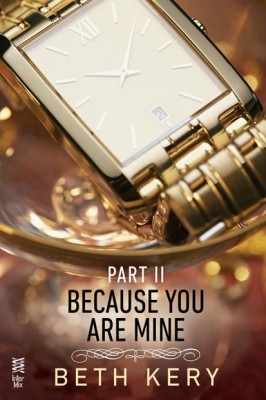 Because I Could Not Resist
by Beth Kery
Series: Because You Are Mine #1.2
Published by Penguin Group (USA) on August 7th 2012
Genres: Erotic Romance
Pages: 53
Format: eBook
Source: Purchased
Amazon | B&N
Goodreads



The red-hot romance between Ian and Francesca was ignited in Because You Are Mine Part I—that which comes with the first look, the first caress. Now comes the first act of defiance that takes them one step further into forbidden desire.

A heated argument between Francesca and Ian leaves the impetuous young woman alone again, and free to do whatever she chooses, and with whomever she desires. She's not about to answer to any one man—especially Ian. Until he catches her. As he takes her to his penthouse, the tension is incendiary. One thing is clear for both of them. Francesca must be punished.
Outraged and unbearably excited, the naïve Francesca loses whatever control she had. After all, Ian is too dominant a man to fight off. She did disobey him. She does deserve it. Francesca just never realized how much she wanted it. But when Ian discovers how naïve Francesca really is, he wonders if taking advantage of such innocence is going too far, even for him.
My Review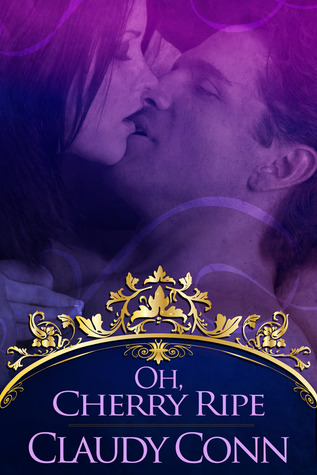 Oh, Cherry Ripe
by Claudette Williams, Claudy Conn
Published by BC Publications on February 23rd 2012
Genres: Historical Romance
Pages: 194
Format: eBook
Source: Purchased
Amazon | B&N
Goodreads


Cherry Elton was beside herself! Her own mother had arranged a marriage for her to a man she had never even met. She had no choice but to run away.
Sky Westbrooke had no wish to marry, but his mischievous siblings sorely needed a firm maternal hand. Yet, how could he court his unseen bride, when into his employ had come the most remarkable, enchanting governess?
And Cherry, playing at being a governess was smitten by the handsome, cavalier Lord Westbrooke. His stolen kisses left her breathless—yet, he was betrothed to another. Whatever was a love struck governess to do?
**note: this is an updated version of an earlier novel written as Claudette Williams. The updated versions of Claudy's Claudette Williams titles are more sexually explicit than the original versions.
My Review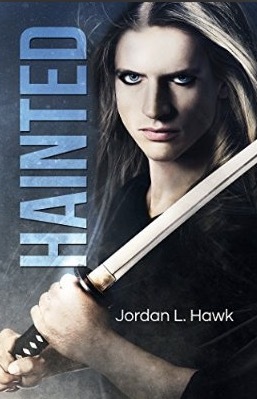 Hainted
by Jordan L. Hawk
Published by Self-Published on September 2nd 2012
Genres: Paranormal Romance
Pages: 249
Format: eBook
Source: Blog Tour Host
Amazon | B&N
Goodreads


The Good Guy: Haint-working runs in Dan Miller's blood. Not everyone can help the restless dead cross over, especially when the haunting threatens the Living. But the death of his parents six years ago forced Dan to give it up in exchange for raising his brother and sister, all the while struggling to keep their rural NC farm afloat.
So when the flamboyantly goth Leif Helsvin shows up on Dan's doorstep looking for help with an evil necromancer named Runar, Dan's first instinct is to turn him down. With two teenagers to look after, he's already got all the trouble he can handle. Besides, the sexy Leif is too much of a temptation, and Dan is firmly in the closet.
The Bad Boy: Pierced, tattooed Leif never has sex with the same guy twice. It keeps things simple, especially since his oath to stop Runar has him constantly drifting from one town to the next.
But this time, it looks like Leif is going to need help, in the form of the very down-to-earth Dan. Since Nice Guys are off the menu, Leif just has to keep his hands to himself for as long as it will take to stop Runar's latest scheme. But as Leif finds himself drawn deeper into Dan's life, he quickly realizes he's not just in danger of breaking the rules, but breaking his heart as well.
My Review