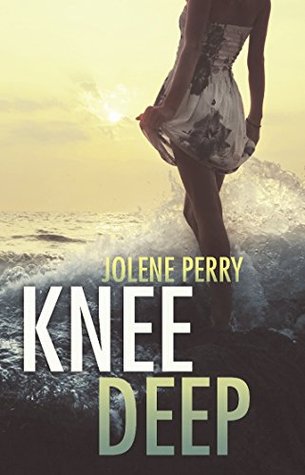 Knee Deep
by Jolene Perry
Published by Next Door Books on April 24, 2012
Pages: 278
Format: eBook
Source: the Author
Amazon
Goodreads


A broken heart. A best friend. A first love.

Shawn is the guy Ronnie Bird promised her life to at the age of fourteen. He's her soul mate. He's more uptight every day, but it's not his fault. His family life is stressful, and she's adding to it. She just needs to be more understanding, and he'll start to be the boy she fell in love with. She won't give up on someone she's loved for so long.

Luke is her best friend, and the guy she hangs with to watch girlie movies in her large blanketopias. He's the guy she can confide in before she even goes to her girlfriends, and the guy who she's playing opposite in Romeo and Juliet. Now her chest flutters every time he gets too close. This is new. Is Ronnie falling for him? Or is Juliet? The lines are getting blurry, but leaving one guy for another is not something that a girl like Ronnie does.

Shawn's outbursts are starting to give her bruises, and Luke's heart breaks as Ronnie remains torn. While her thoughts and feelings swirl around the lines between friendship and forever, she's about to lose them both.
My Review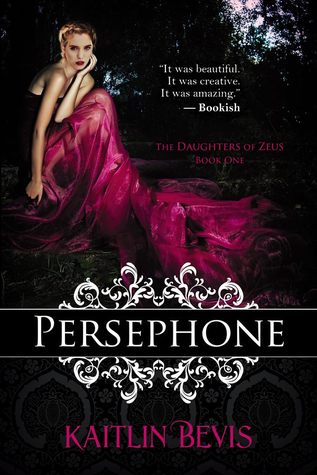 Persephone
by Kaitlin Bevis
Series: Daughters of Zeus #1
Published by BelleBooks Publishing on July 5, 2012
Pages: 194
Format: eBook
Source: the Author
Amazon | B&N
Goodreads


Daughters of Zeus, Book One
One day Persephone is an ordinary high school junior working at her mom's flower shop in Athens, Georgia. The next she's fighting off Boreas, the brutal god of Winter, and learning that she's a bonafide goddess—a rare daughter of the now-dead Zeus. Her goddess mom whisks her off to the Underworld to hide until Spring.
There she finds herself under the protection of handsome Hades, the god of the dead, and she's automatically married to him. It's the only way he can keep her safe. Older, wiser, and far more powerful than she, Hades isn't interested in becoming her lover, at least not anytime soon. But every time he rescues her from another of Zeus's schemes, they fall in love a little more. Will Hades ever admit his feelings for her?
Can she escape the grasp of her powerful dad's minions? The Underworld is a very cool place, but is it worth giving up her life in the realm of the living? Her goddess powers are developing some serious, kick-butt potential. She's going to fight back.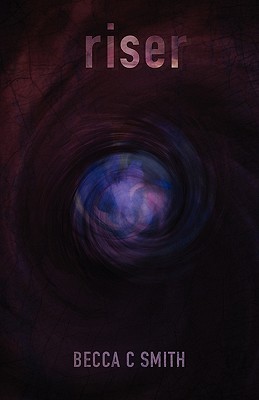 Riser
by Becca C. Smith
Series: The Riser Saga #1
Published by Red Frog Publishing on June 5th 2010
Genres: Young Adult
Pages: 370
Format: eBook
Source: the Author
Amazon
Goodreads


Black swirling holes churning madly in the center of every corpse. This is how eighteen-year-old Chelsan Derée sees the deceased. Her ability to connect to the black spinning holes allows her to control every dead thing within a four-mile radius.
But that's the least of her problems. It's 2320 and Chelsan Derée has to survive another year of high school, which for her is pure and utter torture, mainly due to the fact that her schoolmate Jill Forester's favorite activity is making Chelsan's life a living hell. If that isn't enough, Chelsan's impossible crush on Ryan Vaughn makes her brain do somersaults on a regular basis, especially since she is positive he doesn't know she exists. And being eighteen Chelsan has to deal with the pressure of whether or not she should take a little pill called Age-pro, which cures aging, making the world eighteen forever and highly over-populated.
When Chelsan's mother, Janet, is brutally killed, along with everyone else in her trailer park, Chelsan finds out that she was the intended target. Chelsan must use her power to raise and control the dead to save herself, protect her friends and take down the man responsible for murdering her mother.
My Review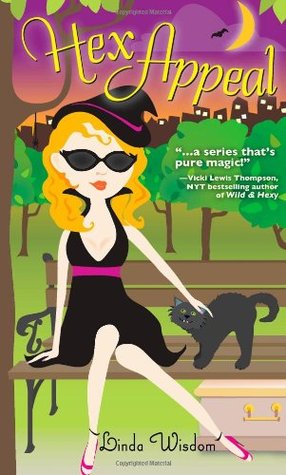 Hex Appeal
by Linda Wisdom
Series: Hex #2
Published by Sourcebooks Inc on November 1st 2008
Genres: Paranormal Romance
Pages: 354
Format: Paperback
Source: Purchased
Amazon | B&N
Goodreads


The second book in the Hex series features feisty witch Jazz and her drop-dead gorgeous vampire cop boyfriend in a new installment. On again, off again for over 300 years, Jazz and Nick are finally back together, but then Jazz thinks Nick has bitten her. Separated again, upset and angry, the two of them start having violent, recurring dreams in which each one figures in disturbing and menacing ways. They can't sleep, they can't eat, and they finally figure out they'd better get together and discover who's poisoning their dreams-and their relationship. Full of the fantastic secondary characters that Linda Wisdom's fans know and love, including Jazz's sister witches and a cast of delectable supernatural male characters, Hex Appeal is fun and funny paranormal romance at its best. "Filled with loads of sass and sensuality, plenty of laughs and a host of oddball characters who'll leave you in stitches and asking for more."-Book Loons "With a rollicking cast of supporting characters, biting wit and sensual scenes, 50 Ways to Hex Your Lover is 'a high-power keg of excitement!'"-Coffee Time Romance 4 Star Review-Romantic Times: "Longtime series author Wisdom makes a wickedly fun jump into the supernatural realm. Offbeat characters...offer insight into this highly intriguing new heroine. The balance of danger, adventure and the supernatural is excellent. With characters as rich and challenging as these, let's hope we haven't seen the last of them." "Wisdom, no stranger to romance fans, delivers a striking opening salvo in her new paranormal series... a zany, hot read." -Booklist
I received this book for free from Netgalley in exchange for an honest review. This does not affect my opinion of the book or the content of my review.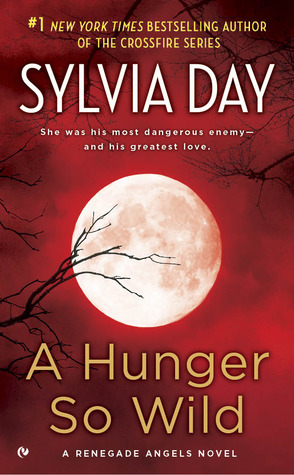 A Hunger So Wild
by Sylvia Day
Series: Renegade Angels #2
Published by Signet on July 3rd 2012
Genres: Paranormal Romance
Pages: 343
Format: eArc
Source: Netgalley
Amazon | B&N
Goodreads


The New York Times bestselling author of Bared to You, Sylvia Day, draws us into the shadows of a seductive underworld where lycans, vampires and angels vie for supremacy…
Elijah Reynolds is the most dominant of lycans, a rare Alpha whose skill on the hunt is surpassed only by his primal sexuality. When the lycans revolt due to the iron fist of angelic rule, he steps into command, becoming both enemy and coveted ally in the conflict between vampires and angels.
Vashti is the second most powerful vampire in the world, a lethal beauty with a path of devastation in her wake. Tasked with proposing an alliance between vampires and the lycans who killed her mate, Vash approaches Elijah, whose need to avenge a friend demands Vash's death even as his passion demands her surrender.
Soon, their enmity erodes beneath an all-consuming desire. Elijah has never encountered a woman whose warrior spirit and fierce sexual appetite rivals his own, while Vash is faced with the one man strong enough to be her equal. But as war looms, each must decide where their loyalty lies—with their own kind or with the enemy lover they can no longer live without.
My Review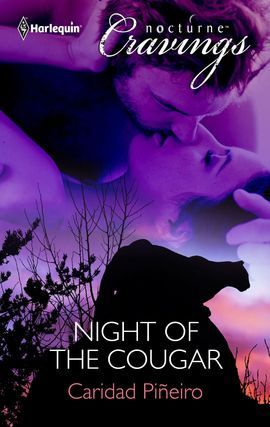 Night of the Cougar
by Caridad Piñeiro
Published by Harlequin Nocturne Cravings on June 1st 2012
Genres: Paranormal Romance
Pages: 56
Format: eBook
Source: Purchased
Amazon | B&N
Goodreads


Reporter Jamie Morrison got the scoop of a lifetime when she snagged a meeting with bestselling author Galen Hawke, but their rendezvous didn't end with an interview. Their immediate attraction led to a wicked night together and a plan to meet again—until an accident left Galen changed forever….
Now, one year later, Jamie is sent to interview Galen once more. When a snowstorm strands them together in his remote mountain lodge, they are both eager to explore their reawakened passion. But will Jamie stay by Galen's side when she discovers what he's become?
I received this book for free from the publisher in exchange for an honest review. This does not affect my opinion of the book or the content of my review.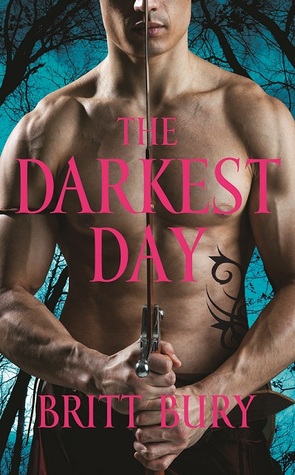 The Darkest Day
by Britt Bury
Series: Immortal Heat #1
Published by Forever Yours on July 3rd 2012
Genres: Paranormal Romance
Pages: 300
Format: eArc
Source: the publisher
B&N
Goodreads


ALL-CONSUMING DESIRE . . .
Izel Campbell was raised to believe she is an immortal Fionn with the magical skills of persuasion. But when she travels to Scotland to visit her ancestral home, Izel discovers that she is actually the world's last living human. Forced to run for her life, Izel crosses paths with Kelvin Kerr, the Campbells' greatest foe-and the most magnificent warrior she has ever seen.
BURNS BRIGHTEST . . .
A thousand-year-old battle chief of the Kerr clan, Kelvin lives only to avenge his father, who died at the hands of the bloody Campbells. Honor demands he kill the Campbell heir, but when he learns that the lovely Izel is both Campbell and human, Kelvin is torn between duty and desire . . .
ON THE DARKEST DAY
Word Count: 86,000. This is Book 1 in The Immortal Heat series.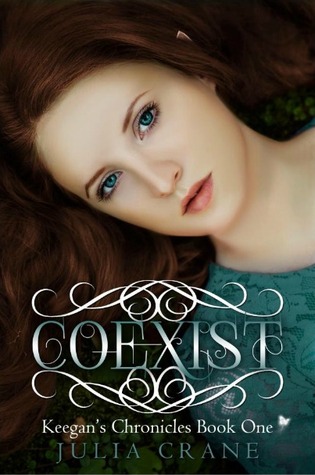 Coexist
by Julia Crane
Series: Keegan's Chronicles #1
Published by Valknut Press on June 19th 2011
Pages: 236
Format: eBook
Source: the Author
Amazon | B&N
Goodreads


Sixteen-year-old Keegan is struggling to keep her huge secret from her friends--she's an elf, descended from a long line of elves that live in secrecy alongside humans. In elfin society, mates are predetermined but not allowed to meet until they are eighteen. Against tradition, Keegan's brother Thaddeus told her Rourk's name because his visions warned him she'd need Rourk's protection, especially since Keegan will play a key role in the coming war between the dark and light elves.
Rourk finds himself drawn to Keegan's side every time she thinks his name. He wants to talk to her but remains in the shadows, silently guarding her every time she mentally beckons him. A twist of fate thrusts the two of them together when Rourk is forced to step up his protection and make his presence known. An ancient prophecy deeply entwines Keegan's family and the future of their society. Somehow they must find a way to thwart fate and win the battle...without losing Keegan. With war brewing, and dark forces aligning, will Keegan and Rourk ever have the life together that they both desire?
I received this book for free from Netgalley in exchange for an honest review. This does not affect my opinion of the book or the content of my review.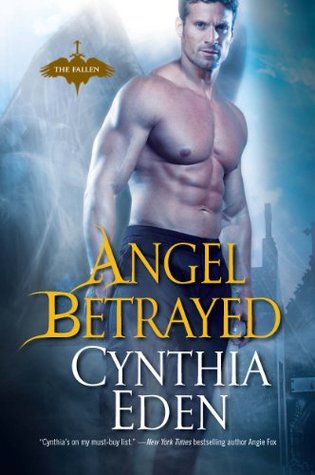 Angel Betrayed
by Cynthia Eden
Series: The Fallen #2
Published by Kensington Books on June 26, 2012
Genres: Paranormal Romance
Pages: 321
Format: eArc
Source: Netgalley
Amazon | B&N
Goodreads


A LITTLE BIT OF ANGEL LUST.
Sammael – call him Sam – was an angel once. An angel of death. But the dispassionate, watch-from-above thing just wasn't working for him when it meant watching evil torture innocent souls day in and day out. It might have cost him his wings, but these days, he gets to apply the direct method on the bad guys. Problem is, what's making his life difficult is a bad girl…
Seline O'Shaw needs protection, and with the hounds of hell on her tail, she's not going to quibble too hard about where she gets it. Sam's virtue is questionable, but he's smoking hot, massively powerful, and owes her a favor. So what if she's getting a little case of angel lust? There are some damn deadly sins after her hide…
My Review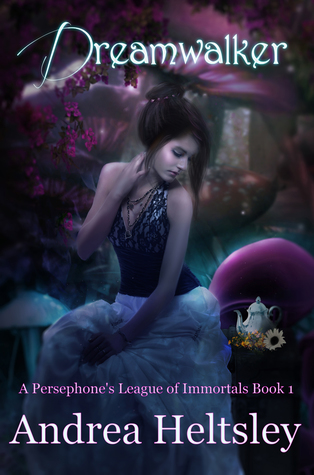 Dreamwalker
by Andrea Heltsley
Series: Persephone's League of Immortals #1
Published by Starfire Press on May 23rd 2012
Genres: Paranormal Romance
Pages: 434
Format: eBook
Source: the Author
Amazon
Goodreads


Noel Kennedy lost her boyfriend, her job, and her dignity all in one week. She then gained an entirely new life. Hunted by a mysterious league of immortals, Noel must rediscover her forgotten past while uncovering the truth behind the two men who battle for her heart, both in dreams and in reality.
Entranced, she slowly unravels a world she was meant to stay out of. A world filled with creatures she once thought to be myth and dangers that threaten her very soul. Now Noel begins the fight for her life and must choose between two men who call to her heart. Can she escape a life of servitude or immortality for a chance at love?
Book One of The Persephone's League of Immortals Series
http://adiaryofabookaddict.blogspot.com - Tee loves Kyle Jacobson .HOLY HADES....... Dreamwalker is one of those mythology stories that grips you right from the beginning and you are unable to stop reading it because you need to know what is going to happen next. As you all know I love mythology stories and I love my bad boys! This story has it all and I want no I NEED book 2 ASAP!
http://rottenapplereads.blogspot.com/ - Alice Belikov First lady Ivashkov's .I SOoo LOVED reading this book, it was a wonderful FRESH and enjoyable read. I loved all the characters, it's normal to fall in love with the protagonist but I found myself falling for Boone.
 My Review
Continue reading →