Review: 'Eyes On Me' by Sara Cate
July 6, 2022
This book may be unsuitable for people under 18 years of age due to its use of sexual content, drug and alcohol use, and/or violence.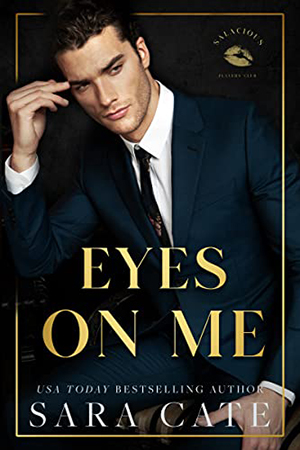 Eyes on Me
by
Sara Cate
Series:
Salacious Players Club #2
Published by
Sara Cate Books LLC
on April 28, 2022
Genres:
Contemporary Romance
,
Erotic Romance
Format:
eBook
Source:
Kindle Unlimited
Goodreads
Purchase at
Amazon
|
Barnes & Noble

I'm a voyeur—it means I like to watch.
And in my line of work, that's a gift.
As one of the four owners of the Salacious Players' Club, I'm comfortable on the sidelines. This is what I was made to do, and I work better alone.
Until the day I stumble on a certain cam girl app and find myself watching the one person I should never have watched—my step-sister.
There are three big problems with this.
One, Mia and I can't stand each other.
Two, she has no idea I'm the man on the other end of the video.
And three…I'm hooked—on the app and on her.
Now, Mia has me wanting and doing things I said I'd never do again, like opening upand getting attached. I'm falling for her, but she's falling for the mystery man I'm pretending to be.
If I'm going to make this right, then I have to do more than just watch.
But how far will I go to keep her eyes on me?
---
Eyes On Me is the second book in Sara Cate's Salacious Player's Club series. I couldn't wait to dive into the second book after reading the first book, Praise that I started reading it right after. I needed to read Garrett's story because he's the sex club owner whose kink is voyeurism. 
Storyline/My Thoughts: Garrett is one of the owners of the Salacious Player's Club, which is a sex club. He's the owner whose kink is watching others (voyeurism). He's happy to be on the sidelines and working alone. One day he decides to do something out of the ordinary and download an app on his phone where he can watch others. He ends up stumbling on a certain Cam Girl who looks familiar and finds out that his little stepsister, Mia, is no longer little anymore. He recognizes the background of her feed and decides to take a trip to the lake cabin where his mother, stepfather, and stepsister stay. He hasn't been there in a long time, and his mother wants him to spend time with them, especially Mia. After watching her over the app, he needs to figure out if he has the hots for his stepsister or if it's just a one-time thing.  
Mia is younger than him (in her twenties) and still living at home with her parents. She works as a Cam Girl, making easy money. Mia and Garrett have never had a close relationship as step-siblings. When he comes to the lake cabin for the first time in years, he acts weird around her. He still treats her horribly at times, but he's acting strangely on this visit to the cabin. The thing with Mia is she's had a crush on her stepbrother since her teens. She wants her stepbrother to see her as a woman, not a bratty child. Garett will definitely see his stepsister as more of a woman when he gets to spend time with her at the cabin. It will take time, though.
I enjoyed the plot in Eyes on Me, where the stepbrother stumbles on his stepsister's Cam Girl videos and doesn't know if he has genuine feelings for her. It's the first book I've read where a character enjoys watching instead of participating. Now, Garrett does participate in this book. He participates a lot for being a voyeur. (There were scenes where he watches too.)
It bothered me when Garrett didn't tell Mia that he was watching her feed and was using a different name to chat with her. Did he not realize it would eventually backfire on him? He should have been truthful with her.
I loved Mia's character. She was confident and bold in her early twenties. She found something that worked for her as a Cam Girl. I also loved how she put Garrett in his place. One of my favorite scenes with Garrett and Mia was at his club, and he ends up on stage with her. I won't give it away, but it was a HOT scene. (Cold shower, anyone? Because Sara Cate upped the steam and spice levels in this book.)
Now, I will say this; I felt for Garrett in the story because he was hiding a dark secret that happened to him years ago, and he still needed help coping with what he was going through. I could pick up on hints of what he was going through throughout the book. I may have gotten emotional when it came to light because, as someone who has suffered from depression, it's hard to ask for help and get the care you need to get through the tough times. I'm so glad that Garrett found his HEA with Mia. He deserved it, and so did she.
I will admit now that I have never read a step-sibling romance, and Sara Cate has opened my horizons to read more of this trope. I enjoyed reading Garrett and Mia's story. I give this book four stars and many stars for the spice level. Sara Cate has become an auto-buy author for me since each book is addicting to read. (I've already read the third book while typing this review.)
Standalone or Part of Series: It's part of the Salacious Players' Club series and each follows a new couple. I recommend reading in order because you get to meet Emerson Grant first in Praise.
Steam/Spice: ⭐️ ⭐️ ⭐️ ⭐️ 💫
Trope(s)/Element(s): Step Sibling Romance; Stepbrother/Stepsister Romance; Age Gap Romance; Forbidden Romance; Forced Proximity; Voyeurism; Cam Girl
Would I recommend this book? Yes. I recommend this book to Contemporary/Erotic Romance readers.
This book is up your alley if you are a fan of step-siblings (stepbrother/stepsister) falling for each other and you enjoy Age Gap romance and Forbidden romance. I haven't read much step-siblings romance, but I plan on finding more after reading this book.
Favorite Quote(s): "To be honest, sometimes I'm caught between wanting to keep you innocent and wanting to corrupt you."
"Mia, when I said sit on my face, I meant sit on my fucking face."

This post contains affiliate links you can use to purchase the book. If you buy the book using that link, I will receive a small commission from the sale. It will help sponsor future giveaways but costs you nothing extra. You can read the full disclosure underneath the Privacy Policy.
---
---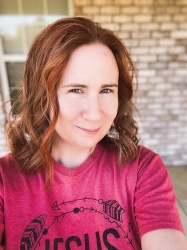 Latest posts by FranJessca
(see all)