ARC Review: 'Highest Bidder' by Sara Cate
March 24, 2023
I received a complimentary copy of the book from the author in exchange for an honest review. This does not affect my opinion of the book or the content of my review.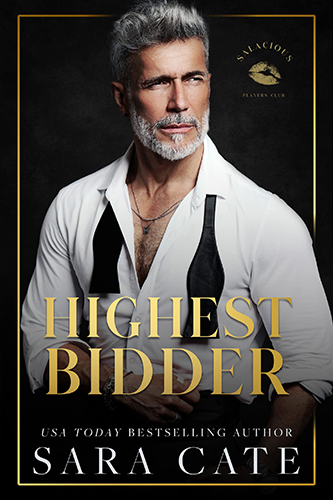 Highest Bidder
by
Sara Cate
Series:
Salacious Players Club #5
Published by
Self-Published
on March 24, 2023
Genres:
BDSM
,
Contemporary Romance
,
Erotic Romance
Format:
eArc
Source:
the author
Goodreads
Purchase at
Amazon

He's not just rich…he's filthy rich.
When I started working at Salacious Players' Club, I never expected to end up on the auction block ready to grant a date to the highest bidder.
This club is not really my scene. I'm not the kind of girl rich guys take home. I'm more a piano playing, van-living, free spirit kind of girl.
So when Ronan Kade, the richest man at the club, puts down over a hundred grand for my time, how can I tell him no?
But he's too old. Too rich. Too cocky.
And oh yeah…he once dated my mother.
Except he doesn't know that. He has no idea who I am.
One date turns into a trip to Paris. And an offer to live with him in his penthouse. Then a promise to take care of me.
Before I know it, I'm calling this silver fox my daddy.
Ronan Kade only bid on one date, but I think he's winning much more than that.
Can we overcome the years between us to find happiness?
And will he find it in him to forgive me when he learns the secret I've been keeping?
---
When Sara Cate announced she was writing two more books in the Salacious Player's Club series, I may have squealed for joy and scared my family just a bit. The Salacious Player's Club was my fave series in 2022, and I devoured the first four books when I read them. You best believe I was going to devour Highest Bidder. The second I got the ARC of Highest Bidder, I told my husband not to disturb me. His immediate response; you know we are on vacation, right? You will have to put the book down every once in a while. Damn him for reminding me we were on vacation in Tennessee. I did finish the ARC whenever we were not exploring and hiking in Gatlinburg.
Storyline/My Thoughts: What can I say about the Highest Bidder? If you read and loved the first four books, you'll love this one, too. Ronan Kade was the one character in the series that I wanted to know more about, especially since he seemed to always be at SPC. He had a backstory that we readers' needed to know. The young lady he falls for in his book is perfect for him because he falls in love again after so many times getting his heartbroken.   
I thought Sara Cate couldn't make me smile and blush even more with Ronan's book, but she did. While typing this review, I'm blushing, remembering my favorite scenes between Ronan and Daisy. My husband caught me several times smiling and having to put the book down to cool myself down.  
Sara Cate knew what she was doing when she wrote Ronan Kade. I'm not even sure who I love more now. Emerson Grant has been my favorite in the series, but Ronan Kade may have stolen that top spot. A fifty-six-year-old billionaire who loves to be called 'Daddy' and is a Pleasure Dom. Ronan is all about giving in the bedroom. Daisy is one lucky young lady is all I'm going to say. Everyone is going to want a Ronan Kate after reading this book.
What did I think about Daisy? I loved her character. She was curious about the man her mother dated and wanted to know why she had money in an account from him. She never expects to go on a date with him after he wins her at an auction at SPC when she loses a bet with her bartender there. I loved how she never gave up when it came to being with Ronan, especially when they were in Paris together. She may be young, but Daisy is mature for her age and knows what she wants, and that is Ronan Kade. Daisy has a backstory, too, but I don't want to spoil it for readers.
You know what I loved most in this book, and no, it's just not the spicy times. It's a fact the characters eventually didn't care about their age differences. Age is just a number. Take it from someone who has a husband fifteen years older. We met in the Navy; he was my best friend first before my husband. We're happily married fifteen years later with kids. Ronan and Daisy had that instant connection; their ages didn't matter because they fell in love. Ronan fell hard for Daisy, and you'll find out how hard when you read his book.
I didn't quite enjoy the emotional moments between the characters, but that's because I'm not too fond of the characters going through heartbreak or drama, but Sara Cate made up for it with that beautiful, well-deserved HEA. Both characters deserved a HEA for everything they endured in their pasts and present. Their ending, in my opinion, is PERFECT, and I loved reading about their happiness together.
Another five-star book from the fabulous Sara Cate. (I wish I could give it more than five stars.) I'm so glad I found her SPC books last year because this series will forever be a favorite. Do you want to know how much I love these books? I'm making my husband read them, and he agreed too. He doesn't read romance books, but he knows how much I loved this series and is curious why his wife loves them. I hope he doesn't get jealous of Emerson Grant and Ronan Kade. He already says I've collected enough book boyfriends/husbands.
Standalone or Part of Series: It's part of the Salacious Players' Club series.
Steam/Spice: 🌶 🌶 🌶 🌶
Genre(s)/Trope(s)/Element(s): Contemporary Erotic Romance. BDSM. Billionaire Romance. Mother's Ex-Boyfriend. Age Gap Romance. Daddy Kink. Pleasure Dom MMC.
Would I recommend this book? Yes. If you enjoy Age Gap Romance (35 years age difference) with a silver fox billionaire who falls for the Salacious Players Club's drink server, this book is up your alley. Also, if you have read the previous books in the SPC series, you don't want to miss out on Ronan Kade's book.
Favorite Quote(s): He's playing me like an instrument, and his fingers know all the right notes.

---
---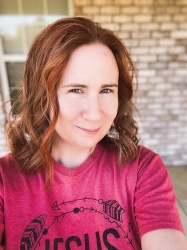 Latest posts by FranJessca
(see all)