Review: 'Graduation & Gifts' by Heather Long
March 27, 2023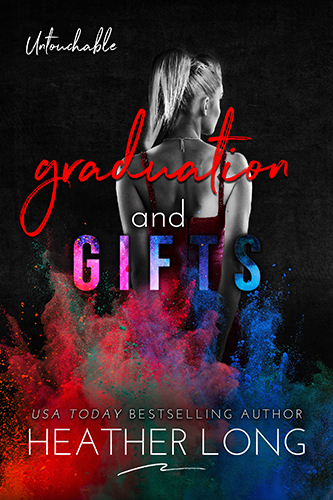 Graduation and Gifts
by
Heather Long
Series:
Untouchable #8
Published by
Self-Published
on April 20, 2021
Genres:
Mature High School/Young Adult Romance
,
Reverse Harem
Format:
AudioBook
,
eBook
Source:
Kindle Unlimited
,
Purchased
Goodreads
Purchase at
Amazon

Life doesn't come with a script but some moments don't need one.
Senior year pushed us all. It dared us to embrace wonder and chase love. It challenged us to find out who we were as people, as partners, as a family. We're so much better together.
Graduation isn't the end of our story by any stretch. It's the next chapter.
*Please note this is a reverse harem and the author suggests you always read the forward in her books. Contains some bullying elements, mature situations, and is recommended for 17+. This is the eighth in a series and the story will continue through future books.
---
RH/Why Choose has always been one of my favorite sub-genres in the romance genre, and I had been searching for a Contemporary Romance book/series that had RH/Why Choose and came across Heather Long's Untouchable series in 2022. It's more Mature/YA Contemporary, where the characters are high school-aged (17+ age), and later the characters go off to college together. I fell hard for the characters in the Untouchable series, and I'm making time to finish the series this year, 2023, since Heather Long completed it last year. I'm thankful I don't have to wait for each book to release now since Heather has brutal cliffhangers in this series.
Storyline/My Thoughts: Frankie is the FMC in the series, and she has four boyfriends: Coop, Archie, Jake, and Ian, each with different personalities, but they all have something in common, and that is that they all love Frankie equally. I've loved reading about their growth throughout this series and how far they have come since book one. Now, they are graduating high school and about to embark on their next journey, college out of state together. Before they go to college, they want to give Frankie a memorable summer vacation. Although that can happen, Frankie is about to have the surprise of her life. Her birth father wants to meet her, but her boyfriend won't let her do it alone. They are very protective of Frankie and will do anything for her to make sure she's not hurt. 
This is why I've loved this series by Heather Long, the friendship and family dynamic the characters have together, and how their relationships have grown in the last several books. I'm not sure who is my favorite boyfriend for Frankie. I love them equally for her in different ways. I know she can't pick, which is why she has four. Some people may judge her for having four boyfriends, but she doesn't let it bother her.
Here are just a few things why I enjoyed the eighth book in Heather Long's series without spoiling the storyline since it's ongoing series:
Frankie met her birth father and how he handled Frankie's mother (who I haven't liked since book one). He didn't know about her, and he wanted to get to know her, but only if she was comfortable with knowing him and his family.
The boys take Frankie on a much-needed summer getaway before college. They didn't see her last summer, so they are making up for it.
If you have read the previous books in the series, Heater Long does bring the spice in this book, too, between Frankie and her boyfriends. I love how they fight over who will spend time with her, but Frankie does make sure she gives the boys equal attention and sometimes with more than one in the bedroom with her.
The boys had different likes initially but are beginning to explore more, especially with Frankie and vice versa.
Here's the thing with this series, Heather Long leaves her readers with a brutal cliffhanger each time. She did it again with this book. If you are like me and have a love/hate relationship with cliffhangers, you'll want to immediately pick up the next book, which I'm doing very soon. I need to know what happens since this cliffhanger is not for the faint of heart. These poor characters can't seem to catch a break. If there is one thing, every one of these characters deserves a HEA.
I give Graduation and Gifts four stars, and I'm so glad I found this series on Amazon. This series is precisely what I was looking for in the RH/Why Choose sub-genre: A FMC who doesn't have to choose between her boyfriends and also a Contemporary/Modern setting. I usually read RH/Why Choose in a Fantasy/Paranormal setting.
Standalone or Part of Series: It's part of the Untouchable series and needs to be read in order since each book ends on a cliffhanger.
Steam/Spice: 🌶 🌶 🌶 🌶
Genre(s)/Trope(s)/Element(s): Mature YA Contemporary/Reverse Harem. Why Choose. Friends to Lovers. BDSM. MF. MFM. Voyeurism.
Cliffhanger: Yes.
Would I recommend this book? Yes. If you are looking for a Mature YA/Contemporary Romance with mature characters (17+) in a high school and eventually college setting, this series may be for you. It is an RH/Why Choose, which means the FMC has four boyfriends that love her unconditionally.

---
---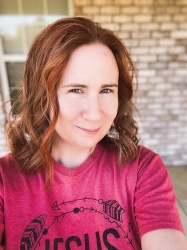 Latest posts by FranJessca
(see all)