Review: 'Give Me More' by Sara Cate
August 10, 2022
This book may be unsuitable for people under 18 years of age due to its use of sexual content, drug and alcohol use, and/or violence.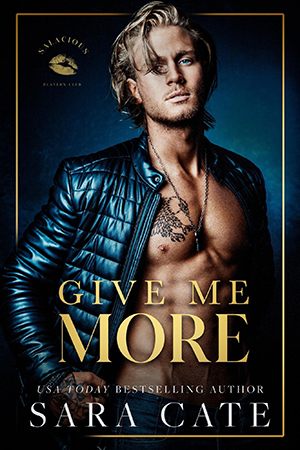 Give Me More
by
Sara Cate
Series:
Salacious Players Club #3
Published by
Sara Cate Books LLC
,
Self-Published
on June 15, 2022
Genres:
Contemporary Romance
,
Erotic Romance
,
MM Romance
,
LGBT Romance
Format:
eBook
Source:
Kindle Unlimited
Goodreads
Purchase at
Amazon
|
Barnes & Noble

I'm a scoundrelPlayboy. Man whore. Basically, I get around, and I'm not afraid to admit it.
So when my best friend opens up Salacious Players' Club and asks me to head the construction, how could I say no? Now we're on a cross-country road trip touring other kink clubs, and I couldn't be happier. Life is good.
Then Hunter suddenly asks me to sleep with his wife…while he watches.I'll do anything for my best friend, but this is the one request I should say no to. Isabel is the woman of my dreams, but she's his. And the exact reason I should say no is the one reason I say yes.Because it's not only Isabel I want.
These are the two most important people in my life, and if we go down this path, how will I ever be able to walk away? I'm not sure my best friend understands just how much I'm willing to do for him—and why.
---
I'm so glad I made time to read the Salacious Players' Club series by Sara Cate. This series has become a favorite of 2022 for me. It's up there with Kate Stewart's The Ravenhood Trilogy. That means I will re-read the SPC series many more times in the future.
Storyline/My Thoughts: Why did I give the book 4.5-stars? In all honesty, Drake was the main reason why I gave this book such a high rating, and Isabel was the second reason. I loved those two characters the most and how they were together. I also loved Isabel and Hunter, who are married together. Then, there was Hunter and Drake and all three. Okay, really, I loved all of them, but Hunter ticked me off in certain aspects of the book.
I know one thing, I loved all the spicy scenes with the three characters. Sara Cate had me constantly fanning myself. I thought the spice was hot in the previous two books. She brings out more in this book. MF, MMF, and MM are in this book. You will get BDSM, too. (Cold showers were needed after reading Give Me More.)
I had been dying to read this book since I knew it would involve Hunter and his wife, Isabel, plus Hunter's best friend for many years, Drake. Drake is what everyone calls a player/manwhore because he's with different women and men whenever he gets the chance. What he wants is his best friend, Hunter, and his wife, Isabel. When Hunter asks Drake to sleep with his wife, Isabel, so he can watch, Isabel and Drake are flabbergasted. Drake feels he will get hurt in the long run because Hunter has no idea that his best friend loves him and his wife more than friends. This is a dream come true for Drake to be with Hunter's wife, but Drake also wants Hunter, but Drake knows that Hunter doesn't swing that way. Hunter and Isabel have included Drake in everything they do together since they got together, except in the bedroom. It's bad enough all three go on a road trip to check out other clubs together, and that is when Hunter asks Drake to mess with his wife. Isabel is all for being with Drake for her husband, as long as no one gets their feelings hurt. The issue is Hunter is not considering his best friend Drake's feelings, and I felt for Drake in this book. He would be the one that got his heart hurt the worst. Don't even get me started on how Hunter treated Drake when they finally got together. Yes, this book has MM scenes, and they were HOT!! The first MM scene broke my heart with how Hunter handled it. Poor Drake!
The ending is what got the waterworks to come a bit, but I won't give it away. Let's just say that Hunter had to work out some problems.
I loved how Sara Cate ended this book with these three, and I loved getting the extra epilogue two years later with the characters after I finished reading Give Me More.
Now, I'm sad knowing the fourth book will be the last. I hope a certain someone in this series gets a book. I need more of her. If you've read the books, you know who I'm referring to in the series. She shows up quite often in the books. I loved her character.
Overall, this book gets 4.5-stars, and I can't wait to read the next book. It involves a Domme. Sign me up, please, especially when Beau is in it. Yes! Sara Cate, you have become one of my favorite authors and an auto-buy author for me. (I did buy your books signed off your website because I needed to add them to my bookshelves so I can stare at them daily. I love these covers!) I'm going to read whatever you write, and now I have to read your backlist books. Thank goodness, I have other bookstagram and blogger friends that introduced me to this fabulous author.
Standalone or Part of Series: It's part of the Salacious Players' Club and each book has a different couple, so it could be read as a standalone. You'll miss out on Praise and Eyes on Me and I highly recommend reading those books.
Steam/Spice: ⭐️ ⭐️ ⭐️ ⭐️ ⭐️
Trope(s): MF: MMF, MM, One Bed (during one hotel stay); BDSM
Would I recommend this book? Excuse the language, but Fuck YES!! I recommend this book to everyone who loves Contemporary Romance, which includes BDSM, MF, MMF, and MM in it. If you enjoy those elements in your stories, then read this damn book! (Sara Cate has me cursing like a sailor for this book. (I was a Navy Sailor for ten years, so yes, I do swear like one). Too bad Amazon won't let me post this type of review. I'll make it PG for Amazon when I have to post the review. Stupid Amazon, let us curse sometimes!
Favorite Quote(s): The energy between them and the sight of my two favorite people on earth devouring each other has me wanting to explode. I love it so, so much.
"Spread your legs for him, baby," I whisper. "Let him see how beautiful you are."
"You can be rough with her," Hunter says from his place across the room. "She likes it."
"Because I come here to read, and if you bother me while I'm reading–no matter how cute you are–I'm going to really dislike you."

This post contains affiliate links you can use to purchase the book. If you buy the book using that link, I will receive a small commission from the sale. It will help sponsor future giveaways but costs you nothing extra. You can read the full disclosure underneath the Privacy Policy.
---
---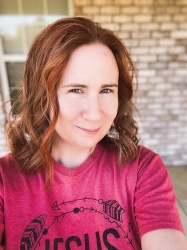 Latest posts by FranJessca
(see all)