Review: 'Praise' by Sara Cate
June 29, 2022
This book may be unsuitable for people under 18 years of age due to its use of sexual content, drug and alcohol use, and/or violence.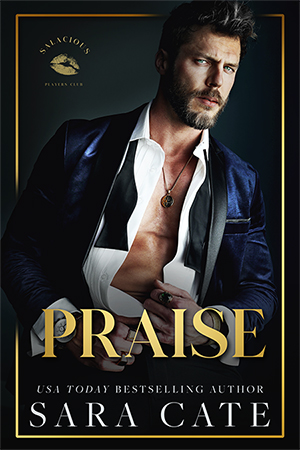 Praise
by
Sara Cate
Series:
Salacious Players Club #1
Published by
Self-Published
on March 17, 2022
Genres:
BDSM
,
Contemporary Romance
,
Erotic Romance
Format:
eBook
Source:
Kindle Unlimited
Goodreads
Purchase at
Amazon
|
Barnes & Noble

He calls me perfect.His flawless pet. His good girl.
Broken down and wounded by my emotionally neglectful ex, I wanted someone to tell me I was good enough.
Then, I stumbled into a new job with a boss who brings me to my knees—literally. He has me do things a real secretary would never do.
Emerson Grant tells me I'm more than just good enough. I'm worthy of his praise.
There are a million reasons why I should stay away. The owner of the Salacious Players' Club is not just my new boss, he's twice my age.
And my ex-boyfriend's father.
With him, I am treasured. I am adored. I am his.
I'm a good girl, but I'm falling for the wrong man.
Emerson Grant knows what he wants—And he wants me.
So how far will I go to hear his approval?
---
Praise by Sara Cate is the first book in her Salacious Players Club series. This was the first book I've read by Sara Cate and will not be my last. I actually devoured the second book in the series after finishing Praise because I couldn't help it. I needed more of this series. It didn't take me long to read and complete Praise, which should tell you I enjoyed it.
Storyline/My Thoughts: If you are not a fan of Age Gap Romances because I know readers who are bothered by this particular trope, Praise may not be for you. The MMC, Emerson Grant, is twenty years older than the FMC, Charlotte, aka Charlie. As someone married to someone fifteen years older, age is just a number. Sometimes you meet someone the same age as you, and sometimes you find someone older or younger who is your best friend/soulmate, and he worships the ground you walk on. That is precisely what my husband is to me. We met twenty years ago when I was in the Navy. I married him at twenty-four, and we have two beautiful girls now.
Now, in the case of how Emerson and Charlie met. They met unexpectedly when Charlie needed to pick up the deposit check from her ex-boyfriend's father. Emerson thought Charlie was one of his special secretaries sent by his best friend, a co-owner at Salacious Players Club, an exclusive member's only sex club. Charlie is taken back by the gorgeous older man and does what he asks without questions. Emerson is immediately embarrassed by what he made Charlie do, which wasn't bad, so get your mind out of the gutter. He can't stop thinking about the beautiful young Charlie and wants to offer her a job. He knows he shouldn't because she's twenty years younger and is his son's ex-girlfriend, but maybe he can have her help him gain a relationship back with his son. He asks her to be a regular secretary and not his special kind.
Here's the thing about the sexy mature Emerson Grant. He's a dominant looking for the perfect submissive. He has gone through so many that he is about to give up, until that day he mistakes Charlie for one of his subs. She does what he asks without questions and whining, and he loves how she looks. There's an immediate connection between Emerson and Charlie. Charlie can't stop thinking about the encounter with Emerson and wants to learn more about what he wants out of a submissive, and that is when the fun begins. Her role as regular secretary turns into exploring the part of Dom/Sub with her very forbidden boss, Emerson Grant, who is also her ex-boyfriend's father. That is also where drama can happen too in the story. If her ex-boyfriend finds out what she is doing with his father, let's say it may make Emerson unable to mend his relationship with his son.
I loved Emerson and Charlie together. Charlie is young and wants to learn about Emerson's world, especially when he takes her to the sex club. She is intrigued by it all and ends up meeting some other co-owners, plus Madame Kink, who Charlie learns a lot from through a blog.
My favorite scenes have to be when Charlie is being auctioned off and how Emerson handles it, and the other scene when Drake and Hunter (co-owner of the club) put her in a predicament that makes Emerson punish her. Be prepared for a lot of spice in this book between Charlie and Emerson. I had to take a cold shower after reading this book.
I loved how Charlie's mom and sister handled everything towards the end. Charlie is very protective of her sister, but when Emerson protects her even more. I fell more for him even more in the book. He wouldn't let anyone hurt Charlie or her family.
Overall, I give this book five stars, and it's on my favorites list, especially for 2022. I'm thankful for my Kindle Unlimited subscription, so I could read the book the first time. After I read it, I immediately bought it in paperback and the next two in the series. It's a favorite, so it has to go in my library, so I can stare at it every day and reread it in the future.
Standalone or Part of Series: It's part of Sara Cate's Salacious Players Club series, and each follows a new couple. You could read each as a standalone, but I always recommend reading in order because you'll miss out on previous couples that received their stories. Praise is the first book in the series.
Steam/Spice: ⭐️ ⭐️ ⭐️ ⭐️ 💫
Trope(s)/Element(s): Age Gap Romance; Ex-Boyfriend's Father Romance; Taboo Romance; Forbidden Romance; Office/Workplace Romance; Praise; Degradation
Would I recommend this book? Yes. This book is for you if you enjoy Contemporary Erotic Romance with Age Gap, Ex-Boyfriend's Father, and Forbidden Romance tropes. This was my first book with the Ex-Boyfriend's Father trope, and now I want more. =) Sara Cate definitely has a new fan of her books.
Favorite Quote(s): "Dear God, please let this be the only man I fuck for the rest of my life because there's not a chance in Hell anyone else could ever top that."
"I'm addicted to you," he groans while fucking me. "You were made for me, Charlotte. You're mine, and I never want to let you go. Do you understand me? I'd fuck you forever if I could."

This post contains affiliate links you can use to purchase the book. If you buy the book using that link, I will receive a small commission from the sale. It will help sponsor future giveaways but costs you nothing extra. You can read the full disclosure underneath the Privacy Policy.
---
---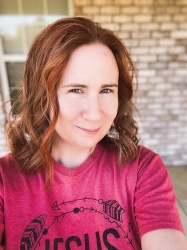 Latest posts by FranJessca
(see all)