Review: 'Heartless' by Gena Showalter
June 17, 2022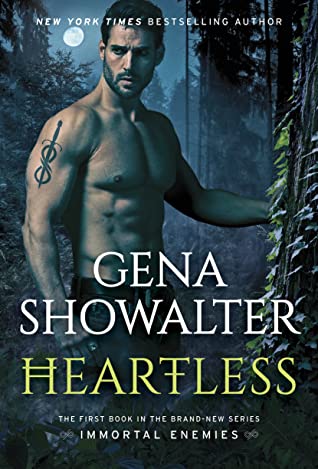 Heartless
by
Gena Showalter
Series:
(Immortal Enemies #1
Published by
HQN Books
on June 29, 2021
Genres:
Paranormal Romance
Format:
Paperback
Source:
Purchased
Goodreads
Purchase at
Amazon
|
Barnes & Noble
|
Kobo

Vengeance is irresistible…
Kaysar the Unhinged One, fae King of Midnight, can drive anyone to madness with his song. A ruthless warrior forged in hate, he lives to force his enemies to their knees. He will stop at nothing to succeed—even abduct and seduce his foe's beloved bride, ensuring his own child one day sits on the male's throne. Except, his prize escapes to the mortal realm before the first kiss, her heart transplanted into a mortal beauty with dangerous secrets…
Chantel "Cookie" Bardot is a professional gamer girl great at trash talking, bad at peopling. After a long awaited surgery, she begins to morph into a powerful fae princess. Catapulted into a strange land ruled by a cruel but seductive villain, she must battle flesh and blood monsters and navigate royal intrigues. But the true danger is Kaysar, whose every wicked touch tempts her beyond reason. Should she run…or descend into the darkness with him?
---
Heartless is the first book in Gena Showalter's new Immortal Enemies series. I had to hurry up and read Heartless because Gena is releasing her next book in the series in August 2022. Why did I wait so long to read this book? I have no idea, but now that I'm catching up on it, I'm excited to be in a new book world by Gena Showalter that involves the Fae. 
Storyline/My Thoughts: First, I was not prepared when I read the prologue of Heartless. I had to ensure I was reading a Gena Showalter book because it was darker than her usual books. Don't get me wrong; I enjoyed it. It was different from the other series I've read from Gena Showalter. The prologue was in the MMC's PV when he was younger, and it introduced readers to why he was the way he was in the present-day of the book. Poor Kaysar and what he went through, and no wonder why he wanted revenge against the Frostlines. He was forced to be chained for a year by the Frostlines, and he had to leave his little sister behind because his enemies took him captive. 
Now in the present day, he wants revenge against the Frostlines for what they put him through and for taking him away from his little sister. The Frostlines definitely don't deserve a quick death. No, they deserve to be tortured. Kaysar will do anything to retrieve his little sister back, but he has not been able to find her. What would you do if you lost a loved one? You would want to search for them to the ends of the fae realm and wreak havoc on those who took you from them. Kaysar is not that sweet boy anymore. No, every Fae is afraid of him. He is called the Unhinged One.
Kaysar knows one way to get back against the Frostlines. Take someone they love and use them to his advantage. He tries, but the fae princess married to one of the Frostlines that he ends up trying to steal goes to the mortal realm injured. When she finally returns, she's not the same person as before. No, this is when Chantel "Cookie" Bardot is introduced. Readers will get her POV, too. She's a mortal who is a professional gamer. She is confused and dazed by it all when thrown into the fae realm. She feels like she is in the video game that she has been playing. She doesn't realize that an Unhinged Fae King wants her, and she has no idea who he is and if she should trust him. She has memories of him and another Fae Prince, but she's confused by everything. She was mortal, but now she's turning into a Fae Princess.
I loved where Gena Showalter was going with this new fae world and the characters she created, and I look forward to reading more characters from this world. The characters are all dark, twisted, and ruthless in their own ways. Kaysar is a character that you either love or hate. When I read his POV, it was mostly about getting his revenge on the Frostlines. Just remember, he has endured trauma and misses his little sister terribly. He wants to know what happened to her because he feels like he failed her. Kaysar fights off his feelings for Cookie in the book many times but losing her takes him to realize how he truly feels for her. Cookie will not make it easy for Kaysar, which is why I adored her character.
Cookie may have been a mortal before, but she was made for the fae realm and proved it several times in this book. She's also a character you love or hate. She is a kick-butt FMC, especially with handling the pixies, trolls, etc. Her video game experiences came into play when she was in the fae world. There were times I rooted for her not to be with Kaysar. (He was a jerk to her, but she put him in his place.)
I hope Kaysar does find his sister soon. There was a hint at what could have happened to her after the Frostlines captured Kaysar. Again, I can't wait to dive into the second book in this brand new PNR series by Gena Showalter. I love the unique dark writing style that she has put into this series. Overall, I give this book 4.5-stars.
Standalone or Part of Series: It's part of the Immortal Enemies series, and I would recommend reading it in order.
Steam/Spice Rating: ⭐️ ⭐️ 💫
Trope(s): Enemies to Lovers
Would I recommend this book? Yes. If you enjoy Paranormal Romance, I would recommend this book to you. It does have one of my favorite tropes, Enemies to Lovers. The series name is Immortal Enemies, so I'm assuming the series will have the trope in each book. Sign me up because I can't get enough of this trope. Gena Showalter has been a favorite author since I read her Alien Huntress and LOTU series. I cannot get enough of this author's books and will always recommend her books/series to readers who enjoy PNR/UF like I do. =)

This post contains affiliate links you can use to purchase the book. If you buy the book using that link, I will receive a small commission from the sale. It will help sponsor future giveaways but costs you nothing extra. You can read the full disclosure underneath the Privacy Policy.
---
---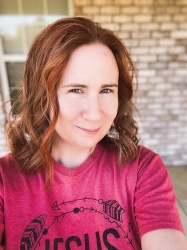 Latest posts by FranJessca
(see all)