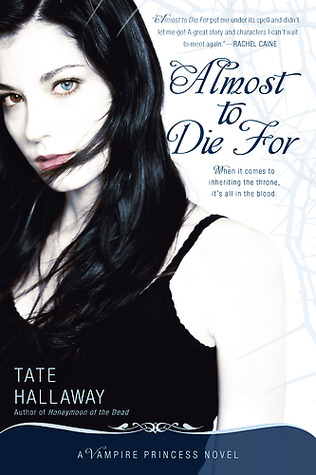 Almost to Die For
by Tate Hallaway
Series: Vampire Princess of St. Paul #1
Published by NAL on August 3rd, 2010
Pages: 241
Format: Paperback
Source: Library
Amazon Kindle | Amazon Paperback
Goodreads


On her sixteenth birthday, Anastasija Parker learns that her so-called deadbeat dad is actually a vampire king. And he wants Ana to assume her rightful position at his side, in spite of the fact that she has witch's blood running through her veins - from her mother's side.
Too bad witches and vampires are mortal enemies. And now Ana's parents are at each other's throats over her future. It's up to Ana to make a choice, but deciding your eternal destiny is a pretty big deal for a girl who just wants to get through high school.
 My Review
I received a complimentary copy of the book from the Author in exchange for an honest review. This does not affect my opinion of the book or the content of my review.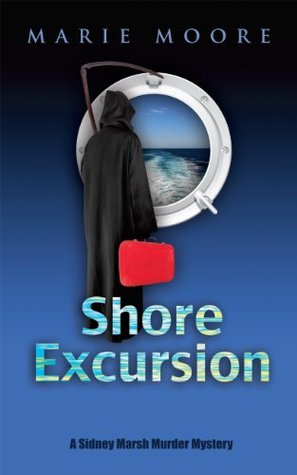 Shore Excursion
by Marie Moore
Series: Sidney Marsh Mystery #1
Published by Camel Press on January 1, 2012
Genres: Cozy Mystery
Pages: 219
Format: Paperback
Amazon Kindle | Amazon Paperback
Goodreads


Travel agents may be a vanishing breed, but Sidney Marsh, a New York transplant from Mississippi, is holding her ground--at least on land. She is the tour leader on a cruise through Scandinavia to Russia for a group of eccentric senior citizens who call themselves the High Steppers. Sidney expects her days to be filled with long meals, shopping expeditions and visits to museums, churches and fjords. But this cruise is anything but routine. There is a killer on board, targeting the High Steppers and quite possibly herself. After the first suspicious death, the captain and his crew are grimly determined to carry on as usual. Disgusted with their inaction, Sidney decides to take matters into her own hands and launch her own investigation. She enlists the halfhearted help of her friend and business partner, the flamboyant and fun-loving Jay Wilson. Suspects abound. What about those two handsome young men who stay mysteriously aloof? One of them has his eye on Sidney. So does another passenger, far too charming and again too young to fit the "High Stepper" mold. Then there's Captain Vargos, the arrogant ladies' man whose plans to thwart Sidney's investigation might include seduction. Who is that crew member shadowing Sidney? Is the theater really haunted? Even the High Steppers themselves are not as predictable or harmless as they seem. The closer Sydney gets to the truth, the less she understands. Shore Excursion is the first book in a new mystery series featuring amateur sleuth Sidney Marsh.
My Review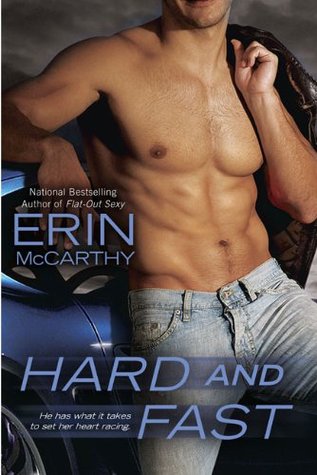 Hard and Fast
by Erin McCarthy
Series: Fast Track #2
Published by Berkley on May 5th 2009
Genres: Contemporary Romance
Pages: 304
Format: Paperback
Source: Library
Amazon Kindle | Amazon Paperback
Goodreads


The sequel to Flat-Out Sexy, starring a bad boy race car driver hero who's met his match-from a hot USA Today bestselling author.
Grad student Imogen Wilson realizes she's hit on the perfect thesis for her sociology degree. If she follows the so-called "rules" on how to get a man, can she steer her way into the world and hearts of stock race car drivers, and establish their dating- and mating-patterns?
Although sexy and reckless racer Ty McCordle is the ideal test subject, Imogen knows that for the sake of science, she can't give in to her growing attraction for him. Yet he's the one who's chasing after her, and Imogen realizes that she actually wants to be caught. A southern gentleman like Ty will satisfy all her curiosity-and make all the risks worthwhile...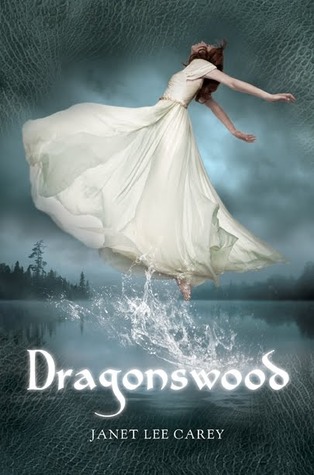 Dragonswood
by Janet Lee Carey
Series: Wilde Island Chronicles #2
Published by Dial on January 5, 2012
Pages: 407
Format: eBook
Source: Purchased
Amazon Kindle | Amazon Paperback
Goodreads


On Wilde Island, there is no peace between dragons, fairies, and humans.
Wilde Island is in an uproar over the recent death of its king. As the uneasy pact between dragons, fairies, and humans begins to fray, the royal witch hunter with a hidden agenda begins a vengeful quest to burn girls suspected of witchcraft before a new king is crowned.
Strong-willed Tess, a blacksmith's daughter from a tiny hamlet, wants more for herself than a husband and a house to keep. But in times like these wanting more can be dangerous. Accused of witchery, Tess and her two friends are forced to flee the violent witch hunter. As their pursuer draws ever closer they find shelter with a huntsman in the outskirts of the forbidden Dragonswood sanctuary. But staying with the mysterious huntsman poses risks of its own: Tess does not know how to handle the attraction she feels for him—or resist the elusive call that draws her deeper onto the heart of Dragonswood.
My Review
I received a complimentary copy of the book from the Author in exchange for an honest review. This does not affect my opinion of the book or the content of my review.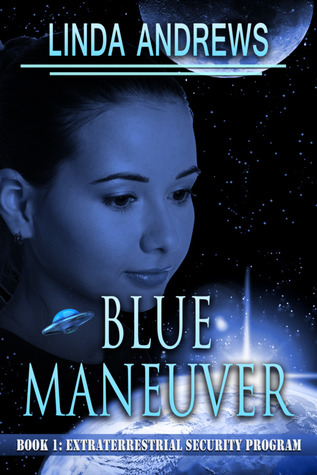 Blue Maneuver
by Linda Andrews
Series: The Extraterrestrial Security Program #1
Published by Land Na Publishing on January 9th 2012
Genres: Science Fiction, Urban Fantasy
Pages: 183
Format: eBook
Amazon Kindle | Amazon Paperback
Goodreads


The extraterrestrials have landed and they're human.
Rae Hemplewhite didn't believe in aliens until a close encounter with out-of-this-world technology drags her into the extraterrestrial security program. Helping alien refugees adjust to life on Earth is difficult enough, but her first clients have a price on their heads. Plus, her new partner seems torn between the urge to kiss her or kill her. And that's the good news.
The bad news: Alliances are forming in deep space. If Rae doesn't keep her witnesses alive long enough to transfer their top secret information to the right faction of humanity, Earth will become a battlefield.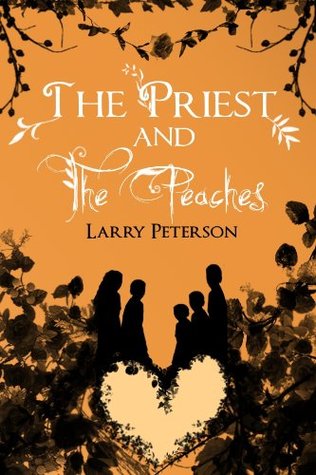 The Priest and the Peaches
by Larry Peterson
Published by Tribute Books on December 20, 2011
Genres: Historical Fiction
Format: eBook
Source: publisher
Amazon Kindle | Amazon Paperback
Goodreads


Take a seven day journey with the five, newly orphaned Peach kids, as they begin their struggle to remain a family while planning their dad's funeral.
They find an ally in the local parish priest, Father Tim Sullivan, who tries his best to guide them through the strange, unchartered and turbulent waters of "grown-up world." A story that is sad, funny, and inspiring as it shows how the power of family love and faith can overcome seemingly insurmountable obstacles.
My Review
I received a complimentary copy of the book from the Author in exchange for an honest review. This does not affect my opinion of the book or the content of my review.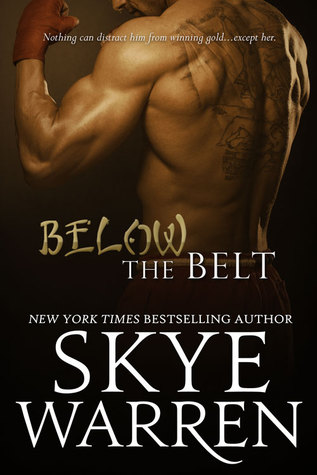 Below The Belt
by Skye Warren
Published by Skye Warren Erotica on November 18th 2011
Genres: Erotic Romance
Pages: 106
Format: eArc
Source: Author
Amazon Kindle
Goodreads


Martial arts champion Abe Montgomery is dead-set on winning gold at Nationals. Paris Rivera has sworn off men and martial arts. When these two meet, the chemistry is explosive.
Abe may dominate on the mats, but he's fallen hard for Paris. The fight of his life looms ahead, not only for his dreams but for the sexy woman he soon can't live without.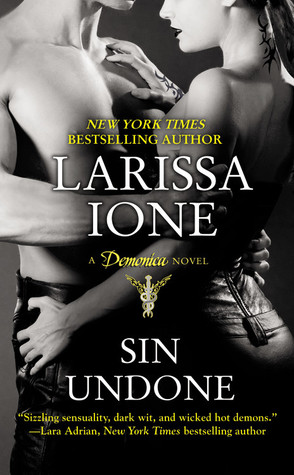 Sin Undone
by Larissa Ione
Series: Demonica #5
Published by Grand Central Publishing on August 24th 2010
Genres: Paranormal Romance
Pages: 400
Format: Paperback
Source: Purchased
Amazon Kindle | Amazon Paperback
Goodreads


HER TOUCH IS DEADLYAs the only female Seminus demon ever born, master assassin Sinead Donnelly is used to being treated like an outcast. She spent decades enslaved, and now vows she'll die before she'll relinquish her freedom again. Then Sin's innate ability to kill her enemies goes awry: She creates a lethal new werewolf virus that sparks a firestorm of panic and violence. HIS HUNGER CAN'T BE DENIEDHalf-werewolf, half-vampire Conall Dearghul is charged with bringing in Sin to face punishment for the plague. And she's no stranger: He's bound to her by blood, and the one sexual encounter they shared has left him hungering for her raw sensuality. Worse, Sin is the underworld's most wanted and Con soon learns he's the only one who can help her . . . and that saving her life might mean sacrificing his own.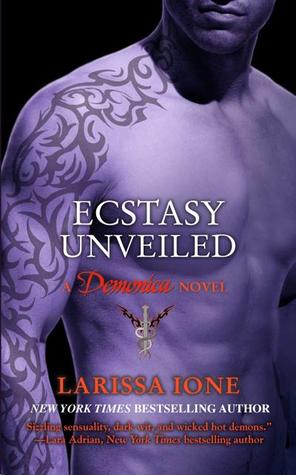 Ecstasy Unveiled
by Larissa Ione
Series: Demonica #4
Published by Forever on February 1st 2010
Genres: Paranormal Romance
Pages: 400
Format: Paperback
Source: Purchased
Amazon Kindle | Amazon Paperback
Goodreads


A DEMON ENSLAVEDLore is a Seminus half-breed demon who has been forced to act as his dark master's assassin. Now to earn his freedom and save his sister's life, he must complete one last kill. Powerful and ruthless, he'll stop at nothing to carry out this deadly mission.
AN ANGEL TEMPTEDIdess is an earthbound angel with a wild side, sworn to protect the human Lore is targeting. She's determined to thwart her wickedly handsome adversary by any means necessary-even if that means risking her vow of eternal chastity. But what begins as a simple seduction soon turns into a passion that leaves both angel and demon craving complete surrender.
Torn between duty and desire, Lore and Idess must join forces as they battle their attraction for each other. Because an enemy from the past is rising again-one hellbent on vengeance and unthinkable destruction.
My Review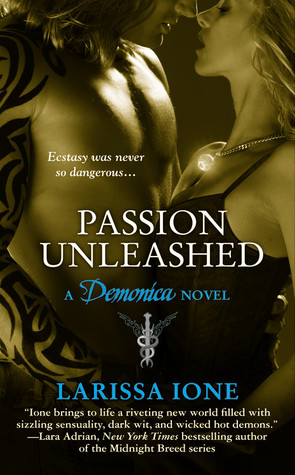 Passion Unleashed
by Larissa Ione
Series: Demonica #3
Published by Forever on March 31st 2009
Genres: Paranormal Romance
Pages: 480
Format: Paperback
Source: Purchased
Amazon Kindle | Amazon Paperback
Goodreads


FORBIDDEN TEMPTATIONS
Serena Kelley is an archaeologist and treasure hunter-and a woman with a secret. Since she was seven, she's been the keeper of a powerful charm that grants her health and immortality . . . as long as she stays a virgin. But Serena isn't all that innocent. And when a dangerously handsome stranger brings her to the brink of ecstasy, she wonders if she's finally met the one man she cannot resist.
FATAL DESIRES
Wraith is a Seminus demon with a death wish. But when an old enemy poisons him, he must find Serena and persuade her to give him the only known antidote in the universe-her charm. Yet, as she begins to surrender to his seductions and Wraith senses the cure is within his grasp, he realizes a horrible truth: He's falling for the woman whose life he must take in order to save his own.