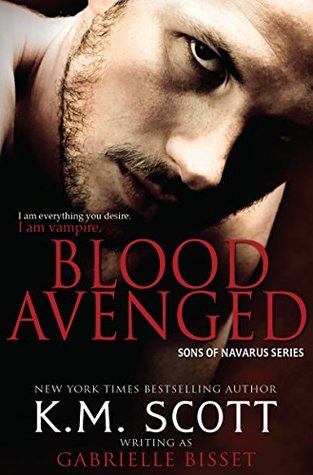 Blood Avenged
by Gabrielle Bisset
Series: Sons of Navarus #1
Published by Copper Key Media LLC on January 1, 2011
Genres: Paranormal Romance
Pages: 254
Format: Paperback
Source: Purchased
Amazon Kindle
Goodreads


I am everything you desire.I am everything you fear. I am lust and appetite.I am vampire.
I am everything you desire. I am vampire.
Powerful and manipulative, Vasilije does as he pleases. A vampire beholden to no one, he takes what he desires, drinking deeply the pleasures this life has to offer.
When one of his own is staked, Vasilije must travel to New Orleans to exact his revenge. There he meets Sasa, a beautiful woman who arouses him like no other has for centuries. Vasilije's need for vengeance is equaled only by his passion for her, but what he finds in his revenge is just the beginning...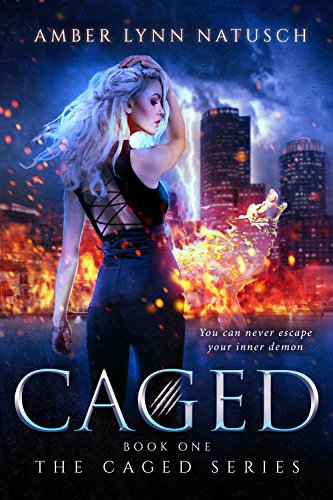 Caged
by Amber Lynn Natusch
Series: Caged #1
Published by Amber Lynn Natusch on December 15th 2011
Genres: Urban Fantasy
Pages: 260
Format: eBook
Source: Blog Tour Host
Amazon Kindle
Goodreads


"I stood in the middle of the room, unmoving – I barely breathed. My life had just become surreal, impossible, and one enormous lie. I needed to go, to run somewhere, anywhere to beat back the reality that was rapidly closing in around me. The image of him was burned into my retina, flashing over and over again like a warning. He was trapped somewhere between human and decidedly not, and I realized that was my new reality. I was too."
After the death of her parents, Ruby awakens from a lifetime of shadows and finds herself alone, thrust into a world of lies, deceit, betrayal and the supernatural.
As her quest for truth continues to come up short, she realizes that maybe some questions really are best left unanswered.
When her true identity is finally unveiled, she is forced to choose between two of the mysterious men who continually seem to crop up in her life.
She chooses poorly.
Now abandoned, Ruby must learn to call on the darkness within to survive, or spend a hellish eternity imprisoned because of it.
(Content Advisory: language, mild violence)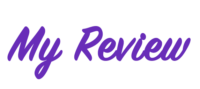 I received a complimentary copy of the book from the Netgalley, publisher in exchange for an honest review. This does not affect my opinion of the book or the content of my review.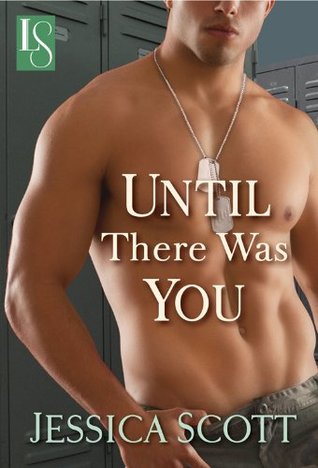 Until There Was You
by Jessica Scott
Series: Coming Home #3
Published by Loveswept on October 8, 2012
Genres: Contemporary Romance
Pages: 251
Format: eArc
Source: Netgalley, publisher
Amazon Kindle | Amazon Paperback
Goodreads


From the author of Because of You comes an all-new contemporary eBook romance. Though he plays by the rules, she's not afraid to break them. Now these two strong-willed military leaders will prove that opposites attract . . . even under fire. A by-the-book captain with a West Point background, Evan Loehr refuses to mix business with pleasure—except for an unguarded instance years ago when he succumbed to the deep sensuality of redheaded beauty Claire Montoya. Since that brief lapse in judgment, Evan has been at odds with her. But when he is asked to train a combat team alongside Claire, battle-hardened Evan is in for the fight of his life. Strong, gutsy, and loyal, Captain Claire Montoya has worked hard to achieve her high military rank. In Evan Loehr, Claire sees a spoiled commander who puts the rules before everything else—including his people. Army orders force them together and Claire soon discovers that there is more to Evan than meets the eye. He too has dark secrets and deep longings. For all their differences, Evan and Claire share two crucial passions: their country and each other. Includes a special message from the editor, as well as excerpts from these Loveswept titles: Blaze of Winter, The Devil's Thief, and Santerra's Sin.
1922 KB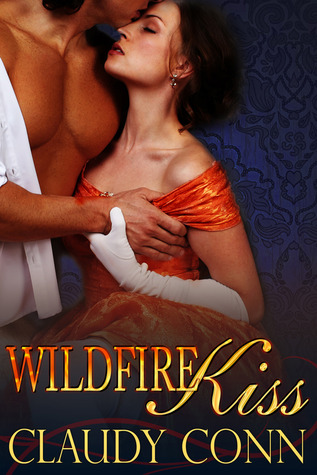 Wildfire Kiss
by Claudette Williams, Claudy Conn
Series: Sir Edward #1
Published by CC on August 27th 2012
Genres: Historical Romance
Pages: 219
Format: eBook
Source: Purchased
Amazon Kindle
Goodreads


Lady Babs had already done one unforgivable thing: she had written a novel. It was under a pseudonym, of course, but the story she'd thought would sell only a few copies to help stave off her father's creditors was becoming a sensation. Passion's Seed had the beau monde in a panic, because it was all about 'them'! If it were ever revealed that she, one of the aristocracy's own, was the author, she would be ruined.
Now she was contemplating doing something equally scandalous. The 'rules' dictated that, as a woman, she had to wait until marriage to enjoy pleasures men were allowed when single. Lady Babs, however, had other ideas, for she had fallen in love with the man known as Lord Wildfire, a dashing duke with a penchant for the ladies but not for marriage.
But while she yearned for Lord Wildfire, another man lusted after her. And Sir Edward was willing to go to any lengths to make her his—including following his hunch that Lady Babs was somehow involved in the publication of Passion's Seed …
**Note: This is an updated version of an earlier title written as Claudette Williams. The updated versions of Claudy's Claudette Williams titles are more sexually explicit.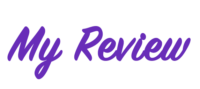 I received a complimentary copy of the book from the Netgalley, publisher in exchange for an honest review. This does not affect my opinion of the book or the content of my review.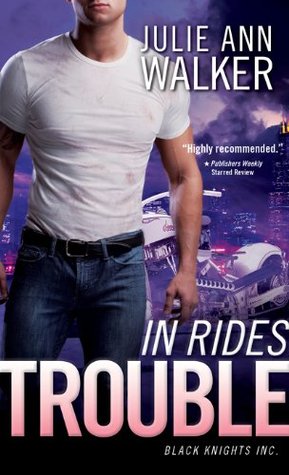 In Rides Trouble
by Julie Ann Walker
Series: Black Knights Inc. #2
Published by Sourcebooks Casablanca on September 4th 2012
Genres: Romantic Suspense
Pages: 311
Format: eArc
Source: Netgalley, publisher
Amazon Kindle | Amazon Paperback
Goodreads


Rebel with a Cause
Becky "Rebel" Reichert never actually goes looking for trouble. It just has a tendency to find her. Like the day Frank Knight showed up at her door, wanting to use her motorcycle shop as a cover for his elite special ops team. But Becky prides herself on being able to hang with the big boys-she can weld, drive, and shoot just as well as any of them.
Man with a Mission
Munitions, missiles, and mayhem are Frank's way of life. The last thing the ex-SEAL wants is for one brash blonde to come within fifty feet of anything that goes boom. Yet it's just his rotten luck when she ends up in a hostage situation at sea. Come hell or high water, he will get her back-whether she says she needs him or not.
My Review
I received a complimentary copy of the book from the publisher in exchange for an honest review. This does not affect my opinion of the book or the content of my review.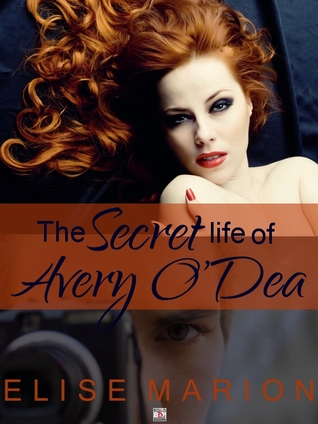 The Secret Life of Avery O'Dea
by Elise Marion
Published by Bottom Drawer Publications on August 28th 2012
Genres: Contemporary Romance
Format: eArc
Goodreads


Photographer Dominic Ramsey is having a bad year. His car won't start, the rent is weeks overdue, his girlfriend dumped him, and photography jobs have been few and far between. Moonlighting as a paparazzo to scrape up some extra cash isn't exactly going well; there's only so much money to be made in photos of tacky celebrity outfits.
Avery O'Dea has led her life in front of the cameras since shooting to stardom in her first romantic film. When her on-screen romance becomes something more she and her Hollywood beau are, at least the way the magazines tell it, a match made in heaven. So what if Avery's had to convert to Ryan's vegan lifestyle publicly in order to solidify the relationship to the public eye? So what if she's had to make a few sacrifices in order to achieve the Hollywood dream?
When a daring photographer catches her in a lie and exposes the truth of Avery and Ryan's relationship to the world, Avery realizes just how tired she is of being 'America's Sweetheart', and the elaborate cover-up becomes a burden that she no longer wishes to bear. As she locks eyes with the photographer that set her world on fire with a single photo, she begins to long for more from life; passion, love, and the freedom to live her life as she pleases.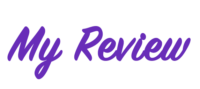 Continue reading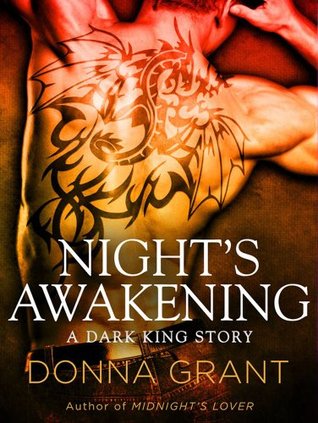 Night's Awakening
by Donna Grant
Series: Dark Kings #0.2
Published by St. Martin's Paperbacks on August 28 2012
Genres: Paranormal Romance
Pages: 107
Format: eBook
Source: Purchased
Amazon Kindle | Amazon Paperback
Goodreads


Fueled by dragon magic, the dark immortal warriors were never meant to feel human desire, much less fall in love. But when Guy, a member of an ancient order of shape-shifting warriors, meets Elena Griffin—a mere mortal whose beauty and blind ambition shakes him to his core—all bets are off…
Having left America to explore the Scottish Highlands, Elena suddenly finds herself lost in a dark cave—alone, injured, and utterly hopeless…until Guy appears from out of nowhere. Is she dreaming her own rescue when she falls into his arms? A man—and a passion—this strong is too good to be true. It's only a matter a time before she learns the truth about the flames in his heart. And the dragon in his soul…
Don't miss the Dark Sword and Dark Warrior novels by Donna Grant—also set in this scintillating world of Highland magic and legendary lovers.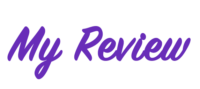 I received a complimentary copy of the book from the Netgalley, publisher in exchange for an honest review. This does not affect my opinion of the book or the content of my review.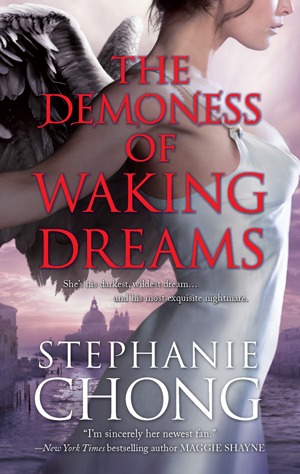 The Demoness of Waking Dreams
by Stephanie Chong
Series: The Company of Angels #2
Published by Mira Books on August 28th 2012
Genres: Paranormal Romance
Pages: 400
Format: eArc
Source: Netgalley, publisher
Amazon Kindle
Goodreads


Brendan Clarkson and Luciana Rossetti are perfectly matched. Yin and yang. Angel and demon. Man and woman. But only one of them can win the battle of wills, of strength and of desire.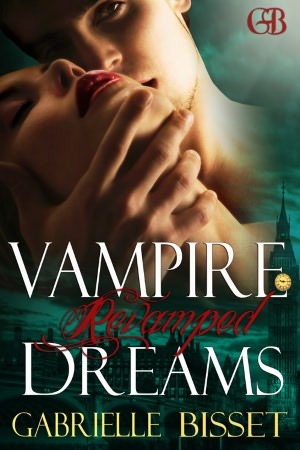 Vampire Dreams Revamped
by Gabrielle Bisset
Series: Sons of Navarus #0.5
Published by Self-Published on July 6, 2012
Genres: Paranormal Romance
Pages: 84
Format: eBook
Source: Purchased
Amazon Kindle
Goodreads


Expanded from the original, Vampire Dreams Revamped is bigger, longer, and hotter. Revisit the world of Brandon, Arden, and Vasilije and meet new characters too!
A vampire for hundreds of years, Brandon Ridley is surrounded by others of his kind who enjoy their world to the fullest. Orgies, debauchery, and sensual delights leave him empty, though. What he wants is that one woman who will share his life.
Homeless and without any family, Arden Stephens must live on the streets of mid 19th century London, never a safe place for a young woman. One night, as she is running for her life from an attacker, she is rescued by Brandon and offered a place in his home as his maid. Brandon is enchanted by Arden from the moment they meet and yearns to make her one of his kind.
Nightly, he visits her in her sleep, preparing her for the night he will finally make her his own. For Arden, the wanton dreams she has about her handsome employer seduce her and each day when she wakes up, she finds herself more drawn to him. But love and desire aren't enough for Brandon to sire her. He must first obtain the approval of his own sire, an ancient vampire named Vasilije who has thwarted his chance for happiness before.
But if Brandon can convince him, he may finally find the love he's been without for centuries.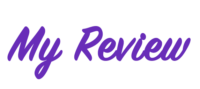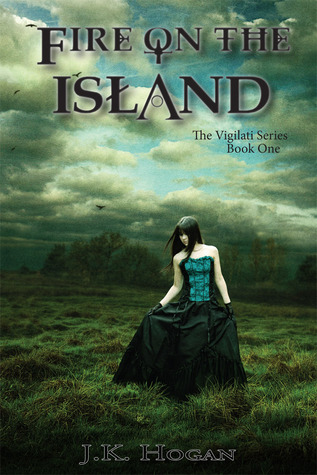 Fire on the Island
by J.K. Hogan
Series: Vigilati #1
Published by Sapphire Star Publishing on August 2nd 2012
Genres: Paranormal Romance
Pages: 376
Format: eBook
Amazon Kindle
Goodreads


"She who wields the mark is the barrier between man and monster. She is the daughter of gods, the mother of man, protector of all. Vigilati Usque Ad Mortem"
All Isla Macallen wanted was a simple existence on her little Scottish island, free from her mother's insanity and the prying eyes of neighbors. What she got was embroiled in a war for the souls of mankind. A war of good versus evil, of witches versus demons, and Isla learns that she alone can end it.
Dr. Jeremiah Rousseau was a self-proclaimed nomad, traveling the world researching paranormal phenomena. He doesn't expect his research to lead him to Scotland, and to the woman who will turn his world upside down.
Together with a facetious shapeshifting animal spirit guide, Jeremiah and Isla discover that she is part of an ancient bloodline bred to protect the gateways between the human world and the spirit world, to keep evil demons from destroying them. They must find the key to defeating Alastore, the demon king, and closing the gate before Samhain, when the veil between the worlds is lifted. As the war for their souls wages around them, Isla and Jeremiah will risk it all for love—a love neither had ever thought possible.
My Review