Review: 'Bared to You' by Sylvia Day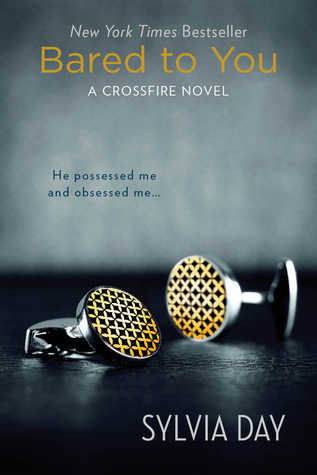 Bared to You
by
Sylvia Day
Series:
Crossfire #1
Published by
Berkley
on June 12th 2012
Genres:
Contemporary Romance
,
Erotic Romance
Pages:
338
Format:
eBook
Source:
Purchased
Amazon Kindle
|
Amazon Paperback
Goodreads

From #1 "New York Times" bestselling author Sylvia Day comes the provocative masterstroke of abandon and obsession that redefined the meaning of desire and became a global phenomenon... "Gideon Cross came into my life like lightning in the darkness." "" He was beautiful and brilliant, jagged and white-hot. I was drawn to him as I'd never been to anything or anyone in my life. I craved his touch like a drug, even knowing it would weaken me. I was flawed and damaged, and he opened those cracks in me so easily Gideon "knew." He had demons of his own. And we would become the mirrors that reflected each others most private wounds and desires. The bonds of his love transformed me, even as I prayed that the torment of our pasts didn't tear us apart "
My Review
Every once in a while I read a book that blows my mind. A book that makes me read all day, and stay up all night to finish it because I can't put it down. I rather sleep deprive myself instead of resting so I can find out what happens next to the characters. "Bared to You" is one of those books. The first chapter alone had me excited to keep reading it.
Gideon Cross is a dark and dangerous 28-year old who owns pretty much everything in New York. If you see "Cross" on a Building, he most likely holds it. Yes, he's young, but he's business-oriented, determined and intimating at times. He has skeletons in his closet though and refuses to let them out for anyone. He doesn't want anything to do with his family for some reason and women especially, brunettes are what he usually favors. He has his gal friends he will not bed with and then his women that he has sex with one time and then discards them afterward. He's a very mysterious man who every woman wants though. No matter if he is a player or not.
Eva Tramell is a 24-year-old strong-willed woman who moved to New York after graduating from college. She's living with her best friend Cary who is a sexy male model who she met through a therapy group she went through. She landed a job at an advertising company which so far she adores. Eva has a traumatic experience she's trying to forget, but for some reason, it comes back haunting her. She has a loving father who lives in California, a crazy over-protective mother and a step-father who enables her mother to do the stupid things she does to Eva.
One day Eva bumps into the dark and dangerous Gideon and the moment she sees him, she knows he's trouble. She did not realize she would end up working in the same building as he did though. Now, Gideon wants Eva, and he will stop at nothing to have her.
The moment Gideon is described, I even knew he was trouble for Eva, but I also knew I would fall in love with him. For some reason, I always fall for the dark, dominant man in a book.
I love how Gideon is so up front with Eva when they first meet and whenever they are together period. The first time he confronts her in the building where she works too he bluntly tells her what he wants from her. I think I was just as shocked as Eva…but maybe a little more.
Eva tries to avoid Gideon, but who could prevent a sexy, domineering man like him. I sure couldn't. I do not know how Eva held on for some long. I would've succumbed the minute I set eyes on him the first time.
This book is sexy, beyond-intense, EROTIC (of course), dramatic (warning…two females you will loathe in this book..at least I did…I won't spoil who they are though), and it's also full of twists and turns for both Gideon and Eva.
The sex scenes in this book, I had to keep putting down the book after I read them so I could cool off. Yes…they were that GOOD!!
You'll get to feel Eva's pain and understand what her trauma experience was in her past. You won't know what is wrong with Gideon, but you will get a hint on what it could be. He refuses to talk about it though, which frustrates not only Eva…but me as the reader.
I recommend this book to readers out there that are addicted to the Erotica Genre and love some BDSM. Forewarning ahead of time, once you start this book, you will not want to put it down. The cliffhangers of each chapter will have you begging for more.
I'm looking forward to the next book now because I want to know what Sylvia is going to do next with the characters. Between Sylvia Day and Karin Tabke, I'm addicted to the Erotica Genre now. There's no turning back for me. They've created a monster, and I love every minute of it. =)


I guess I should type a bio here. I'm FranJessca or Fran for short. I'm the owner of Book Lovin' Mamas and main Reviewer. I've been reviewing books since I got out of the Navy in 2011. Now 8 years later, I'm still reviewing, but this time with my youngest sidekick.
When I'm not reading and reviewing, you can find me at my day job during the week and on the weekend taking care of our little farm.

Latest posts by FranJessca (see all)