Review: 'Exodus' by Kate Stewart
March 28, 2022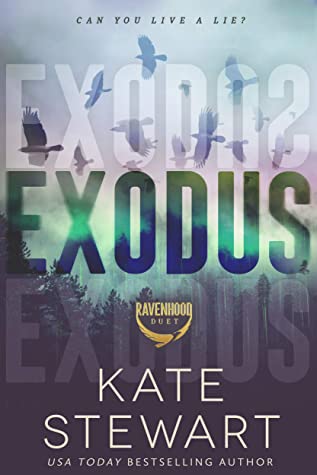 Exodus
by
Kate Stewart
Series:
The Ravenhood #2
Published by
Self-Published
on August 4, 2020
Genres:
Dark Romance
,
Romantic Suspense
Format:
eBook
Source:
Kindle Unlimited
Goodreads
Purchase at
Amazon

Can you live a lie?
It's a ghost town, this place that haunts me, the one that made me.
It's clear to me that I'll never outgrow Triple Falls or outlive the time I spent here.
I can still feel them all, my boys of summer.
Even when I'd sensed the danger, I gave in.
I didn't heed a single warning. I let my sickness, my love, both rule and ruin me. I played my part, eyes wide open, tempting fate until it delivered.
There was never going to be an escape.
All of us are to blame for what happened. All of us serving our own sentences. We were careless and reckless, thinking our youth made us indestructible, exempt from our sins, and it cost us all.
I'm done pretending I didn't leave the largest part of me between these hills and valleys, between the sea of trees that hold my secrets.
It's the reason I'm back. To make peace with my fate.
And if I can't grieve enough to cure myself in my time here, I'll remain sick. That will be my curse.
But it's time to confess, to myself more so than any other, that I'd hindered my chances because of the way I was built, and because of the men who built me.
At this point, I just want to make peace with who I am, no matter what ending I get.
Because I can no longer live a lie.
---
After finishing Flock, I immediately dived right into Exodus because I couldn't wait due to that damn cliffhanger. I needed to know more about the Frenchman and what would happen to Cecelia after she went through with Sean and Dominic.
My Thoughts: I was unprepared for this book, and I should've given myself a couple of days before diving into Exodus. No one warned me about Chapter Twenty-Five until I was done reading it. My heart still hurts. Tears are already forming in my eyes again while I write this review.
Here's why Exodus gets five stars from me:
Cecelia is forced to live her life without having Dom and Sean there. She's having a hard time adjusting, but she's doing it. Until the Frenchman, Tobias King, makes a deal with her, he won't leave her alone. She hates him for what he did to her and Dom/Sean. It's a very intense love/hate relationship between Cecelia and Tobias. Kate Stewart made me hate him immediately until he started hanging out at Cecelia's father's mansion with her. This book is only told in one POV, so readers won't know what is going in the Frenchman's head the whole time he's with Cecelia. 
Cecelia finds out more about her father and why he is the way he was to her in this book. She also finds out another truth that makes her confront someone else in her life that she thought she could trust. 
The drama scenes, especially when certain characters come back and realize what has been happening the whole time, is one that will break your heart and make you angry at the same time. It's a devastating scene, and I feel for everyone, not just one of the characters. 
The steamy scenes. There's no reverse harem in this book, but the scenes are still intense. The Frenchman is much different from Dom/Sean. Look above at my first bullet – it's a love/hate relationship. In some of the scenes, readers may be bothered by them.
Chapter Twenty Five. I shouldn't like this chapter because it ripped my heart out and got stomped on, but it kept me reading. I needed to find out why it happened, why Kate chose to write this particular scene and ruin all of us. There's one quote in this chapter that I will never forget. Rainy days will make me think of this person and will always make me wonder could've been if it would've been different. 
The last part of the book is where Cecelia is six years older. She is forced to leave Triple Falls. She's supposed to be getting married to a nice guy but can't forget her times with the men she loved in Triple Falls. She's not the same Cecelia, and I loved how much she changed. She's gone back to Triple Falls, but things have changed. Everyone has moved on without her, even the one person she loved. These chapters are the hardest because I feel Cecelia's betrayal and how everyone thought she couldn't handle what they were doing, and instead, they made her leave. She couldn't live without them, though. At the end of this book, Tobias is a mean a-hole, pushing her away. 
The ending. I liked how Cecelia moved on and was living her life after she confronted Tobias. She's making something of herself, but of course, someone crashes in her life. Things fall together on why a particular male character (who drove me crazy) kept Cecelia from the Ravenhood. There was a reason for all the madness in Flock and Exodus. (More comes to light in The Finish Line).
I could go on forever why I loved this book so much, but I may give something away. If I could, I would give it ten stars. I'll never forgive Kate Stewart for what she did in Chapter Twenty Five in this book. It broke me. It hurt me further on what was given to Cecelia at the end of this book. (I was sad and jealous). I will never get over this book. I will forever cherish it. I've read it via Kindle Unlimited but now officially own a paperback copy. At least next time I read this book for a second, third, fourth, etc., I'll know what to expect. I'll have the tissues handy, and I'll even try to listen to the playlist for these books. (Right now, I can't because some of the songs bring back the moments that broke me in this book.)
Favorite or Most Memorable Quote: "We love rainy days, don't we, baby?" (I will never be the same due to this quote. Every rainy day now will remind me of a certain character. My heart breaks now thinking about him.) He's not real but he feels like he was real. I love when authors can write characters that take up a piece of your heart. Damn you, Kate!
Standalone or Part of Series: It's part of the Ravenhood Trilogy and I highly recommend reading these in order.
Steaminess: ⭐️ ⭐️ ⭐️ ⭐️ 💫
Trope(s)/Element(s): Forbidden Romance; Enemies to Lovers; Billionaire Romance; Age Gap Romance; Morally Grey Characters
Would I recommend this book? Yes. I highly recommend this book if you enjoy Dark Romantic Suspense books. Warning, this book will put you through a lot emotionally. Make sure you have tissues handy. Make you have a glass of wine or two (or your drink of choice.) If you have a significant other, let them know you'll need comfort after reading this book. My husband is still dealing with the aftermath of this book, and he has no idea why, but he's there for me.

This post contains affiliate links you can use to purchase the book. If you buy the book using that link, I will receive a small commission from the sale. It will help sponsor future giveaways but costs you nothing extra. You can read the full disclosure underneath the Privacy Policy.
---
---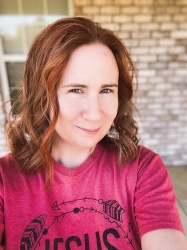 Latest posts by FranJessca
(see all)