Review: 'Feisty Princess' by Michelle A. Valentine
October 23, 2015
I received a complimentary copy of the book from the author in exchange for an honest review. This does not affect my opinion of the book or the content of my review.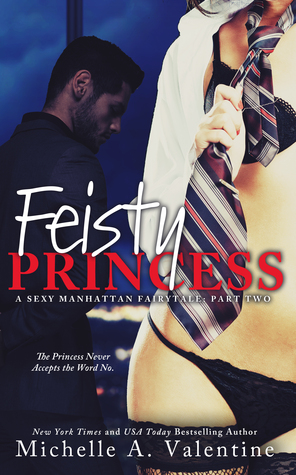 Feisty Princess
by
Michelle A. Valentine
Series:
A Sexy Manhattan Fairytale #2
on October 13, 2015
Goodreads
Purchase at
Amazon
|
Apple

I'm f**ked. Royally. She tempted me—screwed with my head—and gained the upper hand. She's the enemy. I can't forget that. My weakness jeopardized my company. The Feisty Princess of Manhattan will not win this war. No matter how fantastic her lips felt around my cock.
Book two in a three part erotic romance series. Super naughty new series From NY Times and USA Today bestselling author Michelle A. Valentine (Rock the Heart, Phenomenal X, Demon at My Door).
Naughty King (A Sexy Manhattan Fairytale: Part One) Feisty Princess (A Sexy Manhattan Fairytale: Part Two) Dirty Royals (A Sexy Manhattan Fairytale: Part Three) -- Coming Soon
What Readers are saying about the series:
"OH MAH GAWD! This book was HOT. It has all of my favorite things rolled up in one perfect package." --Heather, A Book Whores Obsession
"Naughty King was freaking awesome, really freaking hot, and fanfreakingtastic. I'm freaking out here, can you tell?" --Jen, The Book Avenue
"Short and sassy, that's the way I like my books." --Rusty's Reading
"I'm still wiping the tears from my eyes away. This is the most hilarious book I have read probably in 2015. I literally almost peed my pants." --Sammies' Book Blog
"Wow, I LOVED this one!!! This was my first time reading anything from Michelle A. Valentine, and I'm not sure why seeing as she's been a huge hit with a lot of my Goodread friends, which is why I jumped at the chance to read Naughty King." -- Cathy, Forever Reading Book Blog
"I loved it! It has that sexual tension with amazing foreplay, then when they got together *BOOM*" -- Kristie, Kristie's Kaptivating Reviews
"If you do not add this one to your TBR list, then you are going to miss one hell of a good book." -- Hooker Heels Book Blog
"I have read everything Ms Valentine has release, but I am telling you know, Naughty King ups the hotness scale a hundredfold." -- Janeane, BJ's Book Blog
"I devoured this entire book like nobody's business. Holy mother of literary geniuses!!! Michelle Valentine's Naughty King was SUPER DUPER GOOD and more than I could have ever expected or hoped for. This book checked off every single point in my checklist of everything I could ever ask to be in a book." -- Michelle, We Like It Big Book Blog
My Review 
If you haven't read the first part I highly recommend you do before reading my review of the second part. (that's your warning)  (I'm also trying to convince you to read the first part and dive into this story)
Feisty Princess picks up from the cliffhanger that Michelle left us at from Naughty King. The second part has Alexander aka the Naughty King in a very compromising spot. It also leaves Margo in a tight spot since she doesn't like Alexander at all, especially since she's wanting to help her father's company. She'll do anything  even lie to the public.  Whatever happens in Las Vegas usually stays in Las Vegas, but not in the case of Margo and Alexander.
Feisty Princess opens up a dilemma for both main characters, but they go into a deal together. One character wants one thing, while the other wants another. Although, what do you get when you have two characters that hate each other start to get to know each other better? You get a lot of sexual scenes, characters bringing forth things that the other had no idea about, and friends and family that want them to announce the truth.
If there is absolutely one thing I adore about Margo is how she handles herself with Alexander. She's not a heroine who let's a man walk all over her. She knows how to handle the Naughty King and even she puts him in his place a few times. She's a fighter, and Alexander is aware of her being a fighter.
Michelle had me from the beginning of the second part to the very end. Although, I wasn't expecting the ending to go the way it did. Poor Alexander can't catch a break and I wanted to hug Margo at the end.  🙁
Be prepared for some very steamy moments. HOT steamy moments between the characters.
If you enjoy a story in serial format, you'll enjoy the Sexy Manhattan Fairytale. If you don't like reading serial formatted stories, but still want to read this story I definitely recommend waiting for each part of be released.
I give this part 4 stars and anxiously wait for the final installment to release.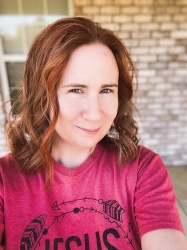 Latest posts by FranJessca
(see all)