Review: 'Heart of the Highland Wolf' by Terry Spear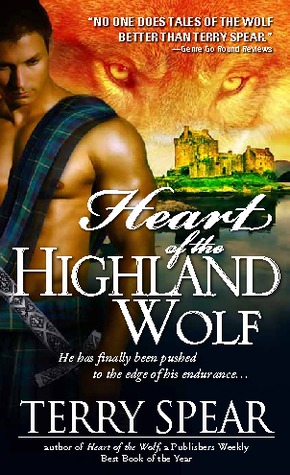 Heart of the Highland Wolf
by Terry Spear
Series: Heart of the Wolf #7
Published by Sourcebooks Casablanca on June 7th 2011
Genres: Paranormal Romance
Pages: 382
Format: Paperback
Source: Purchased
Amazon Kindle | Amazon Paperback
Goodreads


Book 1 in Terry Spear's Highland Wolf Series
It's a matter of pride... Modern day werewolf laird Ian MacNeill reluctantly allows a film production company to use his castle, but he knows his secretive clan has a big problem when a beautiful red werewolf female who insists she's working on the film keeps showing up in the wrong places...and a matter of pleasure. Julia Wildthorn is not who she says she is-she's sneaking into Argent Castle to steal an ancient relic for her grandfather and to do research for her next werewolf romance novel. When she catches a glimpse of Ian, she realizes he's the perfect hero.
Highland Wolf Series: Heart of the Highland Wolf (Book 1)A Howl for a Highlander (Book 2)A Highland Werewolf Wedding (Book 3)Hero of a Highland Wolf (Book 4)A Highland Wolf Christmas (Book 5)
Praise for Legend of the White Wolf: "A thrilling, engaging, wonderful ride." -Seriously Reviewed"Romance, adventure, and a paranormal twist...If you like your werewolf stories with a bit of a bite, then pick this series up now." -Night Owl Romance (Reviewer Top Pick)
Praise for Seduced by the Wolf: "With just enough wolf detail and werewolf lore, this action-packed story crackles with mystery, adventure, violence, and passion." -Library Journal
My Review
(Originally Reviewed on Mrs. Papillion aka "The Book Worm")
I LOVED this book…hence giving it 5 stars. I wish I could've given it 10 stars. This book from the beginning to the end was Perfect. Terry Spear knows how to make you feel apart of the werewolf experience in this book and all the other books she's written. I love how she writes the werewolves as actual real-life wolves and not as Stephanie Meyer did in the Twilight Series.
I think I've fallen for Ian McNeill in this book and I had told Terry Spear that in her blog just recently when I read this book. I told her I would love to go to Scotland and meet a Scottish Man just like Ian…but I would have to keep it hidden from my half-Scottish Man at home. =)
Ian is the ideal guy in my eyes, and he falls for Julie Wildthorn from the very beginning. Even though she's being watched and threatened Ian still wants to be a part of her life.
He becomes a concern with her from the very beginning and he shouldn't of…at least he tried to convince himself that but he can't help but adore the red-head that one day's steps into his town in Scotland.
Ian has finally agreed to let people into or around his castle to film a movie there. He's in a financial dilemma anyways, so his brothers convince him, they need the money from the Americans. That's when he realizes Julia will be apart of the crew too. Ian never wanted any of the American's inside of his castle, but he makes an exception for Julia.
Ian and Julia try to fight their attraction at first because Julia has a secret that she must keep from Ian…otherwise she'll be in the biggest dilemma of her life. She was sent by her grandfather and father to retrieve something in the castle that pertains to her family that used to live in the castle. It will change her and Ian's life if she doesn't. While trying to track what's, she's supposed to; she's also supposed to be writing her next romance book. That is another secret she wants to keep from Ian too since she writes about werewolves in her books her kind. She doesn't want Ian upset with her.
This book takes through twists and turns, and some amazing heated sex scenes between Ian and Julia.
Who wouldn't want to be locked away with a Scottish Werewolf all day and miss meals like Julia did? I know I wouldn't mind. =)
I look forward to reading Duncan's story next Fall which is Ian's brother.
I suggest anyone who likes reading about werewolves; you read this series. Terry Spear takes you into a World that you will never forget.


I guess I should type a bio here. I'm FranJessca or Fran for short. I'm the owner of Book Lovin' Mamas and main Reviewer. I've been reviewing books since I got out of the Navy in 2011. Now 8 years later, I'm still reviewing, but this time with my youngest sidekick.
When I'm not reading and reviewing, you can find me at my day job during the week and on the weekend taking care of our little farm.

Latest posts by FranJessca (see all)