Review: 'Hot Finish' by Erin McCarthy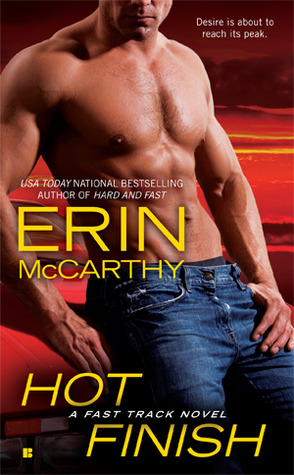 Hot Finish
by
Erin McCarthy
Series:
Fast Track #3
Published by
Berkley
on August 3rd 2010
Genres:
Contemporary Romance
Pages:
284
Format:
Paperback
Source:
Library
Amazon Kindle
|
Amazon Paperback
Goodreads

Desire is about to reach its peak.
Suzanne Jefferson is broke, which is why she's given up charity work for wedding planning. Fortunately, she has a high-profile client-and best of all, he's paid in advance. There are just two teensy problems: the bride is a bona fide bridezilla, and Suzanne's stock racer ex- husband is the best man. At least she thought he was her ex-husband...
My Review
I love my local library because I can reserve a book online and have it picked up the next day or two to read and now my local library has ebooks I can read on my Kindle. =)
My thoughts on "Hot Finish," the third book in the Fast Track Series by Erin McCarthy. Personally, this book was not my fave. I did not connect very well with the female character. She drove me crazy. I did not like Suzanne Jefferson, the previous two books and I didn't like her much in her book. Although, I did have sympathy for her after finding out what she has gone through in her life. I also liked the fact; she did not like depending on a man to help her. She preferred to work out everything on her own.
Although I did enjoy Ryder Jefferson, he's Suzanne's ex-husband (well…supposedly). Ryder is a sweetheart. He's a stock car driver and last season; he came in second place. He wants to do better next season, but Ryder is distracted by Suzanne. Every time he tries to be nice to Suzanne, he gets crapped on. He didn't like seeing Suzanne suffer through and he wanted to try to help her in some way without her knowing about it.
Here's the story of these two: Suzanne and Ryder were married, she left him because she felt he was not really into the marriage. She thought he only married her because at the time they hooked up, she got knocked up and they had a shotgun wedding in Vegas. Suzanne ended up having a miscarriage, and she felt that Ryder did not want to have kids after that. He never showed emotion towards losing the baby at all. Suzanne left after a while because she felt it wasn't working out and he wasn't trying. They indeed expressed on how they felt and never shared their feelings with each other.
Now Suzanne is to plan a wedding for Niki (the most annoying female character I've ever read) and Jonas. Ryder is the Best Man so of course, Suzanne is not happy about it. She can't stop avoiding him, and he keeps throwing hints at her, he wants to hook up.
Onto…the night of passion in a car between them both. Bam!
Further, into the book, Suzanne is confused, and Ryder is confused. Suzanne keeps pushing him away. Ryder keeps trying to express how much he still cares about her. Suzanne has her friends telling her Ryder loves her, but of course, she doesn't believe them. Ryder has his guy pals telling him that Suzanne still shows feeling for him too and he's trying to pursue her. On and on it goes between them both.
At the end of the book, Ryder lets Suzanne know how she feels and how he


I guess I should type a bio here. I'm FranJessca or Fran for short. I'm the owner of Book Lovin' Mamas and main Reviewer. I've been reviewing books since I got out of the Navy in 2011. Now 8 years later, I'm still reviewing, but this time with my youngest sidekick.
When I'm not reading and reviewing, you can find me at my day job during the week and on the weekend taking care of our little farm.

Latest posts by FranJessca (see all)