Review: 'Never Love a Highlander' by Maya Banks
June 20, 2023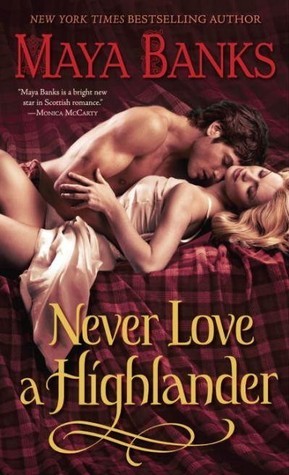 Never Love a Highlander
by
Maya Banks
Series:
McCabe Trilogy #3
Published by
Ballantine Books
on October 25, 2011
Genres:
Historical Romance
,
Scottish Historical Romance
Format:
AudioBook
,
eBook
Source:
Library
Goodreads
Purchase at
Amazon
|
Barnes & Noble
|
Kobo

In a tale of strong ties and true love, Maya Banks' trilogy comes to its conclusion, as the youngest McCabe brother uses sword and seduction to save his clan - and seal his heart.
Caelen McCabe's young, reckless heart nearly destroyed his clan. Now, putting family loyalty above all else, he steps up to marry his older brother's jilted bride and salvage the uneasy alliance between two clans. While beautiful Rionna McDonald is a fit wife for any man, Caelen trusts no woman, especially not this sweet temptress who torments him with white-hot longing.
As the sacrificial lamb in her father's power game, Rionna will do her duty but vows to protect her heart and her pride from humiliation. Despite everything, though, the heat in Caelen's touch melts her defenses, and she craves the sensual delights of a husband who guards his emotions as fiercely as his clan. But when the ultimate battle for the McCabe legacy is upon them, Rionna's true warrior spirit emerges. She will risk the wrath of her father, the fury of her enemies, and her life to prove to Caelen that his wife's love is too precious to lose.
---
I've read some of Maya Banks' Contemporary Erotic Romance and Romantic Suspense books but have enjoyed her Historical Romance books, especially when they are based in Scotland. I love alpha heroes, which are what the McCabe brothers are in the McCabe Trilogy. I'm glad also that my local library had Maya Banks McCabe Trilogy available to borrow so that I could read them. I finished reading the last book in the trilogy, Never Love a Highlander, and enjoyed it.
Storyline/My Thoughts: First, if you haven't read this trilogy yet, I do recommend reading the trilogy in order. I'm glad I started from the beginning due to the storylines being connected, especially when it came to the villain being introduced in the first book and continuously causing issues in the other books.
The final book in the McCabe Trilogy gives readers the youngest McCabe story, Caelen. This young McCabe has every reason not to trust women after what happened to him and his family years ago. Now, he's agreeing to marry a woman he barely knows that was supposed to marry his other brother, Alaric until his brother falls in love with another woman. Caelen is doing his duty as the only single McCabe brother to ally with the McDonald clan. The McCabe and McDonald family have a common enemy, so their alliance is important. The issue is that Rionna McDonald, the woman that Caelen is marrying, will not put up with his crap.
I loved Rionna McDonald in this book, especially after being introduced to her as a secondary character in the first two books. This poor woman was arranged to marry the other brothers, but those brothers found love with other women. She knows Caelen is getting much of the deal of marrying her, especially with becoming the new laird over the McDonald clan. Rionna is one woman that won't go for being a typical wife with Caelen. She wants to continue her lessons of wielding a sword and knowing how to defend herself. Caelen is one male that doesn't like his wife doing those things.
I loved the banter between Caelen and Rionna throughout the book because they may have hated each other initially, but their love grew when they got to know one another. It took time, and I was there for it. Yes, this has a Enemies to Lovers trope, which will forever be a favorite trope of mine in romance books.
One of the main reasons I enjoyed this book was Rionna's character because she was a kick-butt heroine in the story. She didn't put up with anyone, not Caelen, his brothers, or her father. (Her father is someone I didn't like in the previous book and didn't like in this one either.)
Caelen's character reminded me of his older brother, who I didn't much care for when I read his book. He didn't like Rionna doing certain things and expected her to be a typical wife. Well, I'm glad Rionna stood her ground with him.
If you have read Maya Banks' Contemporary Erotic Romance books before, expect spice between the characters in her Historical Romance books. She definitely knows how to write intimate moments between the characters. She also knows how to write some tear-filled moments too. Several of them are in this book.
The ending in this book will go down as my favorite in this trilogy. Again, no spoilers from me. Just read it to find out.
Overall, I give the third and final book in the trilogy four stars, and I'm glad I decided to read the rest of this trilogy after I picked up the first book for a reading challenge. I enjoyed this historical romance trilogy from Maya Banks and can't wait to read more of this subgenre from the author, especially when she writes some strong-lead heroines.
Steam/Spice: 🌶 🌶 🌶.5
Genre/SubGenre(s)/Trope(s)/Element(s): Romance | Historical Romance | Scottish Historical Romance | Highlander Romance | Enemies to Lovers | Arranged Marriage | Alpha MMC | Kickbutt FMC | Virgin FMC
Would I recommend this book? Yes. I recommend this book/trilogy if you enjoy reading the subgenre Historical Romance. I normally don't enjoy Historical Romance and tend not to read as much, but I had difficulty putting down this trilogy due to those handsome Scottish McCabe brothers and the women they fell for them.
Favorite Quote(s): "I'll love you well, lass. 'Tis one promise I can make and vow to keep. I'll love you until I draw my last breath and beyond. You were made for me. I cannot imagine a more perfect mate." 

This post contains affiliate links you can use to purchase the book. If you buy the book using that link, I will receive a small commission from the sale. It will help sponsor future giveaways but costs you nothing extra. You can read the full disclosure underneath the Privacy Policy.
---
---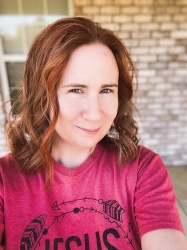 Latest posts by FranJessca
(see all)