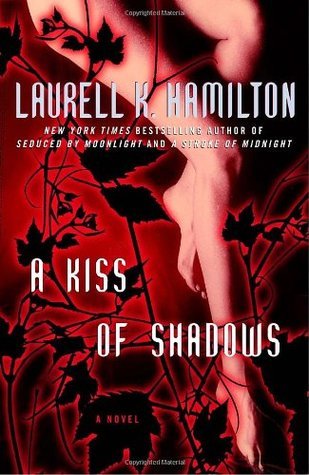 A Kiss of Shadows
by Laurell K. Hamilton
Series: Merry Gentry #1
Published by Ballantine Books on March 28, 2006
Genres: Urban Fantasy
Pages: 468
Format: AudioBook
Source: Library
Amazon Kindle | Barnes & Noble
Goodreads


My name is Meredith 'Merry' Gentry, but of course it's not my real name. I dare not even whisper my true name after dark for fear that one hushed word will travel over the night winds to the soft ear of my aunt, the Queen of Air and Darkness. She wants me dead. I don't even know why...
I fled the high court of Faerie three years ago and have been in hiding ever since. As Merry Gentry, I am a private investigator for the Grey Detective Agency: Supernatural Problems, Magical Solutions. My magical skills, scorned at the courts of Faerie, are valued in the human world. Even by human standards, my magic isn't flashy, which is fine by me. Flashy attracts attention and I can't afford that.
Rumour has it that I am dead. Not quite. I am Princess Meredith NicEssus. To speak that name after dark is to call down a knock upon your door from a hand that can kill you with a touch. I have been careful, but not careful enough. The shadows have found me, and they are going to take me back home, one way or another.
So the running is over. But the fighting has just begun...
Rich, sensual, brimming with dangerous magic, A Kiss of Shadows is a dazzling tour-de-force where folklore, fantasy and erotically charged adventure collide.

I received a complimentary copy of the book from the Netgalley in exchange for an honest review. This does not affect my opinion of the book or the content of my review.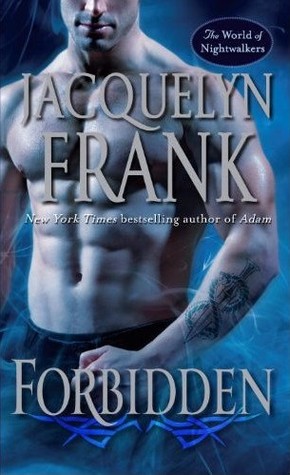 Forbidden
by Jacquelyn Frank
Series: The World of Nightwalkers #1
Published by Ballantine Books on October 30, 2012
Genres: Paranormal Romance
Pages: 340
Format: eArc
Source: Netgalley
Amazon Kindle | Amazon Paperback
Goodreads


From New York Times bestselling author Jacquelyn Frank comes this first book in The World of the Nightwalkers—an exciting and sensual new spin-off series in which the Bodywalkers, an ancient race of the night, battles the evil forces who prey on them.The unexpected happens in an instant. On her way to work, secretary Docia Waverley hurtles into a crashing crossroads, and she quickly begins to suspect that things will never be the same. Then, when a tall, blond, muscular stranger intervenes on her behalf, telling her it is his duty to protect her at all cost, what is just a feeling turns to proof positive. That is, as long as Docia's savior doesn't turn out to be a crazed kidnapper.
When Ram finds Docia, he has no doubt that she is his queen. But as this golden warrior sweeps in to protect her, he feels something more than body heat every time they touch. He is overwhelmed by a searing connection that goes deep into the twin souls inside him. A desire rises in him that is forbidden—this woman is his queen, the mate of his king, his leader, his best friend. And yet Docia is so vulnerable and attractive that she awakens a hunger in Ram that is undeniable, a carnal craving he cannot yield to . . . not without risking the very survival of the Bodywalkers.
I received a complimentary copy of the book from the Netgalley, publisher in exchange for an honest review. This does not affect my opinion of the book or the content of my review.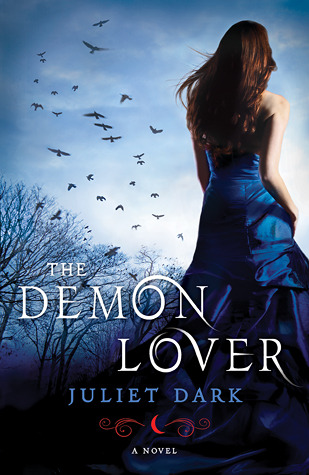 The Demon Lover
by Juliet Dark
Series: Fairwick Chronicles #1
Published by Ballantine Books on December 27th 2011
Genres: Paranormal Romance
Pages: 450
Format: eArc
Source: Netgalley, publisher
Amazon Kindle | Amazon Paperback
Goodreads



I gasped . . . or tried to. My mouth opened, but I couldn't draw breath. . . . His lips, pearly wet, parted and he blew into my mouth. My lungs expanded beneath his weight. When I exhaled he sucked in my breath and his weight turned from cold marble into warm living flesh.

Since accepting a teaching position at remote Fairwick College in upstate New York, Callie McFay has experienced the same disturbingly erotic dream every night: A mist enters her bedroom, then takes the shape of a virile, seductive stranger who proceeds to ravish her in the most toe-curling, wholly satisfying ways possible. Perhaps these dreams are the result of writing her bestselling book, The Sex Lives of Demon Lovers. After all, Callie's lifelong passion is the intersection of lurid fairy tales and Gothic literature—which is why she finds herself at Fairwick's renowned folklore department, living in a once-stately Victorian house that, at first sight, seemed to call her name.
But Callie soon realizes that her dreams are alarmingly real. She has a demon lover—an incubus—and he will seduce her, pleasure her, and eventually suck the very life from her. Then Callie makes another startling discovery: He's not the only mythical creature in Fairwick. As the tenured witches of the college and the resident fairies in the surrounding woods prepare to cast out the incubus, Callie must accomplish something infinitely more difficult—banishing this demon lover from her heart.
My Review Continue reading →