Review: 'Seduction of a Highland Lass' by Maya Banks
June 13, 2023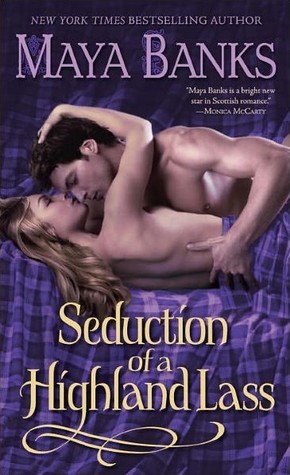 Seduction of a Highland Lass
by
Maya Banks
Series:
McCabe Trilogy #2
Published by
Ballantine Books
on September 27, 2011
Genres:
Historical Romance
,
Scottish Historical Romance
Format:
AudioBook
,
eBook
Source:
Library
Goodreads
Purchase at
Amazon
|
Barnes & Noble
|
Kobo


Maya Banks, the New York Times bestselling author of romance and romantic suspense has captivated readers with her steamy Scottish historical novels, perfect for fans of Julie Garwood. In Seduction of a Highland Lass, an indomitable Highland warrior is caught between loyalty and forbidden love.

Fiercely loyal to his elder brother, Alaric McCabe leads his clan in the fight for their birthright. Now he is prepared to wed for duty, as well. But on his way to claim the hand of Rionna McDonald, daughter of a neighboring chieftain, he is ambushed and left for dead. Miraculously, his life is saved by the soft touch of a Highland angel, a courageous beauty who will put to the test his fealty to his clan, his honor, and his deepest desires.
An outcast from her own clan, Keeley McDonald was betrayed by those she loved and trusted. When the wounded warrior falls from his horse, she is drawn to his strong, lean body. The wicked glint in his green eyes ignites a passion that will follow them back to Alaric's keep, where their forbidden love draws them deeper into the pleasures of the flesh. But as conspiracy and danger circle closer, Alaric must make an impossible choice: Will he betray his blood ties for the woman he loves?
---
Thanks to the Romanceopoly challenge hosted by @UTCBookBlog for having me read the first book in Maya Banks McCabe Trilogy for a challenge that I'm now determined to read the rest of the books. I'm utilizing my local library and the Libby app to read the trilogy, and I'm thankful the books are available to borrow.
Storyline/My Thoughts: As of right now, Seduction of a Highland Lass is my fave of the trilogy until I read Caelen McCabe's book. Alaric McCabe will be hard to beat because this man was everything in this book. He's loyal to the McCabe family and does everything his elder brother asks of him, even when his brother agrees that Alaric will marry the daughter of the McDonald clan, whom he's only met once. If it helps the McCabe family and their alliance with the McDonald clan, Alaric will do it without question, even if he doesn't love the woman. He's on the way to claim the hand of Rionna McDonald when he and his men are ambushed, and he is left for dead. He ends up in the care of a woman in a cabin who becomes his savior or who he calls his Angel, Keeley McDonald. He falls instantly for the healer, and Keeley does everything possible to save him from death. 
The issue is Keeley has no clue that the man she took in to save is on his way to marry into the family that kicked her out years ago. All she knows is she needs to save him, and even she falls for the handsome highlander. She knows she shouldn't fall for the handsome stranger, especially when his family finds him with her, and she finds out who he is and the truth of where he was heading on his journey before he was ambushed.
Keeley is now the McCabe's healer and will not only assist Alaric back to recovery, but she'll help Ewan McCabe's wife through the birth of their child. Keeley hasn't been in a clan in a long time, and at first, she's hesitant about the McCabe clan until they make her feel like she is a part of a family again.
Normally, I'm not fond of instant love in romance, but when it came to Alaric and Keeley's story, it was more of a forbidden instant attraction between the two. They couldn't be together because Alaric was arranged to marry another woman, but he couldn't stop his feelings for the Angel that saved him, and Keeley felt the same way. Poor Alaric deserved to be with the woman he loved, but he knew he had to do what was best for his family, and Keeley even accepted it. They gave in to their attraction while they were together and knew it was temporary, and they were willing to walk away afterward, even if it hurt them both. These types of stories in romance are some of my favorites, and I'm glad that Maya Banks gives us both characters' POVs so we read what the characters are going through.
I loved both main characters in this one compared to the first book. Keeley was a strong heroine and reminded me of Mairin in the first book but in different ways, so I instantly adored her character. I loved Mairin and how she handled Ewan McCabe in their book, and I immediately loved Keeley and how she handled Alaric and the other brothers. She didn't put up with any of their crap. She also was willing to protect the McCabes and put herself at risk for them, just like Mairin did. I love the heroines who tend to be less damsels in distress and more a fighter themselves. Keeley had been through a lot before the McCabes, and now she had to face the clan that kicked her out and deals with the one person she didn't want to deal with ever again.
I loved Alaric more compared to his eldest brother, Ewan. I understood why he was willing to marry another woman because he respected his brother and knew he had a duty within his family's clan. He was in love with Keeley, though, and each time I read his POV, it broke my heart how he was willing to walk away from her and the same for her. These two were meant to be together.
The book's ending was a tearjerker; I may have grabbed tissues for it. I was not expecting that twist at the end, and it was hard to read one particular scene, not in a bad way, but in a way that had me crying for all the characters in the book. Don't worry; there is a HEA, but it takes heart-wrenching moments to get there.
I give the second book in the trilogy 4.5 stars, and I'm looking forward to reading Caelen's story next. I don't think he will top Alaric's book, but knowing Maya Banks, she'll have me change my mind.
Standalone or Part of Series: It's part of the McCabe Trilogy. I recommend reading in order.
Steam/Spice: 🌶 🌶.5
Genre/SubGenre(s)/Trope(s)/Element(s): Romance | Historical Romance | Scottish Historical Romance | Highlander Romance | Forced Proximity | Instant Love/Attraction | Found Family | Forbidden Romance (The MMC is Arranged to Marry someone else) | Healer/ Patient | Hurt/Comfort | Virgin FMC | Alpha MMC
Content Warning(s): Possible Spoiler. Mention of Attempted SA (FMC was almost SA when she was younger) and then she is almost SA when she is adult. (NOT by MMC but by secondary character.)
Would I recommend this book? Yes. I highly recommend this trilogy if you enjoy Historical Scottish Romances with strong heroines that fall for the Scottish alpha warrior heroes.
If you enjoy listening to books instead of reading them, I recommend these books on audio. Kirsten Potter does a fantastic job narrating the characters and their story.

This post contains affiliate links you can use to purchase the book. If you buy the book using that link, I will receive a small commission from the sale. It will help sponsor future giveaways but costs you nothing extra. You can read the full disclosure underneath the Privacy Policy.
---
---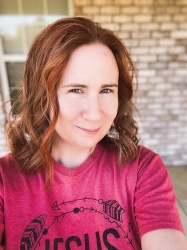 Latest posts by FranJessca
(see all)