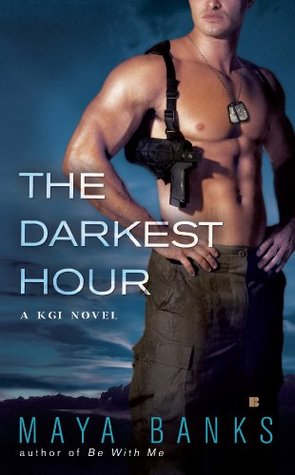 The Darkest Hour
by
Maya Banks
Series:
KGI #1
Published by
Berkley
on September 7, 2010
Genres:
Romantic Suspense
Pages:
304
Format:
Paperback
Source:
Purchased
Amazon Kindle
|
Amazon Paperback
|
Audible
|
Barnes & Noble
|
Kobo
Goodreads

It's been one year since ex-Navy SEAL Ethan Kelly last saw his wife Rachel alive. Overwhelmed by grief and guilt over his failures as a husband, Ethan shuts himself off from everything and everyone.
His brothers have tried to bring Ethan into the KGI fold, tried to break through the barriers he's built around himself, but Ethan refuses to respond… until he receives anonymous information claiming Rachel is alive.
To save her, Ethan will have to dodge bullets, cross a jungle, and risk falling captive to a deadly drug cartel that threatens his own demise. And even if he succeeds, he'll have to force Rachel to recover memories she can't and doesn't want to relive—the minute by minute terror of her darkest hour—for their love, and their lives, may depend on it.
I received a complimentary copy of the book from the publisher in exchange for an honest review. This does not affect my opinion of the book or the content of my review.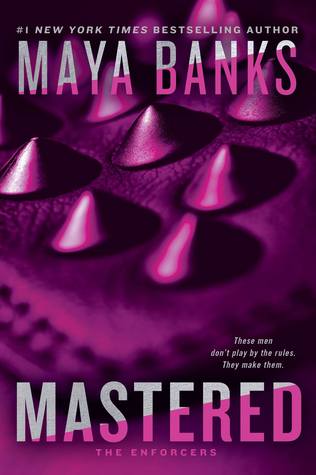 Mastered
by
Maya Banks
Series:
The Enforcers #1
Published by
Berkley
on December 29th 2015
Genres:
BDSM
,
Contemporary Romance
,
Erotic Romance
Pages:
368
Source:
publisher
Amazon Kindle
|
Amazon Paperback
Goodreads

From the #1 New York Times bestselling author of the Breathless Trilogy comes the first novel in the Enforcers series—a bold new direction in erotic romance that explores the games men and women play, and the price they're willing to pay for pleasure.
What he wants, he takes with no remorse or guilt.
She stood out in his club like a gem, unspoiled and untouched. A lamb among wolves, she clearly didn't belong. Drawn to her innocence he watched as she was surrounded by men who saw what he did—but no one but him could touch her. He summoned her to his private quarters. He sensed her fear. He also recognized the desire in her eyes. And he knew she wouldn't leave before he possessed her. She had no need to know his secrets. Not until he had her under his complete and utter control.
What he wants, she isn't sure she can give him.
The moment he told her want he wanted, she couldn't resist. Instinct told her to run, but her heart said stay and walk the fine line between pleasure and pain. Though she wasn't sure she could ever completely surrender, the primal part of her wanted to try, even knowing this man could break her in ways she never imagined. Because once he possessed her, he owned her and it would be too late to turn back. She can only pray that he doesn't destroy her in the end.
Coming May 2016: The Enforcers Book II: Dominated
My Review Continue reading →