Review: 'In Bed with a Highlander' by Maya Banks
May 15, 2023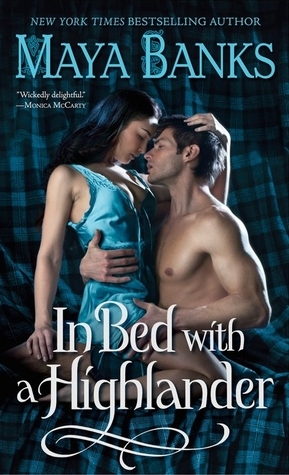 In Bed with a Highlander
by
Maya Banks
Series:
McCabe Trilogy #1
Published by
Ballantine Books
on August 30, 2011
Genres:
Historical Romance
,
Scottish Historical Romance
Format:
eBook
Source:
Library
Goodreads
Purchase at
Amazon
|
Barnes & Noble
|
Kobo

Maya Banks' beguiling new trilogy features three unforgettable brothers risking everything to save their clan and their legacy—and to surrender their hearts to love.
Ewan McCabe, the eldest, is a warrior determined to vanquish his enemy. Now, with the time ripe for battle, his men are ready and Ewan is poised to take back what is his—until a blue-eyed, raven-haired temptress is thrust upon him. Mairin may be the salvation of Ewan's clan, but for a man who dreams only of revenge, matters of the heart are strange territory to conquer.
The illegitimate daughter of the king, Mairin possesses prized property that has made her a pawn—and wary of love. Her worst fears are realized when she is rescued from peril only to be forced into marriage by her charismatic and commanding savior, Ewan McCabe. But her attraction to her ruggedly powerful new husband makes her crave his surprisingly tender touch; her body comes alive under his sensual mastery. And as war draws near, Mairin's strength, spirit, and passion challenge Ewan to conquer his demons—and embrace a love that means more than revenge and land.
---
I'm still participating in the Romanceopoly challenge hosted by Under the Covers Book Blog, but I'm a little behind on where I want to be on the challenge. Hopefully, I can catch up during the summer, so I'm not so far behind on completing it by the end of the year. I completed the Past Eaves Challenge to pick up a historical romance that had been on my TBR the longest. I couldn't believe I had yet to read Maya Banks In Bed with a Highlander, the first book in her McCabe Trilogy. Luckily, I could borrow it from my library using the Libby app and was able to set some time to read it. 
Storyline/My Thoughts: I don't read a lot of Historical Romances, and I've noticed when I do read a book from this subgenre, it takes me a little longer to read than other books. I'm not sure what it is, and I think it may be because I prefer modern romance stories over historical ones. I have found some historical romances that I enjoy and can read in one or two days, and it all stems down to the storylines and characters.
In the case of this book, I loved the FMC, Mairin. I friggin' loved her because she was a feisty, sassy, kick-butt heroine who put the MMC in his place several times. This poor woman was abducted by a man wanting to marry her because of who she was related to and the money and land he would acquire once he married her. Mairin said no thank you and ended up being beaten by this brute of a man. This book has some serious descriptive violent moments, so check your triggers. Women are treated poorly, that's for sure, in this book, and this is one reason why I tend to stay away from Historical Romance books due to how women are portrayed and how men treat them. Not all authors write about men who are verbally or physically abusive in historical romance books, but this one had quite a bit of it. I was glad when the FMC got away from the douchebag, which I refuse to name because he was a horrible creature. (Yes, I said creature since he's not even a man.)
Mairin does escape the creature, but she ends up in the arms of another man, who doesn't seem as nice at first, especially when he thinks she has taken his son from him. Mairin was protecting the MMC, Ewan McCabe's son, Crispen, from being harmed by the man that took her, and I loved how she protected him, and the boy took a liking to her immediately. The instant bond between Crispen and Mairin is what I enjoyed most while reading this book. She had natural motherly instincts.
When it came to the MMC in the story, who tended to be too alpha-like, I wanted to throttle him a few times when he had his POV or was dealing with certain situations regarding the FMC. I normally love an alpha male in books, but Ewan was hard to like at first, and his character took some time for me to like. I could understand why he reacted the way he did when it came to his son and why he was weary of Mairin, but he should have known by her stance she was protecting Crispen. Don't even get me started on how he conveniently changed his tune when he found out who Mairin was and why his enemy wanted to marry her.
He did redeem himself after making Mairin constantly uncomfortable, and he started showing his other side. He truly loves his son and is all about protecting his family, and when Mairin is in danger, he would have gone to the end of the earth to find her. He does put her in danger a few times, and he's out for blood once he finds out what is happening.
I liked how Maya Banks introduced the other two McCabe brothers and will be reading the rest of this trilogy because I want to find out who those brothers end up within their books. I did like this book but didn't love it. I did like the dramatic twists and turns, even though they did make me angry. I thought that poor Mairin would have to go through with what happened to her, and I didn't want that for her. She deserved happiness, even if Ewan sometimes drove me bonkers with his mood swings. Overall, I give this first book in the trilogy 3.5 stars and look forward to continuing this trilogy using my local library to read the books.
Standalone or Part of Series: It's the first book in the McCabe Trilogy.
Steam/Spice: 🌶 🌶
Genre/SubGenre(s)/Trope(s)/Element(s): Romance | Historical Romance | Scottish Romance | Single Father Romance | Marriage of Convenience | Forced Proximity | Enemies to Lovers | Alpha MMC | Kickbutt FMC | Royalty FMC
Would I recommend this book? Yes. If you enjoy Historical Romance and have read Maya Banks's books before, you'll enjoy this one.

This post contains affiliate links you can use to purchase the book. If you buy the book using that link, I will receive a small commission from the sale. It will help sponsor future giveaways but costs you nothing extra. You can read the full disclosure underneath the Privacy Policy.
---
---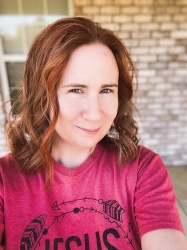 Latest posts by FranJessca
(see all)