Review: 'Demon Lover' by Juliet Dark
I received a complimentary copy of the book from the Netgalley, publisher in exchange for an honest review. This does not affect my opinion of the book or the content of my review.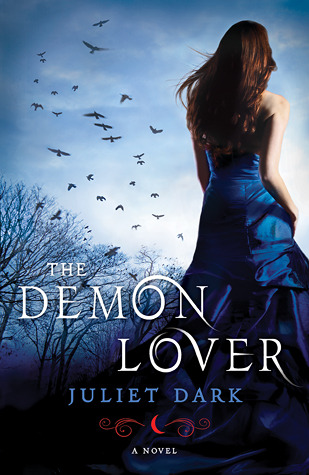 The Demon Lover
by
Juliet Dark
Series:
Fairwick Chronicles #1
Published by
Ballantine Books
on December 27th 2011
Genres:
Paranormal Romance
Pages:
450
Format:
eArc
Source:
Netgalley, publisher
Amazon Kindle
|
Amazon Paperback
Goodreads


I gasped . . . or tried to. My mouth opened, but I couldn't draw breath. . . . His lips, pearly wet, parted and he blew into my mouth. My lungs expanded beneath his weight. When I exhaled he sucked in my breath and his weight turned from cold marble into warm living flesh.

Since accepting a teaching position at remote Fairwick College in upstate New York, Callie McFay has experienced the same disturbingly erotic dream every night: A mist enters her bedroom, then takes the shape of a virile, seductive stranger who proceeds to ravish her in the most toe-curling, wholly satisfying ways possible. Perhaps these dreams are the result of writing her bestselling book, The Sex Lives of Demon Lovers. After all, Callie's lifelong passion is the intersection of lurid fairy tales and Gothic literature—which is why she finds herself at Fairwick's renowned folklore department, living in a once-stately Victorian house that, at first sight, seemed to call her name.
But Callie soon realizes that her dreams are alarmingly real. She has a demon lover—an incubus—and he will seduce her, pleasure her, and eventually suck the very life from her. Then Callie makes another startling discovery: He's not the only mythical creature in Fairwick. As the tenured witches of the college and the resident fairies in the surrounding woods prepare to cast out the incubus, Callie must accomplish something infinitely more difficult—banishing this demon lover from her heart.
My Review
Did you ever buy a book because the cover captured your attention?
Well, this book captured mine when I saw it in Netgalley. I didn't even bother to read the description to find out what the book was about before I requested it. I usually don't ever do that, but for some reason, I did with this one. The cover just drew me in. I have a weakness of beautiful book covers. Oh, I have an obsession with the color blue…which didn't help either.
I tend to describe the book in my words in the beginning, but found that is a waste of time sometimes…so instead, I'm going to type up what I loved and disliked about the book.
Once I started reading "The Demon Lover," I a hard time reading it at first. The first few chapters weren't capturing my attention like all other books I've read, and you would think it would with how Juliet Dark threw in a love scene in the very beginning. I very sexy, seductive Man who creeps into my dreams…why wouldn't I love this book? I had to put this book down several times and come back to read it. I thought if I put it down…the book would miraculously capture my heart as other books have…Unfortunately, the book didn't capture my attention until the very end. I was determined to finish this book though. I hate starting a book and not being able to finish it. It's a big pet peeve of mine.
The Author tended to describe certain things in detail for too long, and I lost interest. Once she started writing about dilemmas for the character Callie, then the book caught my interest again. Although, it was back and worth getting my attention which I hate. Ugh!
I adored Callie in the book. Her intelligence and her determination, made me realize her character reminded me of myself. Although, there were points in the story where I could've slapped Callie silly. Wake up, girl…something is seriously wrong with Fairwick and what is happening to you.
I can't stand a book that is predictable…which "The Demon Lover" was to me. It may not be for other readers, but for some reason, I was able to pick out what was happening and not get the "Awe" feeling. I knew what was going on with Callie.
Callie's dreams, in the beginning, are what spiked my love for the book. Once I found out who and what was going into her dreams, I felt I had to read the book even more and not put it down anymore. I love reading books about Incubi. Callie's love life was rough at first since she lived far away from her boyfriend, Paul may be the Incubus was doing her a favor. I think my favorite character would have to be the Incubus in the story. He was the main plot to the book, but Juliet did throw in other stuff, that maybe shouldn't have been added.
I always love trying out new authors who I have never read from before. Juliet Dark created a very Gothic supernatural world. I did feel like I was actually in the book sometimes with the dark, supernatural way she wrote. Her writing style is different to what I'm used to, but it's not a horrible thing. I look forward to reading the next book in the series. I hope the next book I won't have to put down. Maybe I should shut myself away from the world when I read the next book…unfortunately that won't happen when I'm a mother of two girls who hate seeing me with a book in front of my face. They want to know what I'm reading, but unfortunately their not even close to the age, where they need to read the books I read. =)
I recommend this book for anyone who loves Gothic style Romance. You'll find yourself in a world where your not used to…if you think this book is any style compared to Gena Showalter, Kresley Cole, etc.
Juliet Dark has her writing style. =)


I guess I should type a bio here. I'm FranJessca or Fran for short. I'm the owner of Book Lovin' Mamas and main Reviewer. I've been reviewing books since I got out of the Navy in 2011. Now 8 years later, I'm still reviewing, but this time with my youngest sidekick.
When I'm not reading and reviewing, you can find me at my day job during the week and on the weekend taking care of our little farm.

Latest posts by FranJessca (see all)