Review: 'Forbidden' by Jacquelyn Frank
December 13, 2012
I received a complimentary copy of the book from Netgalley, the publisher in exchange for an honest review. This does not affect my opinion of the book or the content of my review.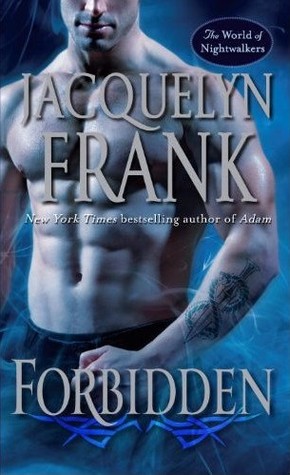 Forbidden
by
Jacquelyn Frank
Series:
The World of Nightwalkers #1
Published by
Ballantine Books
on October 30, 2012
Genres:
Paranormal Romance
Format:
eArc
Source:
Netgalley, the publisher
Goodreads
Purchase at
Amazon
|
Apple

From New York Times bestselling author Jacquelyn Frank comes this first book in The World of the Nightwalkers—an exciting and sensual new spin-off series in which the Bodywalkers, an ancient race of the night, battles the evil forces who prey on them.The unexpected happens in an instant. On her way to work, secretary Docia Waverley hurtles into a crashing crossroads, and she quickly begins to suspect that things will never be the same. Then, when a tall, blond, muscular stranger intervenes on her behalf, telling her it is his duty to protect her at all cost, what is just a feeling turns to proof positive. That is, as long as Docia's savior doesn't turn out to be a crazed kidnapper.
When Ram finds Docia, he has no doubt that she is his queen. But as this golden warrior sweeps in to protect her, he feels something more than body heat every time they touch. He is overwhelmed by a searing connection that goes deep into the twin souls inside him. A desire rises in him that is forbidden—this woman is his queen, the mate of his king, his leader, his best friend. And yet Docia is so vulnerable and attractive that she awakens a hunger in Ram that is undeniable, a carnal craving he cannot yield to . . . not without risking the very survival of the Bodywalkers.
My Review

First, let me get this off my chest….it took me a while to read "Forbidden" due to prior commitments and not being able to get into the book until towards the end. =( I usually enjoy a book about a different storyline instead of Vampires, wolves, etc. and Forbidden was a different style of paranormal.
I have had friends and family tell me to read Jacquelyn Frank's books for the longest time. Maybe I should have read the other books first before this one, but I fell in love the description of the book and the cover, the minute Jacquelyn announced her spin-off series.
I will say this; this book will not stop me from reading other books from Jacquelyn. I want to read the next book in this series…but I'm going to dive into the different set of books first that helped create this spin-off. I love how much was put into this book, but maybe it was a little too much for me decipher all at once.
I am a HUGE fan of the Egyptian timeframe and when the characters names were announced in the book…it kept me reading "Forbidden."
And the ending helped as well since I want to know what happens to a specific character who I was intrigued the minute he was introduced.
Docia Waverly is having a great life until her life is about to take a turn for the worst. Some evil people target her and end ups getting pushed off a bridge where she nearly dies well actually, she does die, but someone gives her a second chance, but with a price. She is to share her body with another, and this other is supposed to be the Queen of the Bodywalkers.
Docia is then kidnapped, or at least that is what her brother assumes has happened to her since she was supposed to be at her home after she got out of the hospital, but when he gets there something terrible has happened. He would stop at nothing to find his sister and put the people to justice for harming her if they did.
The kidnapper that ends up taking Docia is her savior, Ram, who is assigned to protect her since she is to be their Queen (at least when her other half finally appears).
While protecting her, Ram can't help but have feelings for her, and he knows it's wrong since it is his King's Queen. When trouble comes stirring, and Ram and Docia are put in a situation together Docia ends up meeting Ram's other half, and when she does, she expresses her feelings, but she knows it is wrong as well….but it's going to be difficult to hide those feelings, once the truth comes out.
I don't want to spoil the book for anyone who wants to read it. I will say though, you must read the series that brought on this spin-off though….which I plan on doing very soon. I want to find out what happens in the next book since the ending was a doozy. Two of my fave characters in this book come together in the end.
Docia and Ram had a powerful bond, but it took them forever to figure it out, and it came about once the truth came out about Docia. (lips are sealed on that)
The bad guys in this book made me mad the most, and it seemed they played a small role in the book. At least that's my opinion.
This book is the first in the spin-off so like I stated in the beginning, I will continue with the next book. I won't let my first impression of the series deter me away from the rest of the books in the series.
In fact "Forbidden" did have a lot of good qualities to it. I did fall in love with Ram (Ramses) and the character who is inside him…well, Ram is inside the body of the person he inhabits.
I liked some of Docia's qualities…but she wasn't a strong character that interests me. I was more interested in her brother.
All and all, "Forbidden" was a delightful read when it did start catching my interest. Egyptian pharaohs that take over humans bodies is a different twist to the paranormal world, and that was a definite plus on why I continued reading it.
Jacquelyn builds the first book right for the rest of the series. She is an author I should have read a long time ago. I have had several of her other books on my bookshelves for a while. Now is the time to open them up and read. =)
If you loved her other books, you would enjoy "Forbidden." If you are, an addict to the Egyptian era like I am…you will enjoy this tale of pharaohs put into this paranormal world that Jacquelyn has created.
I received a complimentary copy of "Forbidden" by Jacquelyn Frank from the publisher via Netgalley in exchange for an honest review. This review is my own opinion and not a paid review.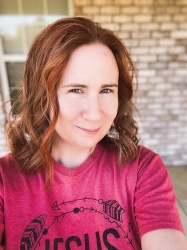 Latest posts by FranJessca
(see all)