Audio Review: 'A Kiss of Shadows' by Laurell K. Hamilton
August 16, 2014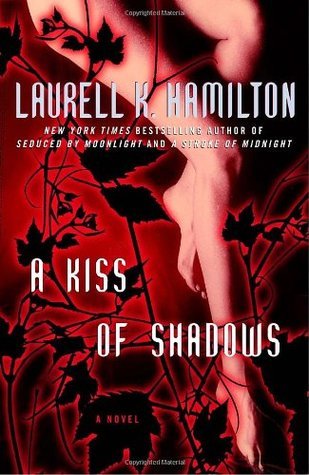 A Kiss of Shadows
by
Laurell K. Hamilton
Series:
Merry Gentry #1
Published by
Ballantine Books
on March 28, 2006
Genres:
Urban Fantasy
Format:
AudioBook
Source:
Library
Goodreads
Purchase at
Amazon
|
Kobo

My name is Meredith 'Merry' Gentry, but of course it's not my real name. I dare not even whisper my true name after dark for fear that one hushed word will travel over the night winds to the soft ear of my aunt, the Queen of Air and Darkness. She wants me dead. I don't even know why...
I fled the high court of Faerie three years ago and have been in hiding ever since. As Merry Gentry, I am a private investigator for the Grey Detective Agency: Supernatural Problems, Magical Solutions. My magical skills, scorned at the courts of Faerie, are valued in the human world. Even by human standards, my magic isn't flashy, which is fine by me. Flashy attracts attention and I can't afford that.
Rumour has it that I am dead. Not quite. I am Princess Meredith NicEssus. To speak that name after dark is to call down a knock upon your door from a hand that can kill you with a touch. I have been careful, but not careful enough. The shadows have found me, and they are going to take me back home, one way or another.
So the running is over. But the fighting has just begun...
Rich, sensual, brimming with dangerous magic, A Kiss of Shadows is a dazzling tour-de-force where folklore, fantasy and erotically charged adventure collide.

I have been wanting to read this series since I started reading the Anita Blake series in 2009.  Unfortunately, so many other books got in the way, until recently I borrowed the audio CDs from my Library.
I listened to this book whenever I could get this summer, mostly during the time I had to research for my computer classes for college.  I needed something to help me from going insane from the late hours of research, and Laurell K. Hamilton's A Kiss of Shadows did it.
I knew what to expect with Laurell's kind of writing due to reading her other series, and I felt this book made me realize why Laurell will also be an auto-buy author for me.
In A Kiss of Shadows, Laurell introduces the readers to Meredith Gentry, a private investigator who is also a faerie princess.  She's hiding amongst the humans due to her kind trying to kill her.  Her Aunt has been searching for her, and something happens in the human world to bring Meredith in the limelight.  The Queen dispatches her chief bodyguard, Doyle to fetch Merry and he arrives to save her in the meantime.  Meredith is not going to go quietly at first due to her having doubts about her Aunt.  (I would have doubts too about this Aunt….because she is one scary Fae Queen)  When Merry finds out what her Aunt wants, Merry is skeptical at first, but then she realizes she has no choice in the matter anyway.  Merry is going to fight for her life in the meantime because someone is out to kill her and she believes it's the Queen's son (her cousin) or maybe her Aunt herself. Merry will have to recruit some of the other fae help and other supernaturals to help find out who is trying to kill her.  It's not going to be easy, but it will be worth the while to go along with Merry and her crazy adventure.
Laurell didn't disappoint with the world building and introducing the characters of the world of the Fae.  I enjoyed every bit of finding out about Meredith Gentry and how she went into hiding.  I also enjoyed finding out all about the male characters in this world of Fae.  There are also mentions of other supernatural creatures that may freak out some readers.  If you've read Laurell's Anita Blake series, Laurell throws in some creepy characters, but they also tend to play a very significant role in the storyline.
There was a point in the story that the action in the story slowed down a bit, and some of the characters did drive me crazy.  Other than that, the first book to the Meredith Gentry series was an exciting read.  It is different from the Anita Blake series, but Laurell gave me another strong female lead character that I can't wait to read more about in the next book.
I give this book 4 full moons and recommend it to readers of Urban Fantasy and readers that have read Laurell's Anita Blake series.
My thoughts on the narrator: Laural Merlington
I don't usually listen to a lot of audiobooks with just a female narrator, but I thoroughly enjoyed listening to Laural Merlington narrating A Kiss of Shadows. She brought the characters and the story to life for me.  She did make the Queen scarier though when she read her part.  I even felt the tension from Merry's point of view, whenever she had to confront her Aunt.  I plan on listening to the rest of the series now, and I definitely would enjoy listening to other books from Laural.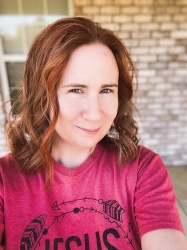 Latest posts by FranJessca
(see all)