Review: 'Savor Me' by Kailin Gow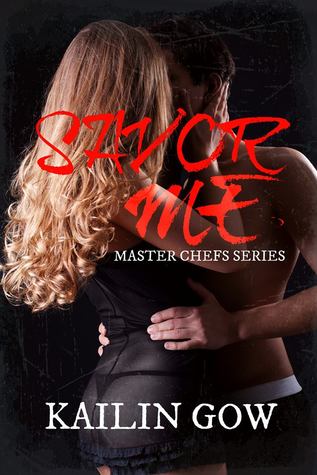 Savor Me
by
Kailin Gow
Series:
Master Chefs #2
Published by
Self-Published
on June 25, 2013
Genres:
Contemporary Romance
,
Erotic Romance
Format:
eBook
Source:
Purchased
Amazon Kindle
|
Amazon Paperback
Goodreads

Book 2 of the steamy erotic Master Chefs Series continues culinary student Taryn Cummings' and Master Chef Errol King's forbidden relationship that challenges and shakes both to the edge of all they've known. Could love exist after pain?Savor Me is for 18+ due to mature subject and sexuality.
My Review
Kailin Gow did it again. She made me read Savor Me, so quickly that I want the next installment already. I love this series from Kailin.
It either makes me hungry when I read it…or HOT (and when I mean hot…I mean I need a cold shower, after every scene between Taryn and Errol).I loved every minute of reading this book, and I loved how Kailin had Savor Me pick up from Devour Me. Oh, let me say the ending was AMAZING. I was not expecting that…and it was a very BIG surprise.
I think Errol grew on me more in this book than the first book, even with the little drama that happened towards the end between one of his fellow chefs, who wanted to start trouble. Grrr!!!
Taryn was such a stronger character than she thought she could be in this book. She even handled the situation at the end so much better than I would. She dealt with every situation way better than I would. I loved her even more in this book.
I was very proud of her in this book and what she has been doing with her business. She stepped up so much even with everything that happened to her Mom and even her brother.
This book had a lot of drama to it, and Kailin did a fantastic job building up to the ending.
I give this book 5 full moons and highly recommend it to erotic romance fans out there. Please read the first book, Devour Me, though first. You will miss out on what happened in Paris with Errol and Taryn if you don't.
Kailin is a definite auto-buy author for me now, and I look forward to the next installment in this series, as well, like any other book she brings out. I need to read every book, Kailin has written now. I have found yet another Author that will go on my FAVE Author lists. =)


I guess I should type a bio here. I'm FranJessca or Fran for short. I'm the owner of Book Lovin' Mamas and main Reviewer. I've been reviewing books since I got out of the Navy in 2011. Now 8 years later, I'm still reviewing, but this time with my youngest sidekick.
When I'm not reading and reviewing, you can find me at my day job during the week and on the weekend taking care of our little farm.

Latest posts by FranJessca (see all)