Review: 'Secret Confessions: Backstage – Chase' by K.M. Golland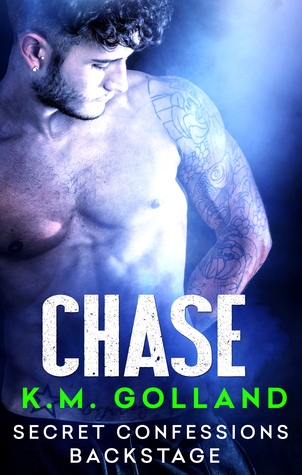 Secret Confessions: Backstage – Chase
by K.M. Golland
Series: Secret Confessions Backstage #1
Published by Escape Publishing on September 1st 2015
Genres: Contemporary Romance, Erotic Romance
Pages: 30
Source: Purchased
Amazon Kindle | Amazon Paperback
Goodreads


An all-access pass to Sex, Love, and Rock 'N Roll. Because what happens on tour doesn't always stay on tour...
From Australia to the world…
Chicago. The last stop of their wildly successful US tour sees Australia's biggest rock band, The Screaming Tuesdays, in sultry, summertime Chicago to play two sold-out shows. But the stage is not where the action is, and no one knows what goes on behind the scenes...
Chase needs this concert – he's had a bad day, a bad week, a bad month. When he arrives at the venue to discover that he's left his ticket behind, it's just one more item on a long list of ways his life sucks. Until a stunning brunette steps in to save the day, and the summer night gets a whole lot steamier…Secret Confessions: BackstageReading order:
Chase—KM GollandJosh—Eden Summers Yanis—Lexxie CouperTheo—Zaide Bishop Kelly—Shona HuskJet—Rhian Cahill
My Review:
If you're looking for a quick erotic romance to read before bedtime, I highly recommend reading the Secret Confessions Backstage: Chase by K.M. Golland. I actually finished this short novelette within 30 minutes, and now I'm anxiously waiting to start the next episode in the Secret Confessions Backstage.
I've read so many books that involve the rockstar band members being center stage of the story, but instead I get a chance to read the fictional stories of the characters backstage. The ones that hardly ever get read upon and K.M. Golland introduces two characters that are attending a concert, but they're not their together originally . Their two strangers that hook up together and it's not something they normally do. In fact, it turns around for both of them because K.M. Golland brings the heat in such a short novelette.
I give this book 4.5 stars and recommend it to readers that enjoy something quick and sexy to read before bed.


I guess I should type a bio here. I'm FranJessca or Fran for short. I'm the owner of Book Lovin' Mamas and main Reviewer. I've been reviewing books since I got out of the Navy in 2011. Now 8 years later, I'm still reviewing, but this time with my youngest sidekick.
When I'm not reading and reviewing, you can find me at my day job during the week and on the weekend taking care of our little farm.

Latest posts by FranJessca (see all)