Review: 'Soul Rebel' by C.J. Pinard
August 20, 2023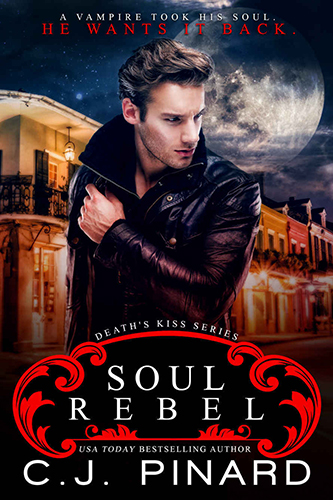 Soul Rebel
by
C.J. Pinard
Series:
Death's Kiss #1
on April 17, 2014
Genres:
Paranormal Romance
Format:
AudioBook
,
eBook
Source:
Purchased
Goodreads
Purchase at
Amazon
|
Barnes & Noble
|
Kobo

A vampire took his soul. He wants it back.
When 21-year-old Nolan Bishop meets a seductive redhead at a dark club in downtown Shreveport, little does he know that his soul will be gone as soon as she leaves the club. It doesn't take Nolan long to realize that Eva Sheridan, the succubus who now invades his dreams, has taken something from him. Through the underground network of the supernatural in New Orleans, he discovers he has seven days to destroy Eva before he turns into a sinister and feral vampire himself.
In a race against all that is holy, Nolan encounters Eva's identical twin, Charity, who is still very much a human. As he begs for Charity's help in locating Eva, she realizes that his utmost desire is to kill her sister. Although Eva is a relentless succubus, Charity doesn't want her sister to die. Now, it's up to Nolan to determine his own future. While Charity and Nolan grow closer, he struggles with destroying her sister. Can he choose between his humanity and his heart in a mere seven days?
Praise for Soul Rebel:
"Great characters, original and racy. Always left wanting more!" ~Tim O'Rourke, bestselling author of Vampire Shift
"I thoroughly enjoy stories with a good plot and exciting twist...this book had both." ~M. Nesbitt
"CJ Pinard once again rocks my paranormal socks off doing what she does best." ~Jenn Green from the Bookworm Betties Blog
Soul Rebel is book 1 of the Death's Kiss Series
READING ORDER:Soul RebelSoul RedemptionSoul ReleaseKovah: Soul Seeker
---
I met C.J. Pinard at the Book Bishes on the Beach in Destin, Florida. I added her books to my TBR on Goodreads, especially after discovering she writes Paranormal Romance (one of my fave subgenres). The first book/series I wanted to read from her backlist was Soul Rebel, the first book in C.J. Pinard's Death's Kiss series. I plan to read ALL her books as long as I can find time to read them.
The book involves vampires, succubi, and vampire hunters, which reminded me of when I watched Buffy the Vampire Slayer as a teenager. (Yes, I've seen the movie before the tv show, which is why I ended up watching the tv series, too, because I enjoyed the movie.)
Nolan Bishop is the MMC who is out with his friends one night at a new club, trying to have a good old time after having his heart broken by his ex-girlfriend. He meets an intriguing and beautiful woman named Eva at the club and kisses her, but later finds out she's unlike any other woman. She's a succubus, and she's stolen his soul, and if he doesn't get it back within seven days, he'll become a vampire. It will not be easy for Nolan either to get his soul back from the succubus, especially when he mistakes a woman that looks like Eva when he's out and about one day. He immediately learns that Eva has a twin sister, and she's human. Charity is Eva's twin, and she knows what her sister is and will try to help Nolan get back his soul, but she won't help him unalive her. She still cares for her sister, even though she's evil. It's a race for Nolan and Charity to beat the clock on retrieving his soul before he becomes a blood-sucking vampire, and not only that but one that will be hard to control.
As someone who has been a fan of vampires in books and movies since I was a young child (not sparkly, but the ones that are murderous and scary), this book brought back many memories for me. It was a good start to the series. C.J. did a wonderful job introducing the characters, discussing the vampire/succubi differences, and touching on the supernatural team that slays/hunts vampires for a living. There are romance, drama, and action-packed scenes, but most of it is towards the end, especially the drama. Nolan and Charity spend so much time together to figure out how to get his soul back that there's bound to be a romance between the two characters, so expect some steamy moments.
The question is will Nolan get his soul back? You'll have to read the book to find out.
The book does start slowly at first, especially with Nolan trying to come to terms with what happened to him and what he has to do to retrieve his soul. Then Charity not wanting him to hurt her sister, but other than that a very enjoyable read (or listen to in this case since I listened to the book mainly).
As someone listening to audiobooks more, this was the first book I've listened to from the narrator, Nathaniel Gray. He made the story and characters come to life, and I plan on listening to the remaining books in the series because of Nathaniel. (This mama doesn't have time physically to sit and read nowadays, so audiobooks save the day.)
I'm so glad I found C.J. Pinard and her books at the book signing this past summer, and I have added the next book to my Kindle library because I need to find out what happens next in the series.   
---
Story Rating: ⭐️ ⭐️ ⭐️ ⭐️
Would I recommend this book/series? Yes. I recommend it to readers who enjoy reading Paranormal Romance. (The first book is currently free as of 8/2023)
Genre/SubGenre(s): Romance | Paranormal Romance

This post contains affiliate links you can use to purchase the book. If you buy the book using that link, I will receive a small commission from the sale. It will help sponsor future giveaways but costs you nothing extra. You can read the full disclosure underneath the Privacy Policy.
---
---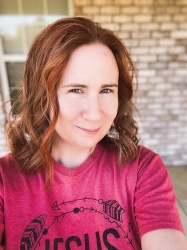 Latest posts by FranJessca
(see all)