Review: 'The Darkest Seduction' by Gena Showalter
June 13, 2012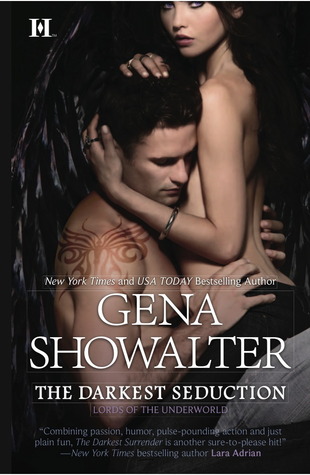 The Darkest Seduction
by
Gena Showalter
Series:
Lords of the Underworld #9
Published by
HQN Books
on February 28th 2012
Genres:
Paranormal Romance
Format:
Paperback
Source:
Purchased
Goodreads
Purchase at
Amazon
|
Apple

At long last, New York Times bestselling author Gena Showalter unveils the story of Paris, the darkest and most tormented Lord of the Underworld.
Possessed by the demon of Promiscuity, immortal warrior Paris is irresistibly seductive — but his potent allure comes at a terrible price. Every night he must bed someone new, or weaken and die. And the woman he craves above all others is the one woman he'd thought was forever beyond his reach... until now.
Newly possessed by the demon of Wrath, Sienna Blackstone is racked by a ruthless need to punish those around her. Yet in Paris's arms, the vulnerable beauty finds soul-searing passion and incredible peace. Until a blood feud between ancient enemies heats up.
Will the battle against gods, angels and creatures of the night bind them eternally — or tear them apart?
---
Ladies and Gents…I've finally finished "The Darkest Seduction" and I can officially say this by far is my FAVE book in the series now.  Eeek!! This book had so much in it…that I kept notes in my journal that way I can remember when the next LOTU comes out.  Yes…I have a horrible memory sometimes.  It comes with getting older. Here's what happens in The Darkest Seduction.  I promise now, I will not spoil this book for anyone.  Just want to give a little run down on what is expected in the 9th book to the Lord of the Underworld Series. Paris is still searching for Sienna.  Sienna is still with Cronus (The Titan God).  She's trapped in a castle in the Realm of Blood and Shadows.  Cronus wants her to do something for him on the Earth plane.  If your not new to the series, you know that Sienna is possessed with the demon Wrath who used to be inside Aeron.  Wrath is not a demon to mess with.  He keeps trying to take control over Sienna, but she keeps fighting him.  She's not used to having a demon in her and she's definitely not used to having wings. Here's the catch about Sienna though no one else can see her except for some people, for example, Paris.  Sienna was killed a few books back. Paris is determined to find Sienna and he ends up doing things, he's ashamed of to get to where Sienna is.  He ends up asking Viola to help him who is possessed with the Demon, Narcissism.  Who by the way, is very friggin' annoying.  It's to be expected though since her Demon makes her only talk about herself and devote on herself. When Paris does find Sienna, he has William and Zacharel's help to get to her…well kind of their help.  Zacharel has a mission of his own.
(He's a Angel who was sent by Lysander to protect Sienna and sometimes Paris).  William, I found out from the previous book, "The Darkest Surrender", has a HUGE secret.  Oh boy…he ends up having a MAJOR secret in this book too.  Damn him!!!  He's making me love him even more. Sienna has always thought that Paris hates her for what she did to him. Of course, Paris tries everything to push her away once he finds her and saves her….unfortunately…of course who could resist Paris though. Then there's Kane who is still trapped in Hell.  He's getting his ass handed to him.  There's also Zacharel and his mission (loved being in his head…even if it's for a little while). Got a taste of Cronus and what he's up to.  (Hate him by the way) Then there's the evil, Galen (who I ended up liking in this book).  Although, he did something that made me mad, but he made up for it in the end. There's lots going in this book, that I can't say because I'll give away the best parts of the book.  Let's just say, Gena knows how to keep me turning the page.  Gosh darn her…because I sleep deprived myself reading this book. I loved it that much.  It definitely had twists and turns I wasn't expecting.  I fell in love with more characters. Oh…and Sienna is ONE KICK ASS Female Character who I ADORE more than Anya now.  Pay attention to her.  You will be surprised on what happens to her.  It's just GREAT…or should I say POWERFUL. My thoughts…I friggin' LOVED this book.  It's a page-turner from beginning to end.  Seriously, how does Gena come up with this stuff.  There was not a single flaw in this story.  Well..except for what Galen did, but I'll leave that alone because he made up for it. Oh…Maddox and Ashlyn play a very important role in this book.  If you've read their book, you know what I'm talking about.  =)  It's about time, that's all I can say. I'm so glad that Paris finally got his book.  I think all of us readers, were waiting patiently for his.  I know I was waiting patiently.  (Patiently meaning…biting my nails and pulling my hair).
Now I can wait patiently again for the next LOTU book.  Well…at least try to wait patiently. At least Gena has other books coming out to keep me occupied.  =)

This post contains affiliate links you can use to purchase the book. If you buy the book using that link, I will receive a small commission from the sale. It will help sponsor future giveaways but costs you nothing extra. You can read the full disclosure underneath the Privacy Policy.
---
---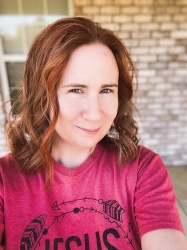 Latest posts by FranJessca
(see all)