Review: 'The Darkest Surrender' by Gena Showalter
June 6, 2012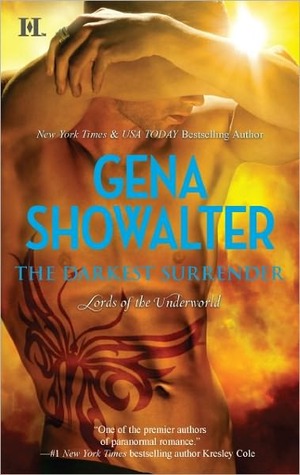 The Darkest Surrender
by
Gena Showalter
Series:
Lords of the Underworld #8
Published by
HQN Books
on September 27th 2011
Genres:
Paranormal Romance
Format:
Paperback
Source:
Purchased
Goodreads
Purchase at
Amazon
|
Barnes & Noble

Possessed by the demon of Defeat, Strider cannot lose a challenge without suffering unimaginable pain. For him, nothing stands in the way of victory. Until Kaia, an enchanting Harpy, tempts him to the razor's edge of surrender.
Known among her people as The Disappointment, Kaia must bring home the gold in the Harpy Games or die. Strider is a distraction she can't afford because he has an agenda of his own-steal first prize, an ancient godly artifact, before the winner can be named. But as the competition heats up, only one prize will matter-the love neither had thought possible...
---
I'm a huge fan of Gena Showalter and her amazing books.  Unfortunately, I didn't get a chance to read "The Darkest Surrender" until now.  I've had the book taunting me for a while now.  It glared at me from my bookshelf in my bedroom…whispering me to read it already.  When I bought it back last September, I was eight months pregnant with my youngest, so sometimes things slipped my mind due to being uncomfortable and having a baby kick my ribs every 5 minutes. Do not miss being pregnant.
Now I'm glad I spent this past weekend, sleep depriving myself to read "The Darkest Surrender." My youngest even let me read it without trying to eat my book which she seems is fun to do lately. 
Gena never disappoints at all when it comes to the Lords of the Underworld.  I love ALL of these sexy Demons.
"The Darkest Surrender" is the 8th installment to the LOTU and it's about Strider (Demon of Defeat) and Kaia (Harpy).
Strider is one demon I wanted to find out who he hooked up with and I knew who he would end up with…but of course Gena could've changed it.  I know how Authors like to throw their readers off sometimes, but thank goodness she didn't with Strider because Kaia is perfect for him.
Kaia is one strong-willed, determined, kick ass, scary, pain-in-the-ass, doesn't like to listen, stealing Harpy who I adore.
Strider is one stubborn-headed, also pain-in-the-ass, protective, sarcastic, sexy demon who I friggin' LOVE!!!!!  (Can I have him?)
Kaia has had a hard life though.  She did something when she was younger that makes all the other Harpies hate her. She caused something to happen which slaughtered a whole bunch of harpies.  Once her mother of course finds out she is disappointed in her and gives her the name Kaia the Disappointment.  Kaia ever since has never been invited to the Harpy Games until now.  Now her sisters and herself are having to attend…but not underneath their mother's name. They're forced to pick another name. Kaia wants to prove to herself and everyone that she can win. Strider is to be Kaia's consort to the harpy games once he finds out about her going.  He has mixed feelings over Kaia.  He doesn't really want to get close to her because he's not looking for something at the moment. He just got over Haidee from the previous book.   Well…Kaia makes it difficult for him when he is her consort. I won't go any further because this book has so much to it, I'll probably end up giving away too much. My thoughts on "The Darkest Surrender" is I really enjoyed finally reading Strider's story.  He can be a jerk at times, but in this book there was a different side to him. 
Can I just say, I'm jealous of Kaia…really she gets him ALL to herself. Here's something I enjoyed the most in this book is how Strider took care of Kaia every time he was hurt.  He was very protective of her even though he tried to push her away.  I even enjoyed the steamy scenes between Kaia and Strider.  She's one lucky gal! I hated Juliette in the story.  GRRR!!  You evil wench!  You'll have to read the book to find out who she is.  Let's just say I would've ripped her wings off if I could for Kaia. I loved the side stories in "The Darkest Surrender".  I got a taste of Kane, Paris, and William.  Oh boy…there was a serious secret that came out about William.  HOLY MOLY! Actually, William had several secrets come out in this book and now I understand why he is the way he is. I think I love him even more now.  No..I know I LOVE him even more!
Like I stated before, Gena never disappoints. I love what she does with her books.  She leaves you guessing in the book while your reading and of course the endings usually leave you hanging for more. I found myself drooling while reading, having the shocked look to my face, and punching my book so I could get the bad guys for the Lords of the Underworld. Her books are seriously addicting and I'll find myself re-reading these books whenever I find myself in a reading slump because only the Lords of the Underworld can help me out of that slump.  *sigh…sexy ass demons*
I recommend this to paranormal romance readers, demon lovers, and LOTU fanatics out there. If you haven't read this series, you need to start.  Add it to your wish list, your TBR on Goodreads, or go ahead and buy it.  The first book is "The Darkest Night" or you can start with the prequel, "The Darkest Fire".

This post contains affiliate links you can use to purchase the book. If you buy the book using that link, I will receive a small commission from the sale. It will help sponsor future giveaways but costs you nothing extra. You can read the full disclosure underneath the Privacy Policy.
---
---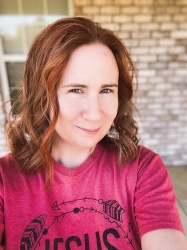 Latest posts by FranJessca
(see all)