Review: 'Trials & Tiaras' by Heather Long
September 8, 2022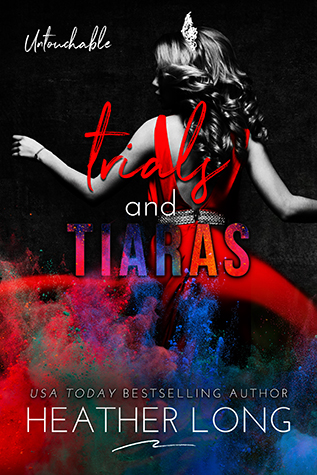 Trials and Tiaras
by
Heather Long
Series:
Untouchable #7
Published by
Self-Published
on December 14, 2020
Genres:
Mature High School/Young Adult Romance
Format:
eBook
Source:
Kindle Unlimited
Goodreads
Purchase at
Amazon

It's not true.

It can't be.

Four DNA tests.
Only one positive.
The man claiming to be my father is quite literally the worst option imaginable. This isn't happening to me. For the first time in my life, I know who I am and where I want to be and, in the blink of an eye, everything is spinning so utterly out of control.

I thought the fight with Maddy was the worst thing I faced.

It's not. 
I've grown up in a house of lies and it's all crashing down on the five of us, and I have no idea how to protect the ones I love best from the fallout. They've all made it clear, they're not going anywhere. 

Worse, I don't know how to keep them from wading into this fight. 
I can't imagine my life without all four of them. I don't want to. 

We can survive this, right?
*Please note this is a reverse harem and the author suggests you always read the forward in her books. Contains some bullying elements, mature situations, and is recommended for 17+. This is the seventh in a series and the story will continue through future books.
---
I found the Untouchable series by Heather Long on TikTok (BookTok) earlier this year, and I'm enjoying this series. Yes, I know I shouldn't trust BookTok's judgment on books, but I was intrigued by this series when I read the first book's synopsis. I'm a mood reader and wanted something that had Reverse Harem in the book/series, and I'm glad I found the Untouchable series by Heather Long. I know the author just recently finished the series, too, and I'm glad I can read the books back to back instead of waiting for the next one. I would have gone insane waiting for the next book. I love Frankie and her four boyfriends. Yes, this is a Reverse Harem (Why Choose series) where the FMC doesn't choose. It's also a Mature Young Adult series where the FMC and the MMCs have sexual relations. If you don't like reading spice in YA, this book/series may not be for you.
Storyline/My Thoughts: A warning before reading my review if you haven't read the books/series, I would not recommend reading this review. I will try not to spoil anything, but I'm warning ahead of time, just in case. 
The seventh book, Trials & Tiaras, picks up from the last book, where Frankie has just found out who potentially her birth father is, and if you read the previous book's cliffhanger, it's a shocker. It will jeopardize her relationship with Archer if it's true. I feel for Frankie and understand why her boyfriends are skeptical of it. Archer will find out on his own if it's true that his father may be Frankie's. He goes to his mother to get answers if it's true that Frankie may be his half-sister, and Archer finds out it could be true but also that his parents were in a loveless marriage and other things that came to light. Here's the thing, Frankie's mother was not faithful either, and there are potentially three other guys who could be her father, and it's up to Frankie and her boyfriends to find out the truth because they can't take Frankie's word. I know I wouldn't trust her word.
Frankie is also dealing with her emancipation from her mother, and she's soon to find out about the court's ruling, and she's nervous about it. Will she be forced to wait until she's eighteen to be done with Meatloaf, or will the judge rule in her favor?
In the meantime, the boys will distract her by creating music, taking a trip to see her dream school and meeting her mother's parents (her grandparents) for the first time, and other things that involve the bedroom. I loved how Frankie's boyfriends were in this book with her. They care for her deeply and will do anything to ensure she's happy. I have no idea how she will decide if she has to at the end of this book. There's no way I could, especially with how they cared for her in this book.
The spice in this book goes off the chart, which is why I'm giving it five stars for spiciness. Heather Long brought her 'A' game in this one when it came to the boys and Frankie in the bedroom. All the boys are on board to learn about BDSM with Ian and Frankie. Be prepared for bondage and sensory deprivation in this one. I loved how they are coming together even more regarding the bedroom with Frankie. There is even a scene that involves double penetration. Holy crap, that was a HOT scene!!
I look forward to the next book even more after reading this one. I give this book 4.5-stars, and I'm going to say the best part of this book is how the judge handled Meatloaf in this book at the court hearing. Someone needed to put that woman in her place.
There is a cliffhanger at the end of this book, and I will make time between other books to read the next one. I need to find out if Frankie will meet her birth father and how he will handle Frankie and her four boyfriends' being together. Frankie and her boys are about to graduate, too. There's bound to be some trouble brewing around the corner for Frankie and her boys even if Meatloaf is no longer around, and I need to know what happens next.
Standalone or Part of Series: It's part of the Untouchable series, and each book has a cliffhanger. You need to read these books in order.
Steam/Spice: ⭐️ ⭐️ ⭐️ ⭐️ ⭐️
Trope(s)/Element(s): Reverse Harem (Why Choose), BDSM, Bondage, Double Penetration, Anal Sex/Play
Cliffhanger: Yes.
Would I recommend this book? Yes. If you enjoy Mature Young Adult Contemporary books that the FMC has several love interests where she doesn't have to decide, you'll enjoy this series by Heather Long. I know I'm enjoying the Untouchable series.

This post contains affiliate links you can use to purchase the book. If you buy the book using that link, I will receive a small commission from the sale. It will help sponsor future giveaways but costs you nothing extra. You can read the full disclosure underneath the Privacy Policy.
---
---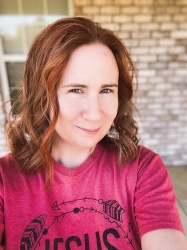 Latest posts by FranJessca
(see all)