Review: 'Unleashed' by Sara Humphreys
April 12, 2012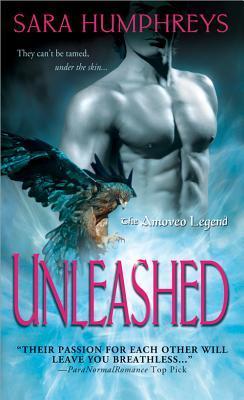 Unleashed
by
Sara Humphreys
Series:
The Amoveo Legend #1
Published by
Sourcebooks Casablanca
on October 1st 2011
Genres:
Paranormal Romance
Format:
eBook
Source:
Purchased
Goodreads
Purchase at
Amazon
|
Apple

What if you suddenly discovered your own powers were beyond anything you'd ever imagined...
Samantha Logan's childhood home had always been a haven, but everything changed while she was away. She has a gorgeous new neighbor, Malcolm, who introduces her to the amazing world of the dream-walking, shapeshifting Amoveo clans...but what leaves her reeling with disbelief is when he tells her she's one of them...
And shock turns to terror as Samantha falls prey to the deadly enemy determined to destroy the Amoveo, and the only chance she has to come into her true powers is to trust in Malcolm to show her the way...
Get swept away into Sara Humphreys's glorious world and breathtaking love story...
My Review

I love diving into books that involve shapeshifters.  I do not regret one bit about losing sleep at night so that I can read this book.  Thank goodness for coffee in the morning to keep me going.
Sara has created a whole different world of shapeshifters that I'm not used to reading.  Bring on clans of different species of shapeshifters, and that is what the Amoveo is all about.  I love it!!
"Unleashed," tells the story of Samantha and Malcolm.  You get to experience from both of their points of views in the book, which I always love.  Sometimes just being in one character's point of view can get boring at times.  I like to know what's going on with the other characters too.
Samantha is moving back to her hometown due to her artwork not selling in New York.  Of course, she doesn't realize that the world she knows, is about to be turned upside down on her…but in my opinion in a GOOD way.  She gains a hunky, sexy, protective male, who any woman out there would not mind having as a mate.  She's been having dreams for a while about a wolf, beach, and this sexy man who invades her dreams but she doesn't know who he is.  She even has been painting a wolf into her works sometimes.  What does it all mean to her?
Those dreams will eventually lead her to her mate which is Malcolm.  He will let her know of everything about the Amoveo Clans and that they are meant to be together.
Of course, you always have villains in books too which you will be introduced to humans (the Caedo) who despise the Amoveo Clan because they think they are an abomination. After 30 something years, the Caedo are showing their faces again and wanting to get rid of the Amoveo Clans.  All because Samantha is special.  She's a hybrid, half-human, half-Amoveo (which has never been known and some of the Amoveos area skeptical about it).
You will even get a Caedo point of view in the book which I couldn't believe who the Caedo was at the end.  Definitely wasn't expecting the villain to be someone right under their noses.  I also wasn't expecting something else at the end with who was trying to kill Samantha.  Oh boy, what a twist.
You will also be introduced to other characters in the book Kerry, Dante, Richard (he sounds dreamy maybe because he's the Prince), Nonie (Samantha's grandma…which is one of my fave characters), and Davis (to name a few ).
If you do read this book pay attention to the Amoveo's traditions, etc., especially the mating part.  That is a new twist on mating, unlike any other book I've read.
I recommend this book to all shifter lovers and paranormal romance addicts.  You will enjoy this new shapeshifting world that Sara has created. I love the ideas of eagles, foxes, lions, wolves, etc
I'm looking forward to reading the next installment to see who else gets mated.  =)  I already have a clue though from this book.
You have a fan for life, Sara and I'm so glad to be a part of your Street Team, "Sara's Angels."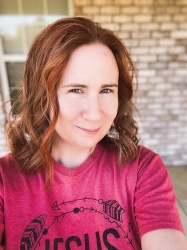 Latest posts by FranJessca
(see all)