Review: 'Wicked Nights' by Gena Showalter
June 26, 2012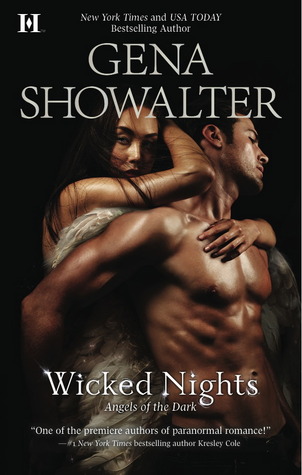 Wicked Nights
by
Gena Showalter
Series:
Angels of the Dark #1
Published by
HQN Books
on June 26th 2012
Genres:
Paranormal Romance
Format:
Paperback
Goodreads
Purchase at
Amazon
|
Barnes & Noble

From the New York Times bestselling author who brought you the Lords of the Underworld comes a dark, seductive new series featuring angels poised on the brink of destruction....
Leader of the most powerful army in the heavens, Zacharel has been deemed nearly too dangerous, too ruthless-and if he isn't careful, he'll lose his wings. But this warrior with a heart of ice will not be deterred from his missions, at any cost...until a vulnerable human tempts him with a carnal pleasure he's never known before.
Accused of a crime she did not commit, Annabelle Miller has spent four years in an institution for the criminally insane. Demons track her every move, and their king will stop at nothing to have her. Zacharel is her only hope for survival, but is the brutal angel with a touch as hot as hell her salvation-or her ultimate damnation?
---
Where do I start with this new series that Gena Showalter has created?
First off, we're inside of Zacharel's head in "Wicked Nights." If you're a huge fan of Gena Showalter's and have read her Lords of the Underworld Series, you know who Zacharel already is.
In the Wicked Nights, we find out Zacharel has been tasked to run the most powerful angel army in the heavens. Of course, there's a catch though the angels he leads are on the dangerous ground they're a danger to themselves and everyone around them. If Zacharel doesn't straighten them out, he may end up losing his wings. He has to prove to his deity that he can be a leader and help train these ruthless Angels. If he doesn't, he's punished for what he does, but also what they do wrong.
We're introduced to Annabelle Miller, a human who was accused of a killing her parents at the age of 18, which she didn't do. Now she's forced to live in the walls of Moffat County Institution where she is being treated. The doctor who is supposed to be treating her instead is abusing her mentally and physically. She also can see things that normal humans can't see. She has demons tracking her wherever she goes, and now they are upon Moffat County Institution.
Zacharel and his band of Angels are sent to the Moffat County Institution to find out why the demons are attracted to the place and kill them, as long as they aren't humans who are demon-possessed (which they can not die).
Zacharel comes upon Annabelle, and for the moment he meets her, he knows he's in trouble. Zacharel is not meant to save Annabelle, but of course, everything in his world is about to change because of Annabelle and her past. It's up to Zacharel to find out why Demons are tracking Annabelle and also find out what happened to Annabelle and why she can see the demons etc.
I won't go any further…because this book has so much going on, I don't want to spoil anything.
My thoughts on "Wicked Nights" of course is that it's a great start to a new series. It's a great start to a spin-off series of Lords of the Underworld. =) I was so excited to find out that Gena was doing a spin off…especially when it includes Angels. (I'm a sucker for a sexy male Angel)
I fell in love with the stubborn, tough, sexy Zacharel in the LOTU Series. To be able to find out what makes Zacharel tick I was onboard to read his book. Now, after reading it, I'm looking forward to the next books. It keeps me sane waiting for the next LOTU book, and you'll see why when you read "Wicked Nights." Oh yes, Gena throws in surprises. I was so giddy reading this book; my hubby was about to send me to the doctor to get checked out.
I fell in love Annabelle because she's a strong-willed female character who can take care of herself. I don't know how many times she stood up to Zacharel. (because I lost count)
I loved the storyline that Gena Showalter created in "Wicked Nights." She, of course, threw in extra stuff to prepare you for the next book or books. You'll get to read about the other Angels too in "Wicked Nights." I don't know if Koldo or Thane is my fave yet, after Zacharel. I'll have to wait and read their books.
I'm going to admit again, how addicted I am to Gena's writing style. She's one of my FAVE Authors and with this spin-off series…she didn't disappoint at all. I will find myself re-reading this book because I still can't believe what happened and who ended up being the bad guy in this book. Plus other reasons I will not discuss why I want to re-read it.
If you haven't read any of Gena Showalter's books, what are you waiting for?
If your thinking about reading this book, but haven't read the LOTU Series, I recommend you read that series first. You will thank me later. =)
I recommend this book to ALL Paranormal Romance Readers out there, and of course, die-hard Gena Showalter Fans. If you've read Kresley Cole's IAD Series, you'll love the LOTU and "Wicked Nights" by Gena Showalter.
Now, what are you waiting for buy yourself a copy of "Wicked Nights" and get to reading…
This Book Lovin' Mama is counting down to Gena Showalter's next book patiently. (trying to at least) =)

This post contains affiliate links you can use to purchase the book. If you buy the book using that link, I will receive a small commission from the sale. It will help sponsor future giveaways but costs you nothing extra. You can read the full disclosure underneath the Privacy Policy.
---
---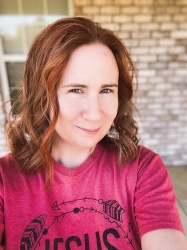 Latest posts by FranJessca
(see all)